Michigan's Upper Peninsula isn't known for the elevated farm-to-table cuisine of its troll sibling, but that doesn't mean it doesn't offer plenty that's more than worthwhile. "Rustic" by nature instead of design, food in the UP mirrors life in the UP; it's a bit more challenging, shaped by the often-harsh geography and the once-predominant mining and logging industries requiring a hardier stock of human, and further influenced by the Finnish, Cornish, Swedish, German, French Canadian, and Italian immigrants who flocked here for those industries.
The food isn't always pretty, but it IS practical and particularly suited to the environment and resources of the region. Besides, who needs intentionally designed farm-to-table food when you've got fresh fish flung from the lake to your plate and venison jerky made by the hunter who caught it? Behold, the 24 finest eating experiences you'll find in the UP.
Calumet
Coffee snobs might fear the Great Green North as a purgatory of bad diner coffee, but rest assured, they are wrong. There are actually many excellent independent coffee roasters in this part of the state, and some wonderful cafés that serve them. Café Rosetta in Calumet, on the Keweenaw Peninsula, is one such café. Order a French press, Chemex, or pour-over of organic and fair-trade coffee or an organic loose-leaf tea. While you're here, enjoy a cup of homemade soup paired with a sandwich on homemade bread filled with organic, farm-fresh ingredients, or take a gluten-free homemade pastry to-go. There is also a display of works from local artists on the walls and jewelry from local makers for sale.
Houghton
The Ambassador is home to some of the best pizza in Michigan. With said pizzas, homemade from decades-old recipes, plus colorful fish-bowl drinks, all served in a historic space with century-old murals (of gnomes pushing around beer barrels), stained glass windows, and light fixtures, the Ambassador is a uniquely UP experience.
Ironwood
A best-kept secret, tucked away in Ironwood, Buon Appetito serves authentic Italian cuisine made from scratch with locally sourced, organic ingredients by an Italian-born chef. Order up some old-world favorites like risotto and gnocchi or a Neapolitan-style prosciutto pizza. There are also plenty of vegetarian and vegan options – a bit of a rarity in these parts.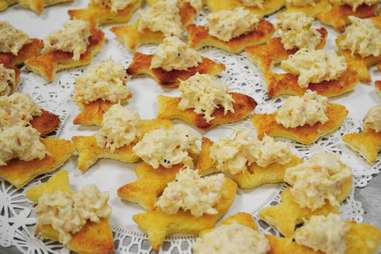 Curtis
Located high on a bluff overlooking Big Manistique Lake, Chamberlin's is an inn as well as restaurant, offering a variety of casual fine-dining. Enjoy your fresh planked whitefish or oven-roasted prime rib in the Lakeside Dining Room with a 10ft stone fireplace, live music, and stunning lakefront views -- or take in the sunset while watching the loons and eagles over the lake on the wraparound outdoor veranda.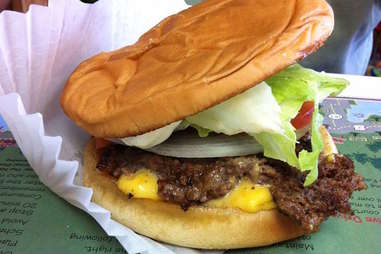 St. Ignace
Clyde's is known for some of Michigan's best burgers, and the best part is it's spitting distance from the bridge, so you can start your UP tour off right with a pizza burger or the "Big C" before loading up on pasties and whitefish jerky.

Ishpeming
Congress Pizza is a low-key pizzeria and bar that specializes in exceptional thin-crust pizza. While a classic pepperoni certainly won't fail you, go for the full-on Yooper experience and get the Cudighi pizza, a signature house-made Italian sausage pizza (and an indigenous UP dish.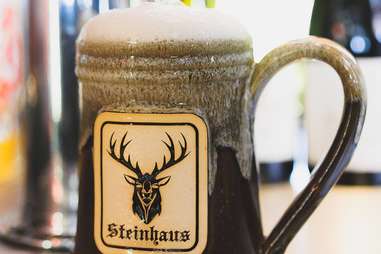 Marquette
Das Steinhaus in beer-loving college town of Marquette serves a German- and European-inspired from-scratch menu featuring locally sourced, seasonal produce and grass-fed beef, pork, chicken, fish, and duck. Enjoy some venisonwurst, jager schnitzel, pan-seared duck breast, and other specialties -- and wash it all down with one of their 50+ bottles of Michigan and European beer or a craft cocktail.

Marquette
Food trucks are a pretty big deal almost everywhere nowadays, but in the UP they're still in short supply. Dia de Los Tacos, which posts up at various places in Marquette, is also probably the most well known. But in addition to being a food truck rarity, it is -- more importantly -- a Mexican food rarity. While the UP certainly has some interesting ethnic influences, Mexico is not one of them. Dia de Los Tacos is the real deal, serving up tacos like chorizo with queso fresco and black beans with poblano chiles, jicama slaw, and chihuahua cheese.
Eagle River
How does one describe The Fitz? As a magical place in a Northern wonderland that feels as if it exists outside of time and space -- some otherworldly oasis that is both completely unexpected and completely perfect in its place, like something Neil Gaiman might have conjured up if he were a big fan of craft beer, whiskey, and barbecue? Yes, that's a start. The Fitz, as its known, is located on the lower level of the Eagle River Inn, a comfortable inn located right on the banks of Lake Superior on the Keweenaw Peninsula. It boasts a selection of craft beer that will make beer nerds and white whale chasers from coast to coast sick with jealousy; a whiskey/bourbon/Scotch selection equally as envy-inducing; and the best house-smoked barbecue this side of the Great Lakes. (Co-owner Mike LaMotte would argue on EITHER side of the Great Lakes, but you'll just have to judge for yourself.) This place >>> all other places.

Manistique
What's special about the Haywire is that there's nothing special about it. (Mind. Blown.) Like so many other UP restaurants, the décor is "old people" without much in the way of "ambiance." But it has excellent, perfectly prepared fresh fish like whitefish, walleye, bluegill, and cod; homemade pizza, pasties, and desserts; and even the occasional tamale dinner. This is true UP-style home cookin'.
Naubinway
Fact: every single person who lives in or has frequented the UP has his/her own opinion on who makes the best pasties ("PASS-tees," like apple, not "pay-stees" like a stripper's nipple covers), those delightfully heavy hand-held hot meals imported by Cornish miners. Stuffed with either beef or chicken and a variety of vegetables like potatoes and onions, then encased in a flaky, buttery crust, the pasty is THE UP specialty, and while Hiawatha might not be the most well-known (that honor likely goes to Muldoon's or Lawry's), it is certainly one of the very best. It also makes creamy fudge under the name "Mackinaw Fudge Company" in the same location.

Sidebar: Why can't you do a crust like THIS, Chicago? What is wrong with you??

Eagle Harbor
Monk muffins! The Jampot is a very busy bakery and jam-ery nestled next to Jacob's Falls in picturesque Eagle Harbor, run by the monks of the Society of St. John of the Ukrainian Catholic Church. (They're the dudes with the long beards.) They make muffins and breads and really boozy fruitcakes because Catholics are not anti-alcohol, and also marginally-to-really expensive jams that are not marginally-to-really expensive for stupid reasons like urban homesteading. These are $7-12 jars of preserves that you won't feel like an asshat for buying.

Munising
Everything from dogs and burgers to sandwiches and soups is made from scratch here, with all the meats smoked and/or ground on-site, never frozen. The gourmet hot dogs are served with a variety of toppings (including pulled pork, corned beef, and potato skins), and you'll also find whitefish tacos, breaded whitefish baskets, and smoked whitefish sandwiches, because this is the UP and if you haven't learned to love whitefish yet there's something wrong with you.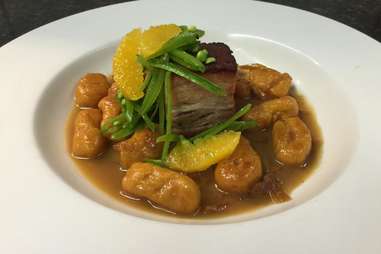 Marquette
To be honest, this place could outright suck but we would still love it because it really makes the effort to be a Cajun/Creole place, and this far North of New Orleans you just take what you can get. Thankfully, it doesn't suck. Get your gumbo, your jambalaya, your etouffee, your muffalettas, your po' boys, your crawfish boil (when in season), your fried gator bites, your boudin balls, your fried frog legs, your red beans and rice with Andouille sausage -- all with the occasional Yooper flair, like the Cajun Cudighi flatbread "Yankee-style po' boy" and plenty of Michigan and Abita beer, the Budweiser of the Bayou. And Hurricanes. Lots of Hurricanes.

St. Ignace
The pasty shops sprout up immediately upon crossing over the Mackinaw Bridge into St. Ignace, but it's worth holding out a few miles West down US Rt. 2 until you get to Lehto's. Baked fresh daily since 1942, Lehto's has perfected the art of pasty-making and is widely considered one of the best in the state -- on both sides of the bridge. The crust is never dry, the seasoning never too much or too little. If Goldilocks stumbled across this place, she'd be muttering "just right" between mouthfuls. Lehto's keeps it simple with its offerings -- you can choose between beef, chicken, or veggie pasties -- but there is perfection in simplicity.

Ironwood
The Olde Suffolk Ale House is like one of those olde-timey pubs of yore where people went for their daily dinner and drink and were greeted like friends and neighbors. They serve homemade meatballs, pizza, and three different sizes of prime rib topping out at $25 for the 20oz "king" cut. Great food, great drinks, cheap prices, friendly service, comfy-cozy atmosphere -- what more can you really ask for?
Escanaba
If you're looking for a somewhat old-school Italian restaurant and steakhouse, be sure to hit up Pacinos. It looks NOTHING like an old-school Italian restaurant and steakhouse -- with nary a red and white checkered tablecloth in sight -- but the menu tells a different story with excellent steaks, pastas, seafood, and sandwiches.

Ishpeming
We mentioned the Cudighi earlier -- it is a UP specialty made from homemade Italian sausage flattened into a patty and grilled, served with melted mozzarella cheese and marinara sauce on French bread. This is what you get at Ralph's, which has been serving a secret-family-recipe Cudighi since the 1960s on homemade buns baked fresh daily. This sandwich has made Ralph's one of the most popular eateries on this side of the state.
Chatham
It wouldn't be unfair to say that there is probably not a tremendous demand for organic vegan food in the UP, which makes stumbling across such places quite a pleasant surprise. Rock River Café takes sustainable sourcing close to heart with eggs, meat, and produce sourced from nearby farms; fresh, locally-baked breads; organic and fair-trade Michigan-roasted coffees; fish caught fresh in Lake Superior; and a vegan/gluten-free friendly menu featuring Finnish selections. Try a Michigan Maple Steamer, made with pure Michigan maple syrup steamed with milk or almond milk, because when in the UP... well, you know.

Marquette
It's Thai food, and considering the dearth of Thai food in the area, it's already the best by default; but we're taking into consideration that it is a Thai restaurant owned and operated by an actual Thai person, named Aoy, and that it's surprisingly awesome Thai food in quite an unexpected location.

Escanaba
It's a diner, but it's a diner that people widely adore, owned by Rosy, who people adore even more. It is the quintessential friendly, small-town, Midwestern greasy spoon with vintage vinyl-topped counter stools and a mother-daughter team running the place that's full of locals and wholly entertained tourists. It's not just a restaurant; it's an experience.
Marquette
At Sweet Water Café you can get a little of everything. The from-scratch bakery, bar, and cafe celebrates "multicultural cuisine," meaning its menu is inspired by various world cuisines, though it makes no claims to be "authentically" this-or-that. There are "old-fashioned favorites" and more unique contemporary dishes, from a "jazzed" Caesar salad to a quinoa spinach salad, beef bourguignon to sweet potato enchiladas. It serves several preparations of Lake Superior whitefish caught fresh by Thill's Fish House, located right on the Marquette Bay of Lake Superior, just a few blocks from the restaurant. It also has a small but very well-chosen selection of wines, craft beers, and cocktails.

Houghton
A Finnish bakery through and through, Suomi serves aamiainen (breakfast) all day, including pannukakku, a Finnish "pancake" that is more the thickness and consistency of egg custard, and Finnish French toast made with nisu, a sweet bread made with cardamom.

Escanaba
Come for the seafood, stay for the... seafood. It's not difficult to find a place in the UP serving fish, but the Stonehouse Restaurant offers the most elegant preparations beyond baked, breaded, and fried. Try whitefish piccata, walleye meuniere, panko-breaded grouper topped with lobster and shrimp veloute, Seafood Newburg, Alaskan crab legs or grilled Atlantic red salmon, as well as a wide assortment of high-end steaks and New Zealand rack of lamb -- none of it over $30.
Sign up here for our daily Detroit email and be the first to get all the food/drink/fun Motor City has to offer.