Yeah, yeah, you already know that Detroit is in the midst of a dining renaissance. But we would remiss if we didn't give a shout-out to the legacy of old Detroit dining, a time when eating out meant dressing up, rounding up the whole family, and enjoying none other than a big, juicy steak at the quintessential steakhouse. While the old-school steakhouse may not be at the forefront of New American cuisine, we still have to admit, there's nothing quite like the chophouse experience, where you're made to feel like king or queen of the castle. To that end, here are our picks for best steakhouses in Metro Detroit. Some are old standbys; others aren't quite what dad would have had in mind, but instead, are more modern takes on what "steakhouse" can mean.
Downtown
Because there's no better combination than a night of gambling, followed by a nice, juicy steak. Situated inside the Motor City Casino, Iridescence allows to put all your poker winnings toward a 12oz, 28-day dry aged New York Strip steak, a 24oz prime bone-in ribeye, and a five-time Wine Spectator Award-winning wine list... plus, a view of the city that just won't quit.
Ann Arbor
When you think of the standby steakhouse, this is inevitably the place that you turn to -- in Ann Arbor, at least. All steak here is USDA Prime and aged 28-34 days, helping the meat lock in its flavor. Go for the 11oz, espresso-rubbed filet mignon, or, for the serious meat eater, a Southwest blackened or barbecue 20-22oz cowboy steak. You'll also find a number of lamb or pork chops, plus several seafood dishes. For dessert, the adjoining La Dolce Vita has pastries, hand-rolled cigars, vintage ports, and cognacs on deck.
Birmingham
Give yourself a trip to the Wild West at this eatery that sits inside a historic train station. Everything from the Native American artwork, taxidermied animal busts, and dark wood detailing will have you feeling like you're in a sportsman's lodge rather than uppity B-ham. On top of house specialties like 20oz wagyu strip, filet mignon (8 and 12oz), and Maine lobster tail, you'll also find gamier fare like buffalo strip, venison flank, Colorado lamb, and roasted duck breast. A cigar-friendly cocktail lounge and an outdoor terrace open during the warmer seasons help round out the space.
Downtown
This 1938 institution reopened its doors in 2012 and still carries that old Detroit swagger, but with an updated menu and a cleaned-up act. Gone is the haze of cigarette smoke, ashtrays, and a menu of huge portions and heavy sauces. Replacing it are more modern takes on dry-aged prime steaks, seafood entrees, and current versions of classics, like the veal Oscar. What remains intact? That VIP Booth One, which will have you feeling like Detroit royalty, and those funky old coin-operated phones.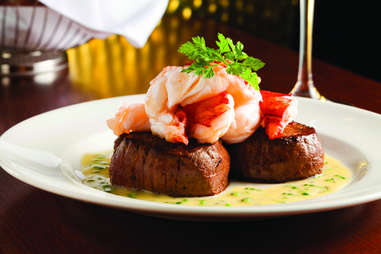 Troy
Folks looking to rub elbows with the local business and political elite, or at least make out-of-town clients think you have expensive taste, can find that high-end vibe at this Oakland County spot. The space has a classical dinner club setting, with dark wood paneling on the walls, mahogany booths, and stately leather lounge seating. Order yourself an old-school 20oz Delmonico, or a 24oz slab of dry-aged porterhouse, and impress your dining companion with your knowledge of fine wine via Capital Grille's cellar, which boasts more than 5,000 varieties of vinos that span the globe.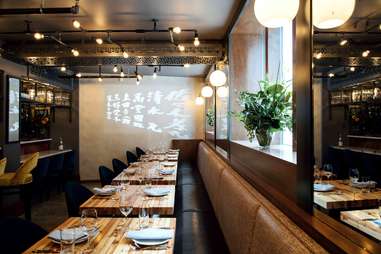 Downtown
Not just a wine bar, Vertical takes you to a garden-level space in Harmonie Park that's chock full of wines, with a surprisingly impressive dinner menu. Specials like the filet mignon with scallops or foie gras are robust explosions of flavor; the wine flights will add another level of complexity to your meal; and the convivial and knowledgeable wait staff is always on hand to help you pair your wine with dinner.
Clawson
This Oakland County family-owned spot has an old-school feel, both in aesthetic and menu. Service is friendly and familiar, never stuffy. Meat is hand-cut, fish is delivered daily, and sides like bread and salad dressing are house-made. An 18oz organically fed, dry-aged American Kobe bone-in wagyu New York Strip, a 30oz porterhouse, and a number of veal and seafood dishes are all testaments to what the Clawson kitchen is capable of.
Royal Oak
Another one of those recently reimagined legendary Detroit staples finds its way to Royal Oak. The mid-century, yet simultaneously modern, interior will have you feeling like a VIP, no matter if you're just going in for happy hour, or are treating yourself to an old-school steak dinner and cocktail. The 8oz center cut filet with Brady sauce, roasted garlic whipped potatoes, and green vegetable tangle is a winner on Jim Brady's menu of classic American comforts.
Eastside Detroit
This Eastside staple is always crowded, and for good reason. The wood-paneled space, plastered with funky posters and photos, and the spot's mascot -- the duck -- surely add to the charm, but what Detroiters really gravitate to is the "steak by the ounce." Choose from Delmonico, New York Strip, T-bone, and filet mignon, and go as big or little as you want. Diners are known to show off their monstrous cuts in Yelp photos.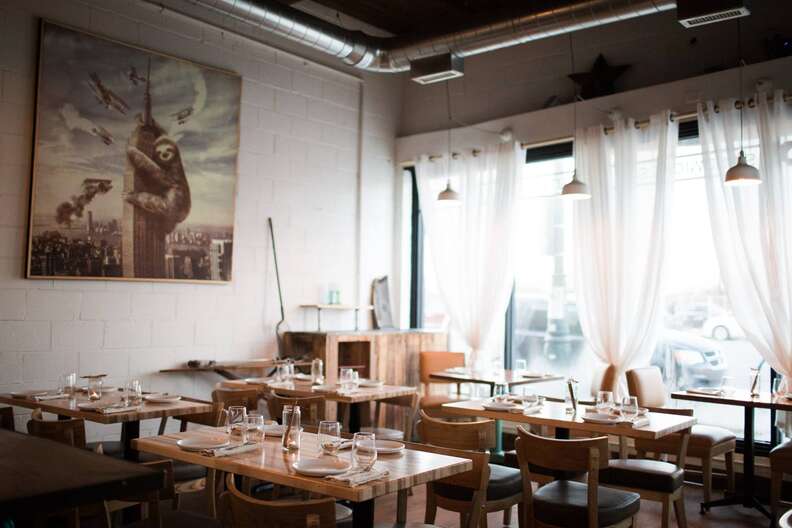 Corktown
This Corktown eatery opened first as a sandwich & charcuterie shop, but recently has been making strides to compete with the neighborhood's increasingly competitive culinary scene. Its three-night-a-week "Rubbed After Dark" dinner menu regularly features an 8oz, dry-aged wagyu New York Strip, cooked sous-vide (sealed in an airtight bag, placed in water in a tightly-regulated temperature, and, once it's cooked on the inside, seared). The steak has melt-in-your-mouth tenderness, as well as flame-torched smokiness on the outside. In fact, Zagat recently named it the best steak in all of Michigan. How's that for a sandwich shop?
Downtown
A sleek, modern interior, yet surprisingly down-to-earth staff make this Downtown spot popular among everyone. Opening in 2008 inside the Westin Book Cadillac by celebrity chef (and native Clevelander) Michael Symon, Roast is your classic steakhouse, but with enough variety to appeal to a diverse crowd. An ambitious couple can split a dry-aged porterhouse for two; the light eater can nibble on a starter of poke or roasted marrow; and the happy hour crowd can feast on the Roast Burger, made with bacon, cheddar, fried egg, pickled onion, and served on an English muffin ($6 between 4-6:30pm). Don't sleep on the cocktail program here, either.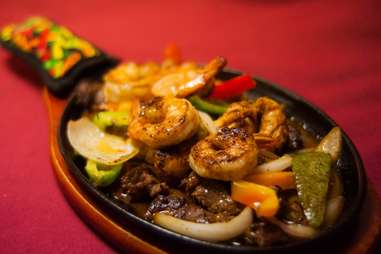 Southwest Detroit
Proving that Detroiters are ready for high-end Mexican dining, El Asador manages to turn out a number of signature steaks, all prepared with a Mexican twist. For example, it takes an otherwise standard 10oz rib eye and tops it with poblano green chili sauce. The alambres, a Mexican-style kabob (of steak, chicken, or shrimp), is served with white rice and a side of borracho butter sauce. Those still longing for more "traditional" Mexican fare will find the typical flautas, quesadillas, and guacamole -- made fresh tableside. This Southwest Detroit spot is BYOB, so make sure you're equipped with a sixer of your favorite cerveza or bottle of reposado.
Hamtramck
Best steakhouse accolades for a non-steakhouse go to what we would otherwise consider an old man bar. Don't let that divey feel fool you, though. This once-a-week chophouse attracts hungry people of all walks -- from broke punk rockers to middle-aged suburbanites, and regular barflies. Dinner only runs during the spring and summer months (this year, opening night is April 29, 4:30-9pm), so stop by every Friday night, where proprietor Rocky Radtke will grill up your choice of rib eye, New York Strip, pork chops, and boneless chicken breast. And this year, Gingersnap popup maven Summer Radtke (no relation to Rocky) will serve up her increasingly popular pies.
Sign up here for our daily Detroit email and be the first to get all the food/drink/fun Motor City has to offer.
Serena Maria Daniels is an editor and writer in Detroit who gave up meat for years, then caved when she caught a whiff of rib eye at Baker Streetcar Bar in Hamtramck. Catch her dry-aged, omnivorous dining adventures on Twitter and IG at @serenamaria36.