Finding the perfect sandwich can be challenging for pretty much anyone who's not either, A) Kevin Bacon in that Wild Things scene with all the Champagne and nudity, or B) us in this article about the five best sandwiches in Detroit. To wit: these are the five most perfectest sandwiches you can get in the D.
The Mudgie, Mudgie's
From the Sho 'Nuff to the Sorry Charlie to the Bat Outta Hell, Mudgie's Deli in Corktown knows how to make sandwiches with fun names to type. The move, though, has to be The Mudgie -- the signature bread-hugger from owner/sandwich-operator Greg Mudge, featuring Michigan-raised grass-fed beef brisket, house-roasted turkey breast, and creamy house-made veggie cream cheese.
Avocado Melt, Russell Street Deli
This guy, on crispy pumpernickel, is the kind of gourmet grilled cheese that flavorful dreams are made of: fresh avo, tomatoes, and zippy garlic mayo blanketed by melty provolone. Yes, it doesn't have meat on it, but neither does Star Wars, and you like that, DON'T YOU?!?!?
Ham Sandwich, Mike's Famous Ham Place
Mike's friendly mom-n-pop diner has specialized in ham since 1974. Served on a poppy seed roll with mustard, pickles, Swiss, and thick, tender, freshly sliced pig meat, this is the pinnacle of ham sandwichery.
"Catfish" Tofu Fillet Sandwich, Detroit Vegan Soul
Not just what Manti Te'o's imaginary girlfriend ironically orders him when they go out for imaginary lunch at West Village newbie Detroit Vegan Soul, the Catfish takes tofu (booooo!), then cornmeal batters it (way less boooo!), then amazingly combines it with lettuce, tomato, and vegan tartar sauce on a whole grain bun.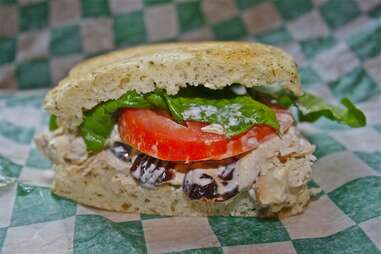 Michigan Cherry Chicken, Lunchtime Global
"Don't hate yourself—Eat Here." So reads the slogan for downtown, quick-fix favorite, Lunchtime Global. Stop in for the $7.25 reuben, "the Dam Ham", the falafel, the roasted sweet potato, or, for a sweet and savory pick-me-up of pure Michigan, go for the Michigan Cherry Chicken. Packed with red onion, green onion, celery, lettuce, tomato, mayo, and Michigan cherries, it's a chicken salad that calls for, nay, demands your lunchtime attention.