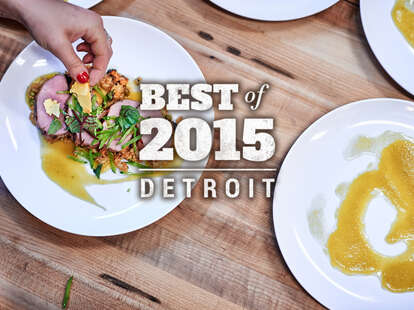 It's been another standout year for Detroit. The city has seen some stunning new openings, fantastic events, and was naturally responsible for making its state the best in the nation. But when you're on the up like this, it's hard to keep up with the rate at which new restaurants, bars, and coffee shots eagerly open their doors. In order to honor everything from the top ramen slurp shop to the best distillery to hit Motor City in 2015, we're awarding our end of year honors in a satisfyingly wide range of categories. Behold:
Best new restaurant, period
Standby
Detroit
Chef Brendon Edwards having the chance to shine is exciting enough, but there are few folks out there who can actually claim the title of "culinary genius," and one of those people happens to be Joe Robinson. His craft is not mixology; it is sorcery. After a year that saw Downtown Detroit's bar and restaurant scene becoming increasingly corporate in feel, Standby opened as a true stand against imminent douchification. It's most certainly progressive for Gilbertville, but really it's simply progressive overall, and continues the trend of pushing Detroit's cocktail status aggressively forward. (We'll riff on the "New Orleans of the North" in a minute, hang on.)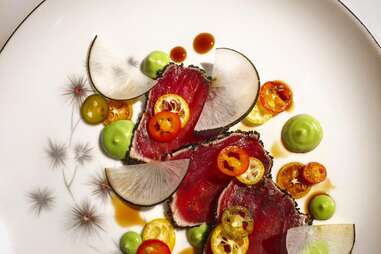 Best new restaurant in the suburbs
Mabel Gray
Hazel Park
What James Rigato has accomplished at Mabel Gray in yet another unlikely blue-collar suburb, Hazel Park, is nothing short of remarkable. While I've been a longtime believer in him and his food from the earliest days of the Root, at Mabel Gray I see Rigato exhibiting a whole new level of culinary maturity, with carefully composed plates and flavor profiles gently teased rather than shoved in your face. He's had a big couple of years, Top Chef being neither the most nor the least of it, and it shows in his evolving sensibilities and execution, from the sizable spread of amaros to Tupac pumping through the speakers. Mabel Gray is the fullest realization of his vision so far, and the guy still has a 30-ish-year career ahead of him.
Best new restaurant in Midtown
Chartreuse
Midtown
Chartreuse is the color of the envy your friends will have when they see you Instagramming photos of your meal here, because that's how fantastic the food and drinks are. With Chef Doug Hewitt as kitchen-master and cocktail bar impresario Sandy Levine conducting, Chartreuse is not just one of the most exciting places to open this year, but one of the most exciting restaurants Southeastern Michigan has seen in a long, long, looooooooooooong time.
Best new Corktown Spot
Gold Cash Gold
Corktown
Opening (as is Detroit habit) at the end of the year, in December 2014 -- Gold Cash Gold was too late for last year's year-end roundup. So, here it is now. The design of the space is impeccably Corktown (rustic, refurbed, reclaimed, yet still refined) and the food is Southern comfort meets... well, what exactly do we call the contemporary American rustic/meat-centric/charcuterie-driven/locally-grown-and-raised-and-sourced/craft everything/house-pickled restaurant concept currently dominating the national scene? Well anyway it's that, and it's pretty damn fantastic.
Best new Italian
La Rondinella
Eastern Market
It honestly doesn't even matter if it's good or not, what matters is that it's open. But OF COURSE it's good! But really, it wouldn't matter. But obviously as far as new openings go, this one doesn't disappoint -- Dave Mancini's long-awaited full-service Italian-inspired follow-up to the adjoining Supino Pizzeria, which has earned loads of national press, is still operating a bit quietly ("low key" is probably a better way to phrase it), but this definitely needs to be on your to-eat list for 2016.
Best new brewery
Batch Brewing Co
Corktown
Detroit, as in the city proper, FINALLY has a decent brewery. And we don't mean brewpub (even though they serve food) or production brewery (even though they will eventually distribute) -- we mean BREWERY. And it's not just decent, it's actually damn fantastic. From the beer to the food to the beer to the vibe to the beer to the dudes behind it to the beer, Batch makes Detroit's contributions to the state's embarrassment of beer riches drastically less embarrassing. That's a compliment.
Best new brewery (in the suburbs)
Cellarmen's
Hazel Park
There is very little we don't love about this place. Actually, there is nothing. There is nothing we don't love about this place. The beer and mead and cider is great, the staff/owners/brewers are great, the art for sale on the walls in rad, the space is chill, the crowd is the friendliest, and it has the added advantage of being pretty much across the street from Mabel Gray. We love everything about this wonderful, magical, stupendous, incredible place.
Best new distillery
Motor City Gas
Royal Oak
2015 didn't see quite the same explosion of local distilleries that 2014 did, but we did gain Motor City Gas in Royal Oak. The tasting room and cocktail bar is the first of its kind in Royal Oak and their focus is 100% whiskey -- no vodka, no gin, no small-batch brandy, or experimental absinthe. Just whiskey. Whiskey all day every day. And while there are flavors like chocolate cherry single malt, the straight-up Royal Oaked rye is the way to go.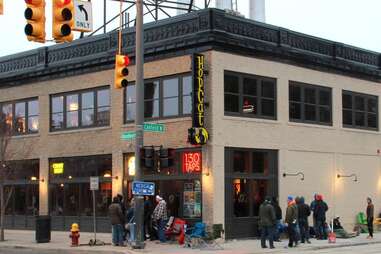 Best new beer bar
HopCat
Midtown
HopCat's Midtown location opened too late in December to include in last year's year-end round up, which is great because that means we can include it here now. Opened with 130 taps, solidifying Hopcat's well-established brand reputation of having many taps, HopCat Midtown debuted with a world-record 120-tap takeover with Short's, only to beat its own record this November with another world-record tap takeover with Dark Horse, taking over each of their 130 taps. To keep up this pace, next year they'll need to add a few dozen more tap lines and find another Michigan brewery that has never once said "no" to an idea they had when they weren't sober.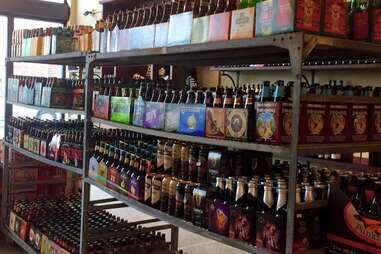 Best new beer store
8 Degrees Plato
Midtown
The new Detroit location of the Ferndale bottle shop and beer-themed gift store is really the first bona fide actual beer store in the city. Sure, the Midtown Whole Foods has a pretty respectable beer selection, and you can usually find something good in random neighborhood grocery stores like Honey Bee or Lafayette Foods or that odd little hipster market in West Village, and Cost Plus in Eastern Market usually has some decent stuff when it's actually open for those four hours a week, but 8 Degrees is the first REAL craft beer store in the city. What's more, it's also a 16-tap beer bar.
Best new cocktail bar
The Keep
Downtown
Detroit's cocktail game has become seriously on point in the last couple of years. Like, New-Orleans-of-the-North on point. So it makes sense that the Keep, which has New Orleans pedigree by way of co-owner Leonard Lopp, is one of the best of the best of the BEST. It also checks all the cocktail fussery at the door, which we're just going to go ahead and coin the term "second-wave cocktail bar" to describe, referring to a ditching of the dapper vests and "pre-Prohibition" buzzword marketing and not-actually-secret "secret" entrances that defined the first wave of the national cocktail bar movement.
Best new wine bar
Vertical Detroit
Downtown
Admittedly there weren't a lot of options under the "wine bar" category, but Vertical is still a sexy space with an excellent food menu to go along with its wine and cocktails. Even if there were multiple other options, we're confident this would still come out on top.
Best new dive
Bumbo's
Hamtramck
Hank's Lounge was reborn earlier this year as Bumbo's, and now it is the Hamtramck hipster (of the more punk/less tech variety) hangout du jour. It's not that Hamtramck needed another dive bar; there is certainly no shortage. But where some are just a little too divey ("Is this someone's actual basement?") and others not quite divey enough ("Is all of Midtown closed today?"), this one is kind of the Goldilocks of Hamtramck dive bars -- it's JUST right!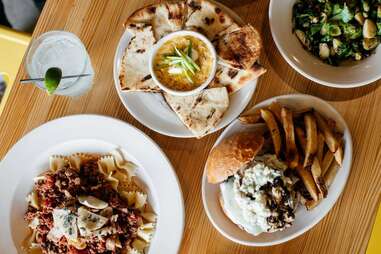 Best new hangout spot
Bobcat Bonnie's
Corktown
The menu is global, but also local, and also seasonal, and also very vegetarian- and vegan-friendly, and there are tasty cocktails, and a solid beer list, and also arcade games, and you know, whatever. It's chill. And that's kind of the brilliant thing about Bobcat Bonnie's. It's just the quintessential neighborhood, high quality, friendly, cheery, chill, non-denominational hipster spot, like any such spot in any such neighborhood in any other major city, and really, it's about time.
Best revamp/expansion
Mudgie's Deli
Corktown
The new bar at Mudgie's is everything we ever hoped it could be, as are the cocktails that are now available. It's small and dark and perfect, and we love seeing how this established business continues to evolve every year, getting constantly better (when it was already great to begin with!). Plus there's a wine shop now, too, with tastings every Tuesday.
Best new bakery
Sister Pie
West Village
Seriously though, have you HAD their pies, or anything else they make? Because, DAMN. Like, DAMN. We've never much thought of pastries as having the potential for a transcendent experience, but Sister Pie with their buttery, flaky, tender, golden pie crusts and savory shortbread cookies and other items of exceeding excellence has us reconsidering our forsaken sweet tooth.
Best new coffee shop + best new coffee roaster
Café Con Leche Nord
New Center
Another spot that technically opened at the very very end of 2014, too late for inclusion in our year-end roundup, Café Con Leche Nord is the second location of Southwest Detroit's popular coffee shop Café Con Leche, located in New Center, and it is as much a triumph in modern design as it is a triumph in Detroit's growing coffee culture. With this new location, Café Con Leche has also got into the roasting game, so not only is this one of the city's best coffee shops; it's also one of the city's best roasters.
Best new brunch
Parks & Rec Diner
Downtown
Not to be confused with the TV show that made a pre-superhero Dad-bod Chris Pratt famous, Parks & Rec, located in the GAR Building alongside its older sibling Republic, puts the same culinary ethos exhibited at Republic into practice in a small retro-style diner where the focus is all about breakfast. Exquisite cinnamon rolls made individually to order, three different kinds of sausage, lamb bacon, house-cured salmon, bologna sandwich with C-Roy bologna, house-made biscuits and hash and savory hand pies, and on and on.
Best new noodle joint
Pho Lucky
Midtown
The middle- and outer-ring suburbs have hogged all the good Asian spots for long enough. Let's hope this is the start of a trend and not an anomaly.
Best new seafood joint
Huron Room
Southwest Detroit
The focus here is on fish from the Great Lakes and beer, wine, and spirits from the Great Beer State. Great Lakes chowder, gefilte fish sticks, and frog legs are on the menu alongside choose-your-own fish dishes featuring perch, walleye, smelt, whitefish, and river trout, served as fish and chips or fried fish sandwiches, or grilled and served in tacos. For non-fish-eaters, there is venison, Scotch quail eggs, game hen, and patty melts made with Michigan raclette. This is a Michigan restaurants for earnest, unfancy Michiganders.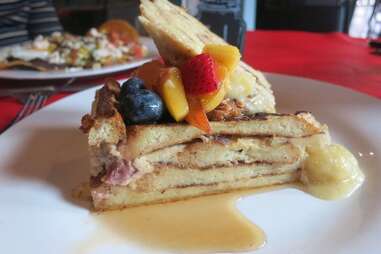 Best new pop-up
The Menagerie
Pontiac
If Detroit is trying to make a name for itself with permanent pop-up concepts that feature an ever-rotating lineup of chefs and menus, then... it's doing a good job of it, anyway. Menagerie is the latest concept in this tradition, and in addition to pop-up dinners it also hosts cooking classes and offers commercial kitchen space for startup food businesses.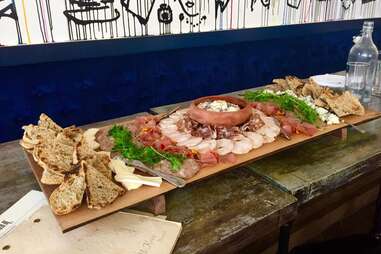 Best new meat spot
Republic
Downtown
If you are going anywhere in Detroit to eat meat and nothing but meat, make it this place. This place is where you go to eat the meat. Hat tip to meatstress Larissa Popa over there.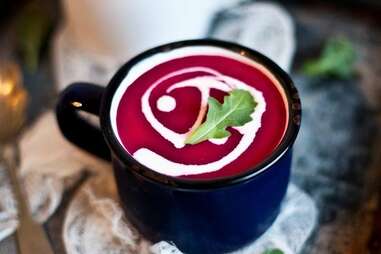 Best new vegetarian spot
Living Zen Organics
Hamtramck
Detroit's most interesting vegetarian/vegan/organic restaurant has been resurrected, and now includes a tearoom! Living Zen Organics, inside the Detroit Zen Center -- a Zen Buddhism center located in Hamtramck -- closed last year due to, apparently, lack of interest, but prepared foods and bulk sales never ceased. That was apparently enough to reignite previously lacking interest and inspire a reopening, with a bit of a facelift to go with it. All's well that ends well!
Best new pizza
Brera Pizza & Salad Co.
Dearborn
Brera is a fast-casual pizza and salad spot with excellent pizzas across the board that come shooting out of their oven with lightning-fast speed (180 seconds, to be exact). If you're familiar with concepts like Blaze, 800 Degrees, MOD, Pieology, etc., this is very much in keeping with those, only better because a) the taste -- Blaze is pretty awful -- and b) the price -- 800 Degrees is kind of ridiculously expensive for fast-cas. The combinations run a wide range that will appeal to the pedestrian pizza-eater as much as to the more upscale pizza gourmand. There's also a hearty selection of pastas and salads.
Best new burger
Brome Burgers & Shakes
Dearborn
While everywhere else is busy pushing 18 different preparations of pork belly down our throats, Dearborn business owners are free to focus entirely on beef, and we're all the better off for it. From world-famous dive bar burgers like Miller's to halal gourmet burger joints like the new Brome Burgers & Shakes, Dearborn is where you need to be if burgers are what you seek.
Best new tacos
Iron Horse
Royal Oak
"But it's not authentic!" OMG die. Here the corn tortillas are lightly fried so they hold their shape and stand up against all the ingredients inside without disintegrating, and the tortillas are doubled up and fused together with melted cheese, and they're tasty AF. Even the tofu is good. Tofu is never good. Round these out with pizza, burgers, and a handsome selection of craft beer and brown liquors, and this is a pretty bangin' spot, Royal Oak or otherwise.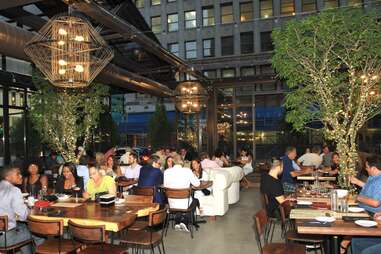 Best new patio
Townhouse Detroit
Downtown
Holy sh*t, Townhouse. Dat patio do, nawmsayin? All it's missing is, like, a Ferris wheel.
Best new place that looks like it got lost on the way to the Somerset Collection
La Dulce
Royal Oak
It's Spanish tapas meets the House of Versace. But it works!
Sign up here for our daily Detroit email and be the first to get all the food/drink/fun Motor City has to offer.
Nicole Rupersburg thinks the horse has finally got ahead of the cart when it comes to the breathless media hype around Detroit's food scene, though she still prefers to observe it long-distance from the mountains of Las Vegas in the winter. Check out her photos of food and rocks on Instagram at @eatsdrinksandleaves.