Just when you thought Campus Martius couldn't be turned into any more of a playground (#XG2D's rally car shoot, anyone?), the Park peoples organized a Summer's worth of action including everything from towing in tons of sand for a pop-up beach (open every day at 830a) to enough lunchtime food trucks to make you think twice about tanning shirtless. Actually, gross. Keep your shirt on... this is still a public park.
Did we mention there's also a patio/bar? Despite the lack of bodies (and beers) above, the Beach Bar and Grille will be in full effect & serving up fish tacos, sandwiches, and most importantly, beer and cocktails when the full service "Bar" part of the name kicks into effect daily from 2-9p.
Food truck fare's available 10a-2p Monday through Friday in the neon green shanty town-ish (see it?), with Detroit-area food truck favorites in every window.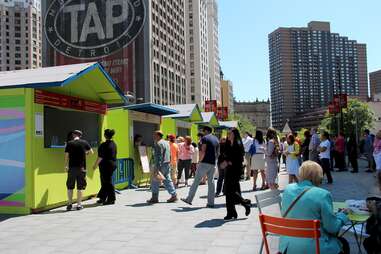 Brave the lunchtime lines (they move fast) to be rewarded with everything from People's Pierogi Collective to Treat Dreams. Can't make a decision? Feast your eyes on...
... the chorizo, cilantro, pico, and jalapeno-topped Cheech's Trip from The Mac Shack, a lunch choice that'll definitely give you Nice Dreams.
Still can't decide? Here's the Reason. No, seriously... it's the Reason sandwich from Slows To Go: slaw, pulled pork, and pickles piled high on a Kaiser roll. Don't skip the NC sauce. Or napkins.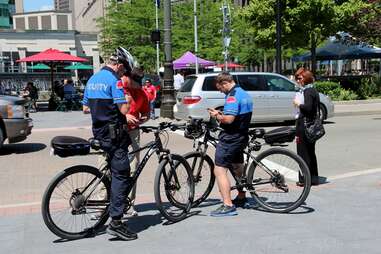 Text all your friends for moral support and extra mouths.
They've incredibly also even got wood-fired pizza from Rollin' Stone, which is literally a rolling stone pizza oven imported from Italy that's offering options like BBQ chicken pizza and Margherita.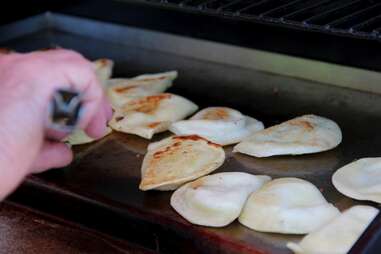 Oh and for chrissake make sure you stop by People's Pierogi Collective, who've brought in their own grill to fry up potato & cheese, sweet cheese, spinach & artichoke, and jalapeno poppers.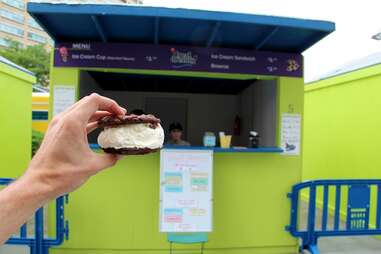 Finally, reward yourself for making such a difficult lunch decision (you got one of everything... right?) with a chocolate-chunk cookie ice cream sandwich from Treat Dreams. You deserve it. Now seriously, put a shirt on.