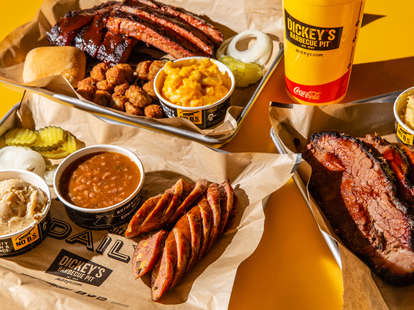 Dickey's Barbecue Pit is America's largest barbecue chain, with 519 locations nationwide.

| Cole Saladino/Thrillist
Dickey's Barbecue Pit is America's largest barbecue chain, with 519 locations nationwide.

| Cole Saladino/Thrillist
Can a Chain BBQ Joint Actually be Consistently Good?
Editor's Note: Welcome to Too Fast Too Casual, a new review series where our National Writer-at-Large Kevin Alexander takes a close look at both classic and up-and-coming fast-casual chains. The rising fast-casual trend is defining how Americans eat today, and in this series we'll look at the food, history, decor, and branding of fast-casual chains to see what these restaurants are really trying to do, and where this is all going. Read Kevin's previous reviews of Five Guys, Panda Express, Jersey Mike's, Panera Bread, Lemonade, Blaze Pizza, and Chipotle, and check back in every other week for a fresh takes on more chains.
To judge Dickey's Barbecue Pit properly, allow me to offer up some context.
Over the past decade, the barbecue world has had a resurgence, as the expansion of social media and food blogs helped spread the gospel of some of all-time, off-the-beaten-path legends, and a wave of new pitmasters entered the fray, bringing a chef's mentality and modern techniques to the age-old game of culinary chicken between meat and fire.
This new exposure for the old guard and fame for the new helped educate the palates of many Americans who weren't versed in the barbecue game from birth. And yet, despite the popularity, few upstart entrepreneurs and new age pitmasters have thrown their hats into the ambitious barbecue chain ring (read about them here!). Why, you ask, would they leave money on the table?
Well, friends, making extremely high-quality barbecue consistently every day in just one place is f&*%ing hard (hardcore barbecue heads will often know exactly which BBQ joint pitmaster is cooking on which days and go accordingly), and so doing it with a franchise-style model seems damn near impossible. As the wonderful (underrated?!?) 2003 Diane Keaton film suggests, with that sort of growth, Something's Gotta Give.
So for Dickey's Barbecue Pit, the biggest barbecue chain in these United States, the question I needed to answer became clear: What happens when you franchise a style of cooking that really doesn't want to be tamed?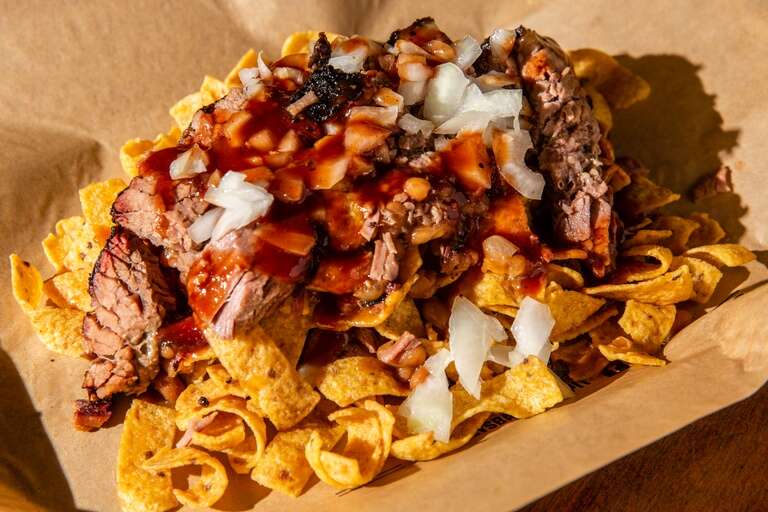 Where did Dickey's Barbecue Pit come from?
In 1941, Dallas, Texan Travis Dickey opened his first Barbecue Pit, serving hickory smoked brisket, "pit ham," and barbecue beans to customers crowded around a handful of repurposed school desks. His sons took over in 1967 and grew the business locally around North Texas before beginning to franchise in 1994. But even among franchisees, they kept rules: owner operators would attend "Barbecue University" for a month to teach the barbecue essentials; meats would be hickory smoked on-site (at 225 degrees) in "low and slow" style (now over either wood chips or Dickey's "proprietary pellets," depending on the location and age of the restaurant); soft-serve ice cream would be gratis with a meal; and kids would eat free on Sundays.
What is Dickey's trying to do now?
Dickey's now has 519 locations in the US, with new stores opening every month across the country. Last year, they went international, opening two outposts in the UAE (next stop: Brazil). For some competitor context, the next biggest barbecue chain in America is Minnesota-based Famous Dave's with 134, though that number is shrinking; Sonny's BBQ out of Florida has roughly 100, followed by Maryland's Mission BBQ with 80 locations and Bill Miller Bar-B-Q at 75. Except for Mission, which started in 2011, most of those other barbecue chains are legacy joints, which aren't so much growing as in holding patterns. And the ones that are growing are mostly growing one by one in a very regional and careful way.
In growing, Dickey's has modernized the decor in its newer, post-2015 stores -- no wagon wheel chandeliers, no soft-serve ice cream machine, but still yes to illustrations of truck drivers wearing Dickey's trucker hats and mutton chops over the phrase "serving real barbecue to real folks since 1941." They've embraced "cloud and Big Data tools" in devising a system called Smoke Stack, which basically analyzes the menu items selling at each store and figures out how to keep inventory tight based on five different metrics and, according to a Wall Street Journal story I read, lots of business-school words.
It has also launched a cookbook and line of retail goods (sauces, rubs, sausages, canned beans, 18 TYPES OF HICKORY PELLETS and, from a business standpoint, finds itself in that familiar baseball relief-pitcher mode: hold the lead, and try not to give up too much ground as you try and run out the game for their competitors. Or to use another, equally confusing metaphor -- they're in the final stages of Stratego, and have surrounded their opponents' flag, so their mission is now to find said flag without running into too many bombs. Though if they were Stratego masters like myself, they would deploy their miners to dismantle said bombs by teaming them up with colonels in a classic two--pronged tandem atta -- wait, what was I talking about again?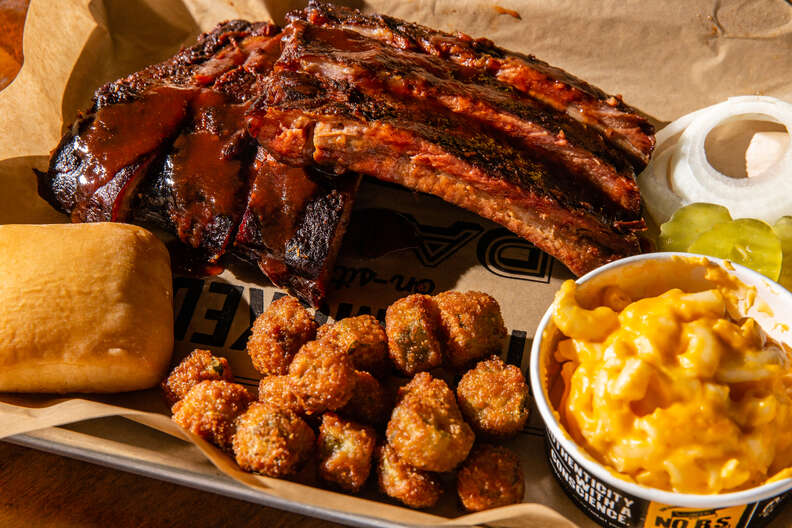 Dickey's Barbecue Pit Menu Review
How I did it:
Over the course of three unannounced visits to two Northern California Dickey's, I tried eight different meats, 11 sides, three sandwiches, two tacos, two desserts, a brisket Frito pie, and a white roll. Also, I don't know where else to put this, but it seems worth mentioning: the San Bruno location had a landline phone sitting out on the counter by the high chairs, and when it rang, I got the feeling that I was sitting in someone's late '90s living room waiting for Dawson's Creek to come back from commercial.
The Good:
The sausages at Dickey's were the best thing on the menu. The jalapeño cheddar sausage had legit heat -- a shocking revelation for a nationwide American chain -- and the red hot (a special while I was there) had a more even kick that came in late. The pork ribs were not bad, especially on the fatty end, where they were more moist and played well with the crackling skin. As for sides, the fried okra was good in the way fried bites of small things are, especially when dipped in warm, spicy BBQ sauce. The mac & cheese tasted eerily like Stouffers, and the nostalgia that triggered in my brain signaled it as positive too. The cole slaw was fine, and had a bit more bright crunchiness than I'd expected, which helped in stand up to the small pond of white liquid it sat in, and the BBQ beans were definitely better than the jalapeño beans, though I'm not sure I should put either in the "good" category. The little pecan pie, however, was incredibly sticky and delicious.
The thing about the BBQ sauces:
The three styles of sauce (original, sweet, and spicy) are kept in heated metal canisters and I honestly can't remember another place that keeps their sauces heated. The spicy one is the best of the bunch, though on a whole I'm not sure what to make of the practice, as it made me feel more like I was putting gravy on my brisket than BBQ sauce.
The Big Yellow Cup:
Giving out plastic, reusable bright yellow cups has been a signature move since 1988, and is one of my favorite things about barbecue joints in general. I now have two Big Yellow Cups, one of which I use to wash my children's hair in the bathtub.
The Not-So-Good:
On the sides front, the sweet-potato casserole, as it cooled down, became almost cement-like and nearly immovable with a plastic utensil. The potato salad had a heavy pickle flavor that made it taste mostly like sweet relish.
In terms of the meats, if I was brainstorming themes for a narrative arc, dry would be first in my word cloud. The pulled pork was dry and devoid of crispy bits, the chopped chicken in the chicken and cheese taco was dry. The turkey was dry. The white roll that comes on the side was also dry, and yes I KNOW THAT'S NOT A MEAT, but it maintained that dryness in its bigger sandwich roll iteration, which was not a good combination with the dry pulled pork.
The brisket specifics:
As someone born in Texas, I consider brisket to be the lifeblood of a barbecue joint. And so I ordered brisket every single time I went to Dickey's, as I'm also sympathetic to how it can occasionally be tough, and wanted to see if there was a certain consistency. There was, but unfortunately that consistency was a relatively thin smoke ring and a dry texture, though admittedly the bark itself had a nice flavor to it. Honestly, if Dickey's had told me these were burnt ends, I would've found it to be both more accurate and palatable.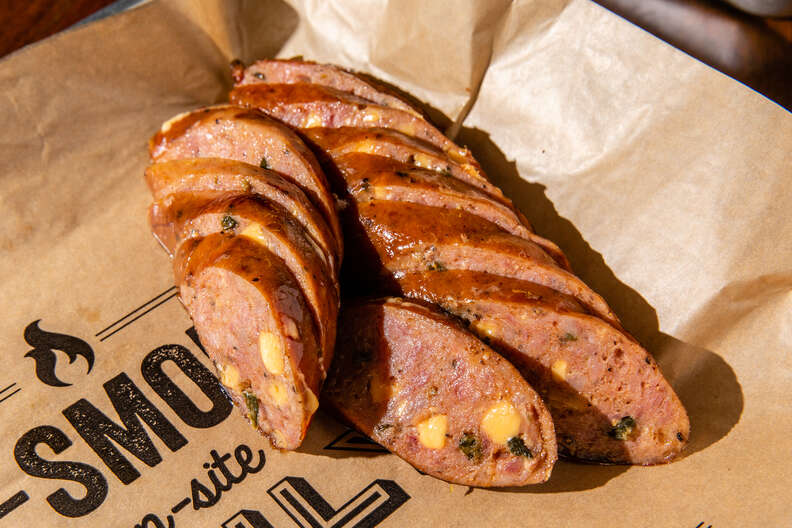 Final Verdict
Dickey's finds itself in an interesting crossroads. They are still by far the biggest chain, and that likely won't change in the next few years. But with the national barbecue palate improving, and a bunch of these more boutique, artisanal fast casual joints all encroaching on Dickey's territory, they're going to have to improve the consistency and quality of their meats and sides to keep pace. And therein, to use a BBQ double entendre, lies the rub. With so many franchises, and consistency such a hard thing to accomplish in barbecue generally, raising the bar across the board is going to take a ton of time and capital. And in this crazy competitive fast-casual market, they likely can't afford to just go low and slow.
Sign up here for our daily Thrillist email, get Eatmail for more food coverage, and subscribe here for our YouTube channel to get your fix of the best in food/drink/fun.