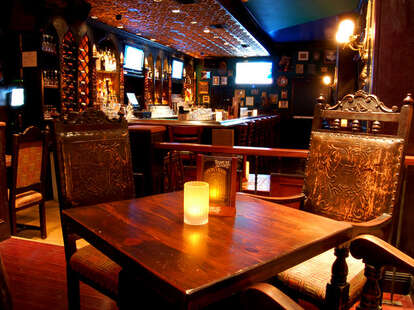 The Irish have contributed tons to American culture: 20 presidents have been at least part Emerald, Notre Dame is a fixture in American sports, and fighting. To enjoy their love of a comfy drinking spot, check out Drexel Irish Pub.
From the minds behind Segafredo (Brickell/Espanola) and Brickell Irish Pub, Drexel feels less like a sports bar than its Brickell counterpart, and much more like an aged little Dublin eatery, with patinaed ceilings, whiskey barrel hightops, and dark woodwork crafted with Celtic skill, which apparently works better in pubs than on basketball courts. Fill thyself with (vaguely) Irish snacks like Danny Boy's Wings (chipotle buffalo or Guinness BBQ), sliders (aged sirloin topped with Jameson-caramelized onions, cheddar & herbed aioli), and hand-cut Celtic potato chips with feta sauce, truffle oil, garlic clove, and sea salt, which is much preferable to sea assault, unless you've got the Killer W.H.A.L.E. Hovercraft, in which case, bring it on! There're also sandwiches like a grilled skirt steak panini with Jameson-caramelized onions, 'shrooms, and herbed mayo, Mahi-Mahi (grilled, fried, or blackened with red onion & remoulade), The Southie (8oz prime sirloin topped w/ BBQ onions, bacon & blue cheese), and entrees like a Shepherd's Pie with braised lamb, mashed 'taters, and cheddar, plus baby back ribs with red cabbage 'slaw, a Guinness glaze, and smashed spuds, which were kind enough to leave some Guinness for the glaze.
From the bar there're Irish pub standby brews, beer cocktails like the Snakebite (lager with hard cider), Moleca Stout (Guinness with a caipirinha mixed in), and a beer-aided bloody "Red Eye", which you can often wake up with a pair of, after getting too Irish.