Access to a secret club for food and wine gluttons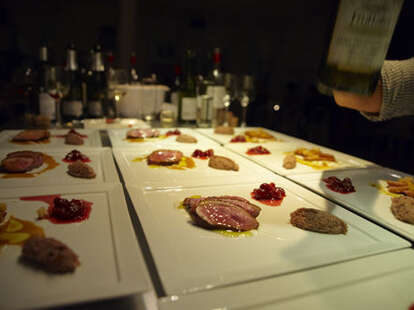 Christianity has long held that man should avoid the Seven Deadly Sins, but considering you're too lazy to read the list you're probably committing the other six right now. Setting aside time to celebrate just one: First Sinner's Club.
Celebrating "the leader of the seven deadly sins", gluttony, the FSC's a Manhattan-based underground club conceived by a wine director, restaurant owner, and web developer meeting every three weeks, and uniquely operating with the philosophy that the wine comes first, and the food must then match its majesty, which will be hard considering it doesn't have its own Chateau. To that end dinners'll feature seven courses of globe-trotting vino (all avail for purchase afterward), each to be filled in with tasting notes and elucidative back stories, e.g., an Argentinian red from a couple of Europeans who, due to being "terroir hunters", forsook the rich tradition of their countries, set up shop in South America, then brutally interrogated the land until it yielded its juicy secrets. Food for thought comes in the form of a five course, sea-to-air feast from "NYC's restaurant elite", with tastes rotating every meeting (previous entries: hamachi crudo w/ peach puree & prosciutto dust; sugar baby watermelon salad w/ green tomato salsa & chile; 3hr cured Long Island duck with confit leg rillette and duck fat croutons), but always making diners "expand the boundaries of their senses", a feat whose primary culinary association is Electric Kool Aid. And acid.
In addition to in-person events, the FSC's planning to implement a social network online, allowing members to meet folks with similar tastes and the organizers to tailor dinners to particular groups, like those who enjoy eating the most delicious deadly sin of all: sloth.