Reclaiming stuff is awesome, as evidenced by the South Lake Union Trolley's reclamation of the word SLUT, which was totally intentional, and not at all indicative of a systemic misunderstanding of modern colloquialisms on the part of local government. For a pizza spot laden with more appropriate reclaimings, hit Queen Margherita.

From the same people behind nearby boot-food mainstay Mondello, QM's a garage-style-door-fronted 40-seater serving traditional Neapolitan 'za in a space replete with reclaimed details (a vaudeville-era wall-installation taken from an NYC theater, a room-dominating archway from a Cap Hill mansion), and boasts a bar-stool fronted open kitchen fitted with a wood-fired oven made with ash sourced from Mt. Vesuvius, also the source of $100 for "former disco-queen" Rosie Perez...thanks judges! Hand-tossed pie-options start with the prosciutto/arugula/mozz/shaved grana padano Parma; the Capricciosa w/ prosciutto cotto, artichoke hearts, mushrooms, and green olives; and the Zoe's chorizo/Padrun spicy peppers/mozz Spagnola, the likes of which has not been enjoyed in Seattle in 1988. Not-meat pies range from the seasonal mushroom Funghi w/ thyme and truffle oil, to the Yukon Potato/rosemary/pecorino Patata, to their take on the first modern pizza, the Buffalo Mozz/fresh basil/tomato sauce'd Queen Margherita, but not Dancing Queen Margherita, since that's only consumed on Friday nights, when the lights are lowwww.

QM also boasts a wall full of mostly Italian reds, and a handful of taps (Manny's, Peroni), plus additional edibles like desserts (pastry cream/seasonal fruit Frutti di Bosco Tart), salads (the mixed green/toasted pecan/Gorgonzola Insalata Mista), and antipasti like the garlic'd flatbread Olive Miste -- eat too much on a date, and she better be a trolley...if you know what the government means.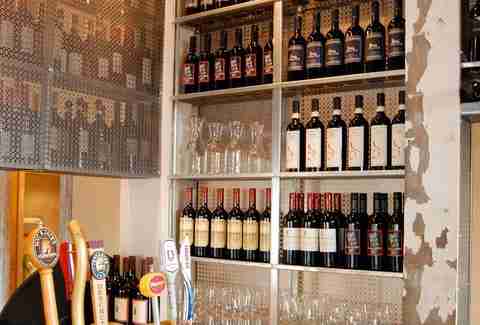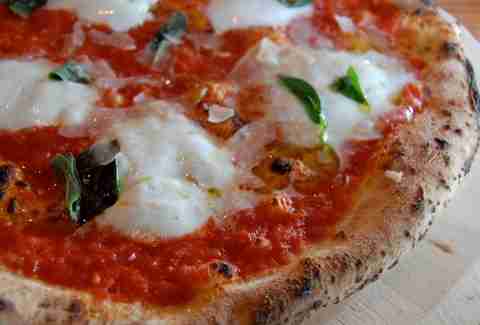 Previous Venue
Next Venue
Venue Description
1. Queen Margherita
3111 W. McGraw, Seattle, WA 98199
From the same people behind nearby boot-food mainstay Mondello, QM's a garage-style-door-fronted 40-seater serving traditional Neapolitan 'za in a space replete with reclaimed details (a vaudeville-era wall-installation taken from an NYC theater, a room-d