The second coming of some serious 'za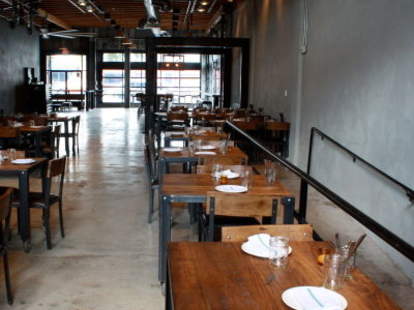 Running a mom & pop shop is fine, until you realize that your only potential customers are orphans, and they're generally quite poor. For the beefed-up second offering from one that ain't serving gruel, check out the new URBN.
An offshoot of the tiny, same-named "mom & pop" pizza joint in Vista, the new URBN's dishing out New Haven style pies on top-secret dough (from the original spot) in a cavernous 5,000 square footer, industrialized with brick walls, exposed beams, original cement flooring (patches and all), and a giant Z shaped, steel-topped bar with double bar stools for couples in love, or singles in love with New Haven style pizza. Bolstering their previously-minimalist 'za offerings, the new spot's slinging cheese boards, various salumi plates (from Speck to Coppa), and've added wondrous "Craft Pies" like the "Sausage & Peppers" (w/ gorgonzola-stuffed Cherry Peppers/fresh mozz), the parmesan'd "White Anchovy", and the parmesan/garlic "Fresh Clam", which probably thinks it can mouth off on account of its huge bi's. The liquor's mainly focused on North American whiskeys, Scotch, and tequila (though is less than lacking on all fronts), while specialty cocktails include the gin/ginger beer/Canton/lime/mint "Ginger Rogers", the gin/Lillet Blanc/Cointreau/lemon "Corpse Reviver #2", and the cachaca/chartreuse/marashino/lime "Point Blank" -- a drink which won't miss, unless you're a fan of terrible shots.
They're also slinging 19 wines by the glass, 35 bottled brews, and 12 drafts by the pint or 66.5oz growler, which'll significantly cut down on how often you have to annoy the servers with "please sir, can I have some more?".