A very long talent search ends with you eating dinner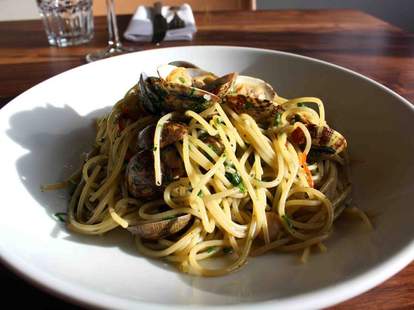 Finding the right man for the job can be exhausting, especially if you're Lord Sugar, and unlike most of the candidates before you, the right man for the job already has a job. Finally getting their man, the couple behind Cantinetta, officially opening today.
After spending a year hunting just the right chef to reopen the former Phoenix, Cantinetta's owners locked in on a seasoned Locatelli vet, who's now cooking up regional Italian in the light, conservatory-esque space whose white walls are now completely covered in art from the owners' personal collection, notably original prints from Richard Whittington's cookbook, which is certain to be paved with folds. Feasting begins with antipasti like parma w/ fig pizza, burrata (a solid mozz shell with cream inside) w/ chicory & anchovy dressing, tuna carpaccio w/ fennel pollen, and salsa verde'd potted rabbit, which explains why Bugs Bunny was constantly taking that wrong turn at Albuquerque. Primi pastas have squash ravioli w/ pork ragu and Parmesan risotto w/ pigeon, while secondi brings char-grilled poussin w/ red chillis, roasties & sweet chicory, and a rib eye w/ pan-fried polenta, bacon, and Nebbiolo sauce -- derived from a red wine grape variety, so don't be surprised if your sauce is sauced.
Rounding things out are "Tiraditi": tapas-style mini-bites like Polpetto di Carne Fritti (baby octopus meatballs), sausage & tuna crostini, and meat-filled fried rice balls -- a reminder that your own will have to be very big to respond to "You're fired!" with "You're an Arsetrad!"