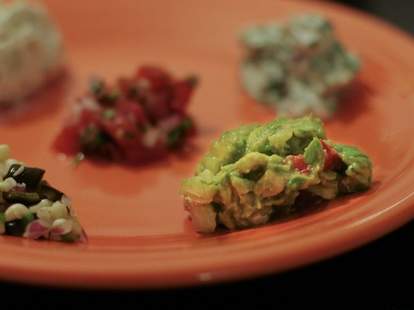 A good dip is appreciated at almost any social gathering, unless it's a Dipset, which comes with way too much beef. DIPSET! Delivering a less volatile set of dips to your next party: Kitchen125.
BK-based K125's a custom dip operation from a lifelong salsa enthusiast who's been doing her thing ever since she could "mash mass-marketed salsa with an avocado", but started in earnest after she besottedly agreed to enter NY's Guactacular competition and came home with the People's Choice award, which unlike the Teen Choice award doesn't always go to the cutest pico de guy-o. Having already worked up everything from pepperoni & black bean, to a cheddar-based whip mixed with shredded roast meat/homemade BBQ sauce, K'll work directly with you to arrive at your delicious Frankenstein, incorporating almost any ingredient you want (veggies, sausages/preserved meats, poultry, etc.) into a base of your choosing, from sour cream, to yogurt, to cream cheese, to mayo, though if you choose a Jerod Mayo expect it to go straight to your backer side. If your creative juices aren't flowing you can pick from made-to-order jobs on the site like the award winning guac w/ roasted garlic, red bell peppers, and sweet onion, a fresh corn salsa with roasted poblanos, and a goat cheese spread with caramelized onion, better than a Carmelo-ized onion, as that only dips ACT scores.
If you want a sampling for your party there're also packs of 16oz containers stocked with appropriate dippables (pretzels, pitas, baguettes, etc...) known as "Everything But the Beer", though throw a party without any and it'll be hard to attract any beef. DIPSET!