Foot-long dogs and heart attack sandos in SOMA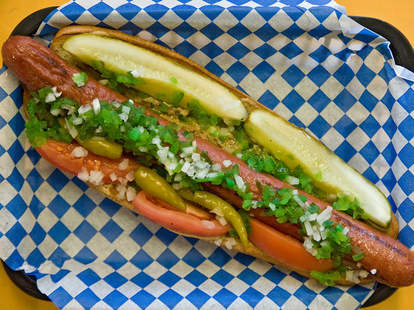 The Midwest is known for having something to offer everyone... well, assuming everyone just wants sports bars and type 2 diabetes. Now offering the best eats your heart can potentially handle with the right mix of medications, The Grill.
From a Bay Area Cubs fan (and his mother-in-law) with some deep ties to Chicago, Grill's a little slice of Chi-town just opened in SOMA slinging wonderfully artery-clogging Midwest fare in a 20-seat, burnt orange-walled/Wrigley-Field-arted interior that features white bedboard wainscotting throughout, but not Bruce Waynscotting, as that seems to disappear as soon as you put some Batmanscotting in the room. Windy City-themed eats include a foot-long, ketchup-free Chicago dog made with Vienna Beef (almost 86'd when they couldn't find a custom poppy seed bun long enough to hold it), a dozen-bacon-strip-layered Heart Attack sandwich with pub cheese, avocado, jalapenos, and fixings on sourdough, and an-almost-everything-on-it burger called The Works, also Balki Bartokomous's answer when you ask him what provides money for families. There's even a 15-pound brisket they start serving Tuesdays (it spends all day cooking Monday) and a few not-so-Chicago food options like a PB&J, six Italian-named grilled chicken sandwiches (The Carmella, The Genovese, The Tuscan, etc.) and a sizable deli case, which boasts 10 meats, 11 cheeses, and 10 breads, because just one Bread isn't very good after 1973.
They've also got Blue Bottle coffee, and if you just prefer something baked (ha, it's like -- nevermind), the mother-in-law is whipping up all sorts of homemade pastries from cookies to muffins, all of which change "day to day", also the life expectancy of everyone in the Midwest over 38.