BBQ truck gets the pro treatment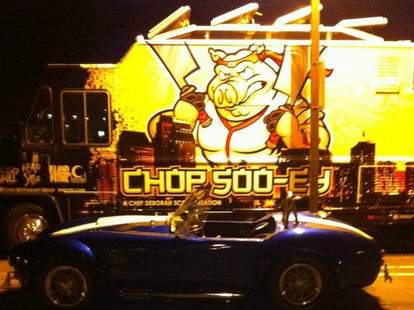 Everyone hates the kid whose first ride is some ill-deserved sports car -- but then again, those suckers didn't get laid at the Sophomore Semi afterparty. Twice. Nibble scraps from the lavish first wheels: Chop Soo-ey.
HQ'd at Island Prime, the big-timing Cohn Group's Soo-ey fittingly outclasses competing trucks with an armadillo-reminiscent four-paneled roof, and a gorgeously graphic'd, black/yellow SD skyline being lorded over by Ninja Turtle-looking mascot "Chuy the Pig" and his dual giant meat cleavers, which threaten San Diego with the biggest cut since Shawne Merriman. The BBQ-focused menu boasts hefty signatures like the triple-swined El Pignini sandwich with roasted pork shoulder/pulled pork butt/smoked ham/chow chow veggie relish, Jerk Chicken Tacos with caramelized pineapple/hot mustard/smashed plantains, and a tomato jam/caramelized onions/blue cheese Kobe burger served "slider style", though not Sliders style, because then John Rhys-Davies would ensure there was none left for you. Less aggressive satiation comes via snacks like Curly Tail Fries (w/ crispy BBQ cubed pork & chunky blue cheese dressing), Tempura Yams with plum-hot mustard seed dip, and the eyestalk-turning Lobster Lollipops, as well as a seasonal spiced cider and infused iced teas in pomegranate honey or ginger orange -- though isn't that redundant?
Though rolling normal foodtruck-style, Soo-ey's also available as a private rental for your next party, which'll ensure that finally, everyone'll get to have a finger-licking good time.