Freddy's Frozen Custard & Steakburgers
Wandering the Louisville, Colorado Freddy's Frozen Custard & Steakburgers as a curious first-timer, I didn't really know what to expect. With no prior experiences with the likes of steakburgers and frozen custard, I asked a local FredHead what to get. FredHead is the chosen name for disciples of America's best fast-food chain you've likely never even heard of, despite the fact that there's likely a Freddy's closer to you than you realize.
Yes, your neighbor might even be a FredHead.
The food -- a double steakburger, fries, and an order of fried pickles -- was spectacular in its own right, but more mind-blowing is the fact that Freddy's has managed to expand exponentially over the past 16 years, yet still remains curiously under the radar in a country where talking about burgers may well be the national pastime.
Founder Freddy Simon opened the first restaurant in 2002, but his namesake chain traffics in nostalgia for an era of sock hops and fast diner fare done fresh. Freddy's very much feels like a small-town burger joint from the '50s. They all do. All 300 of them. And while Freddy's is far from the first chain to take that '50s diner aesthetic and spin it into fast-food gold -- see also A&W, which spent decades recalling car cruises and poodle skirts in its small-town franchises -- it's managed its massive growth stealthily in a social media age when Shackburgers have their own hashtag and a war wages between devotees of Five Guys and In-N-Out. It's grown into a meaty powerhouse while barely registering a blip on the national consciousness.
"We planned to only open one," explained Scott Redler, who co-founded Freddy's with Simon and his sons, Randy and Bill. The plan derailed spectacularly.
It's like an inverse of Shake Shack: a standout regional chain making next-level burgers steeped in simplicity. But where Shake Shack began in New York and slowly spiderwebbed out, heralded by trumpets and news flashes, Freddy's started in the heartland, slowly building an empire where it lets its food speak for itself.
But back to that burger.
It's simple enough: two patties, two cheese slices, mustard, onion, and pickles on a butter-toasted bun. I was expecting something similar to In-N-Out: a tasty backyard-style burger delivered quickly at a decent price. This was... something different. Better, even. My taste buds were flooded with the flavors of a juicy burger. I was shoveling shoestring fries dipped in addictive fry sauce -- a combo of ketchup, mayo, and secret spices -- into my mouth at an alarming rate.
It was delicious, the kind of food you stumble across in some far corner of the country by accident. Yet you can get this exact burger in 300 locations in 30 different states. How does that even happen while still feeling so singular?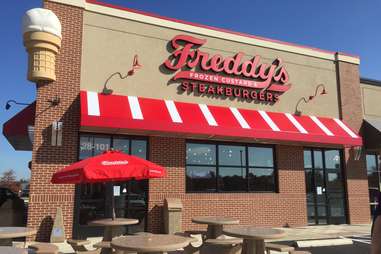 To be fair, Freddy's isn't exactly reinventing the wheel. Old-school burger chains are a huge part of the American food landscape, but most of them remain regional -- your Arctic Circles, Burgervilles, Steak 'n Shakes, Whataburgers, and countless A-frame-based grills -- and few can speak to the high quality of Freddy's.
Compared to other premium burger chains like In-N-Out, 30+ states is massive. Though the Cali-based Double-Double emporium recently moved into Oregon and will be opening multiple locations in Colorado, it's still only in six states total. Culver's, another beloved Wisconsin-based burgers-and-custard chain, has more than twice as many locations as Freddy's, but they're only in 24 states.
Unexpectedly high quality is built into pretty much every Freddy's franchise, the model of which is the sole reason Freddy's can do what it does in so many places. Franchisees are encouraged to buy multiple locations in a single territory, allowing them to control all the marketing in a given area without having to run it by the other owners. That marketing is done via radio, billboards, and TV, though since it's 2018, social media is important as well.
It's easier to run a business when you can manage things like advertising on your own, and the model makes it seem less like a multi-state fast-food juggernaut and more like a great little local joint with solid burgers. As a result, Freddy's feels unique to each location's area, which goes a long way in that image of nostalgic fast food of a bygone era.
And it certainly helps them with brand recognition. Say you'd never heard of Freddy's before, but then 10 locations opened in your area. You'd probably be more aware after that, but also think it was unique to your area -- a beloved new local chain ripe for, even in need of, rabid fandom. Suddenly, when you spot a Freddy's a few states away, you might think it's your local boy done good. You might even visit out of loyalty. You're now a FredHead.
"We planned to only open one."
The multi-unit franchise model allowed the company to open 59 restaurants two years ago and 40+ last year. It plans to continue on that pace into the foreseeable future. The Northeast, which is relatively Freddy-free at the moment, should have a significant footprint in the future, according to Redler.
Credit the persistence and targeted growth to a Witchita state of mind.
While you're reading this sentence, someone in Wichita, Kansas has probably just opened a business. "We live in a market where people are used to starting and running their own businesses, from Rent-a-Center to Pizza Hut and White Castle," Redler explained, citing companies that all got their start there. "People were used to opening restaurants. We had individuals come up to us and say, 'Hey, we want to open a Freddy's!' After we heard that enough times, Bill, Randy, and I decided it was a good idea."
Just two years after the first one opened in 2002, the brand began franchising all across Kansas. By 2005, the first out-of-state location opened in Enid, Oklahoma. Now, a single franchisee owns 46 locations. Just 21 of the 300+ total restaurant locations are owned by the company; the rest are owned by franchisees, many of whom live in Kansas and own a significant number of Freddy's out of state. It's not uncommon in the franchise biz for a chain's operations team to be based on-site and the owner to be in another state. But the fact that so many franchisees are from Kansas? That's something.
For example, South Texas might not seem like a robust territory to open a burger spot, especially considering the dominance of Whataburger -- another chain with more than twice the number of Freddy's locations (800+!). But even Whataburger is mostly based in the South (Georgia, Louisiana, Mississippi), and especially Texas, where it's headquartered. Despite that, a franchisee owns 19 Freddy's in South Texas.
"[Kansas] is a very red state and very business friendly," Redler said. "[We're successful due to the] conservative nature of Wichita and the spirit of entrepreneurship, which is alive and well here."
Freddy himself is also alive and well in Kansas, a 93-year-old Purple Heart recipient. When he started the chain with Redler and his two sons, he didn't want to create another fast-food restaurant. They prioritized more thoughtfully sourced ingredients and better customer service. And if it took longer to get your meal than at McDonald's or Burger King, then so be it.
That's still the model, and what elevates Freddy's menu and experience. And though there are off the beaten (fast food) path selections like patty melts and hot dogs, the steakburger is the beating heart of the restaurant.
"They smash it down to make it pretty thin, but it's still [got] a good bite to it," said FredHead Eddie Andreo, who's visited at least 30+ locations in five states. "Each bite is completely juicy; it's nice and thin with a little bit of crisp on the edge."
Because of the thin patty, it doesn't make sense to order anything but a double, similar to the popular Double-Double at In-N-Out.
"The [burgers are] 85% lean," Redler said. "They sear to the grill so they caramelize. I compare it to bread and toast: Everybody loves to eat toast. You never want to eat just bread."
It's not just the caramelization that makes it unique. Redler claimed that "when you take a bite of a Freddy's burger, steam comes out."
It seemed like it could be an exaggeration, but Andreo's been going there for 15 years and confirmed as much.
"The food isn't the only thing keeping me going back."
But of course dining out is also about how the restaurant makes you feel, and Freddy's is also known among its fanbase for its next-level customer service -- notoriously cheery and attentive -- which has drawn as much attention as its food.
"The food isn't the only thing keeping me going back," Andreo said. "I'm never a number [there]. They're always beyond friendly."
Then there's the custard. McDonald's might have new ice cream machines that break down less frequently, but it's still soft serve. In-N-Out has a couple decent shake options, and Shake Shack, well, Shake Shack definitely has shakes. But Freddy's is all about the custard, that egg-heavy delicacy that seems to elude the understanding of dessert-lovers outside the Midwest and the beach towns of the Northeast. Freddy's and Culver's have more or less become the nationwide ambassadors of the decadent frozen treat.
"Custard is super-premium ice cream, and [we make it] fresh throughout the day," Redler told me. "It's denser, and doesn't have ice crystals."
Unfamiliar, I dipped into the PBC&B, with vanilla custard, Reese's Peanut Butter Cups, and bananas. It was topped with a whipped cream and a cherry, and combined with the cherry red seats and the throwback diner vibe of the whole place it felt like jumping into a time warp. My second time warp of the day, in fact.
Food, like music, has that quality. Taking a particular bite can send your brain into a tizzy and suddenly long for a time when you weren't even born, much the same way a bar of music can make you long for a bygone era you were never part of.
Now, I wasn't alive to know what it was like for Freddy to enjoy a burger and a custard back when he was growing up. But I do know eating Freddy's feels simultaneously nostalgic, authentic, and modern. It's a tough mix to pull off. But when it's done right, it's a beautiful thing. Freddy's has managed to take that feeling and franchise it across America while maintaining its small-town vibe. They traffic in nostalgia, sure, but the nostalgia wouldn't mean much if the burgers and shakes didn't hold up their end of the bargain.
After one visit, I think they've made a FredHead of me.
Sign up here for our daily Thrillist email and subscribe here for our YouTube channel to get your fix of the best in food/drink/fun.