If you're going to make it through all the daytime beach drinking you aspire to this Summer, you're going to have to eat at some point. Multiple meals a day, ideally! With that in mind, these are the Hamptons' most indispensable spots to do just that, from life-saving breakfast joints to steak-slinging party spots.
Recommended Video
Send Foodz: Chicago Classics
Meeting House (info and address)
Amagansett
From the team that runs Tremont in the West Village, Meeting House nails the whole elevated comfort food thing with exquisite orzo-studded Exile Chicken Soup, heaping portions of addictive mac & cheese, and tenderly crisped chicken Milanese (fancy chicken cutlet for your inner child). Also not to be missed is the Meeting House Burger (of course you can get an egg on top), or the tuna burger -- if you're avoiding land-based proteins and/ or seeking out Sriracha aioli and some Asian slaw.
Suki Zuki (info and address)
Water Mill
In fierce competition for best sushi in the Hamptons, Suki Zuki offers no reservations and no apologies for a likely wait, but the food is worth the effort, from incomparably fresh fish to creative creations like a Spicy Tuna Sandwich that'll thoroughly shame whatever can-based creation you packed for the beach. The atmosphere's pretty low key, so if you're seeking sake bombs instead of bomb Japanese cuisine, head elsewhere.
Dockside Bar & Grill (info and address)
Sag Harbor
With stunning views of the Sag Harbor bay, Dockside Bar & Grill will make you want to buy a yacht, but if that remains out of reach, textbook renditions of seafood staples like clams, lobster, and crab aren't a bad alternative. They've also got internationally minded options like seafood paella and lobster avocado Spring rolls. Pro tip: call early to lock down an outside table to enjoy said views.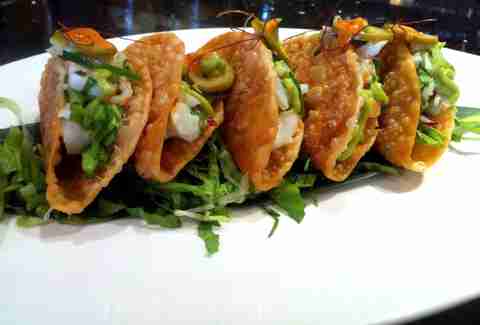 Sen (info and address)
Sag Harbor
Already having separation anxiety about leaving your favorite sushi place behind in New York City during your stay in the Hamptons? Don't open your Postmate app just yet. In the convenient-to-all town of Sag Harbor, the quaint, yet lively Sen offers a damn fine selection of fresh fish that makes its way into everything from more classic offerings to creations like crab & shrimp-stuffed wonton tacos. Also, about those aforementioned sake bombs? This is your spot for those.

East Hampton Grill (info and address)
East Hampton
EHG brings home a little closer to the Hamptons while bringing you a little closer to the size of a house, with comfort classics like Heavenly Biscuits, which live up to their moniker with the help of rosemary butter and honey. Before you start tearing into your BBQ ribs or spit-roasted rotisserie chicken, make sure you order up some of their grilled California artichokes with remoulade, as they tend to run out quickly.
Estia's Little Kitchen (info and address)
Bridgehampton
Located off of the Bridgehampton Sag Harbor Turnpike, Estia's Little Kitchen is easy to miss for the untrained eye, but also indispensable when it comes to adding the perfect breakfast to any complete Hamptons weekend. Their breakfast sandwiches are a must for any huevos rancheros lover, amped up with andouille sausage, black beans, and avocado. Of course, if you want to come in for some fish tacos at lunch or dinner, that's not a bad idea either.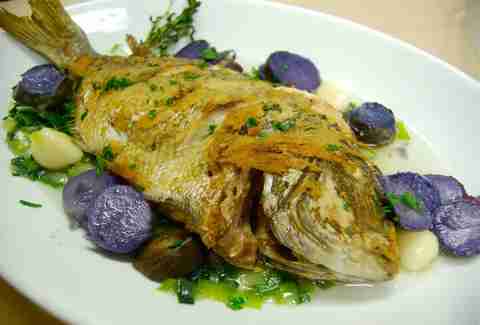 East by Northeast (info and address)
Montauk
A hidden gem towards the end of the island, East by Northeast offers a dose of fine dining in a land usually synonymous with Sloppy Tuna, share houses, and surfers. With a waterfront location and  a seafood-heavy menu that blends Northeastern and Asian flavors, you start with a shellfish boat and proceed to a boatload of dim sum. Soon you'll be digging into a perfectly prepared whole fish, some live music will kick in, and you won't want to be anywhere else.
World Pie (info and address)
Bridgehampton
Looking for a proper slice in the Hamptons? Search no further. World Pie has been serving vacationing New Yorkers since the turn of the century (the last one, at least). Sit down for a cold brew and a wood-fired pie like the Alva (Genoa salami & pesto), or the Fresh Clam with ricotta, Parm, roasted garlic, and... well you can probably guess. Take one home if you prefer that your gluttony not be so public.

75 Main (info and address)
Southampton
The Page Six of Hampton's restaurants, 75 Main draws in celebs and normals alike with a wide-ranging Italian-American leaning menu, slinging everything from spaghetti carbonara and Bloody Mary-sauced shrimp cocktails to indulgent nightly specials like dry-aged porterhouses for two and Lobster Thermidor. Bonus: new management is keeping the place open late as a party spot with a weekly DJ lineup and signature cocktails.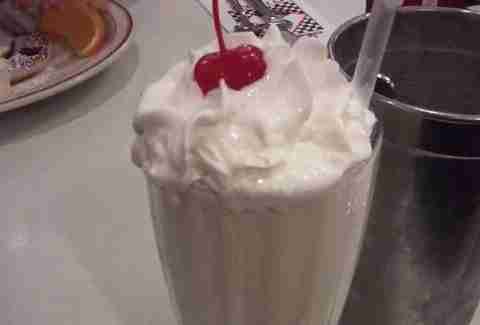 Candy Kitchen (info and address)
Bridgehampton
An old-fashioned luncheonette and soda shop, Candy Kitchen can't be missed from Montauk Highway and the Bridgehampton Jitney stop. Whether you're stopping in for home-made ice cream or a milkshake, digging into a plate of fries, or both, it's an essential stop. It's also a fine option when you just want to load up on eggs or pancakes without any of the fancier brunch trappings. Make sure you bring cash because credit cards, as in those good old days, are not accepted, and nostalgia won't pay the bill.