Chef Todd Jacobs, former head chef of Hamptons' historic American Hotel, is stripping down the stuffiness and pretension associated with fine dining in favor of a laid-back approach emphasizing more family-style freshness than Will Smith and his kid, if his kid also dressed in really sweet oversized color-blocked clothing.
Jacobs prides himself on the fact that when you eat his food, he can tell you where it was growing, swimming, or grazing before it made its way onto your plate. Which is cool if you're some sadistic Hannibal Lecter-type who loves to know about their food's life before its untimely demise. This crispy fried calamari with red pepper and green herb aioli dreamed of becoming a doctor, although its true passion was always dance…
Just like the food, the cocktail list is seasonal and constantly evolving, and made with fruits and veggies that are often picked straight from their own garden. Here we have the succinctly titled "As Easy As Falling Off A Piece of Cake" comprised of Crop organic cucumber vodka, Thatcher's organic cucumber liqueur, pink grapefruit, and fresh strawberry.
Don't be frightened by words like "organic", "vegan", or "gluten-free" that you might see splashed around the menu. This place caters to the meat-and-potatoes crowd just as much as it does to the Whole Foods nation. Look no further than this grilled Moroccan-spiced hanger steak with oven roasted cipollini onions and natural beef jus.
Ninety percent of their vegetables are from local organic farms, so everything they're slinging is fresh and in season. These are some local Yukon Golds roasted with duck cracklings, shallots, and dill. One bite and you'll be freebasing duck cracklings by Labor Day.
Jacobs actually refers to the boats of local fishermen they get their seafood from by name, which means he's either super tapped into the local fishing community, or he's excellent at making up clever boat names on the spot. It won't really matter when your face is buried in this bouillabaisse comprised of steamed North Atlantic fish, shellfish, and garlic saffron broth.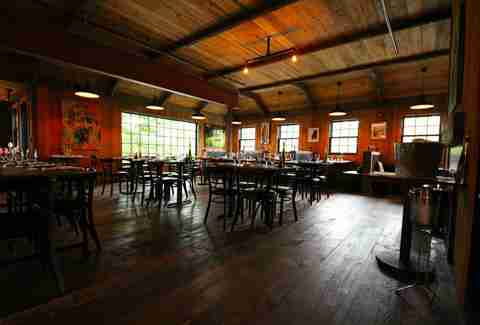 The space mirrors the food: comfortable, rustic, and casual, which just so happens to also be a great "About Me" description on Match.com.
To encourage mixing and matching, the main courses can be ordered by the quarter, half, or full pound. Or, in the case of this Raleigh Farms Long Island duck and crisp duck-leg confit, half breast or full breast.
When you head inside, try not to trip over the vegetable garden growing in the front. You don't want one of your boot prints to end up on the freshly clipped basil used to garnish this "Tip Toe Through The Garden Of Good & Evil" made with Crop organic tomato vodka, fresh tomato consommé, and fresh basil with a garlic salt rim.