9 reasons to hit Bay Kitchen Bar this Summer
Summer in the Hamptons has a few essentials -- seafood, drinking, being on a boat. But what if you don't have access to a boat? Enter Bay Kitchen Bar, awaiting you with the freshest of aquatic eats, some serious cocktails, and the FEELING that you just might be on a boat. And if you're actually ON a boat, they can accommodate you, too. Here are nine reasons to get yourself there.
1. The view is pretty much unbeatable
Sitting right by the marina on Three Mile Harbor, Bay Kitchen Bar boasts one of the most tranquil atmospheres in the Hamptons. Indoor/outdoor deck seating and the somewhat secluded locale mean that by the time you've gotten there, you'll have forgotten about the traffic on 27 and the fact that you accidentally set fire to your share house last night.
Alexander Spilka
2. $1 oyster happy hours? $1 oyster happy hours!
Unlike post-work drinks in Midtown, this happy hour will actually make you happy. Bay Kitchen Bar's Oyster Happy Hour is really three: every day from 4-7pm you can down $1 oysters paired with wine. Munch those mollusks while watching the sun set over the water.
Brandon Cohen
3. They're so fresh and so raw
For his sea-to-table cuisine, Chef Eric Miller uses as many local ingredients as possible. That means your clams were dug up today. The raw bar offerings include three variations of fluke crudo, two kinds of ceviche, East & West Coast oysters, lobster, and a shrimp cocktail that should be called Godzilla rather than jumbo.
Alexander Spilka
4. But you don't have to keep it raw
Other menu highlights that involve the culinary innovation of... cooking stuff... include stuffed meatballs, charred octopus, crab cakes, lobster rolls, and Long Island duck.
Alexander Spilka
5. The family has a track record
Eric Miller's headed food establishments in the Hamptons for years – including Food & Co, Miller's BBQ, and Hampton Clam Bake. This is his first venture with his son, Adam Miller, who graduated from the wine program at ICC. Which leads to our next reason…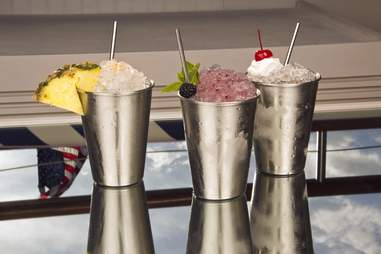 Alexander Spilka
6. You didn't even know these cocktails existed
Juleps come in ice-cold metal glasses with silver straws, in both blueberry and vanilla flavors, as well as the classic mint. The Violet Collins introduces you to something you don't know you love yet: a candied violet ice cube, which, in addition to making your drink look like something from outer space, slowly releases deliciousness as you sip. They also concoct their own simple syrup in many varieties including vanilla, honey, cinnamon, and their own fresh grenadine.
Alexander Spilka
7. It's just the right combo of casual and sophisticated
Sit by the indoor fireplace if you're chilly, by the bar to catch a game on the TV, or outdoors if you want some air. Though they haven't yet determined exactly what the nightlife scene will entail, they'll be serving until at least 11pm, and the lounge spaces are the perfect place to get your night started.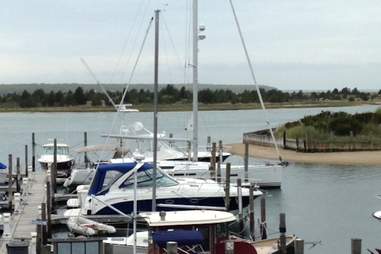 Lizzie Reinhard
8. You can tie up your yacht
Weren't you just complaining that there are no good spots to tie up your boat and have some delicious food and booze? No? Oh. Sorry. Well, it never hurts to dream.
Alexander Spilka
9. There's more cool stuff in the works
Although there's nothing set in stone, there's talk about parking lot clambakes, and even shuttle service from the restaurant to local nightclubs. Chef Miller also specializes in catering, should you want to have an event of your own, like maybe a fundraiser to pay for the damage you did to your share house.