There's an unpretentious dinner party going on in East Quogue, and everyone's invited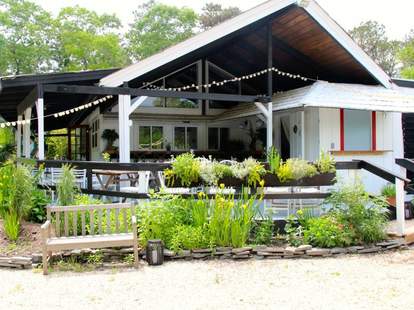 The word "snobby" gets thrown around in the Hamptons like a disobedient butler, but if you want a really nice meal with serious ingredients and an attention to detail, prepare to be shamed out of the restaurant if you don't know the difference between your caviar and marrow spoons. Thankfully, East Quogue's Station is here to strip away all the pretense and just give you a damn good hunk of pork.
When you enter, you feel more like you've walked into your dream beach house than a restaurant. Owners Rafe Worthington & Marina Rutherfurd have been coming to the Hamptons since they were kids, and their goal was to create an environment that felt like you were "stepping into someone's living room for a dinner party". Said person's living room is much nicer than yours, mainly because you don't even have a living room.
Partner and executive chef Lucia Soria came to Station all the way from Argentina to help design and execute an eclectic menu that's all about seasonality. This grilled octopus with endives, olives, oranges, and peppercress will make you feel like Summer is Summering in your mouth.
Not wanting to be bound by the restrictions of describing their restaurant as serving any certain type of cuisine, the menu abides by one guiding principle: it better taste fantastic. Good abiding principle! Here, we have a beef Wagyu carpaccio with caper berries, shaved Parmesan, and Dijon mustard.
All bread and desserts are made in-house by their pastry chef, then laid casually on cool desks like this to show you just how unpretentious they are.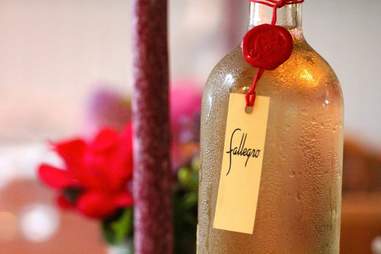 A laundry list of wine choices is oftentimes more confusing than it is satisfying. Station's honed list features small family-run European estates, as well as a few local producers, and each was selected for a very specific reason. If you want a binder full of options, there's a Cheesecake Factory out in Lake Grove.
Striving for "innovative yet familiar, elegant yet unfussy" is the pork milanesa with house-made bread crumbs, micro greens with pink radish, fennel, toasted sesame seeds, and Sriracha dressing.
That pastry chef is at it again with this strawberry and ruibarbe compota (the chef's from Argentina, remember?!) with fresh ricotta cheese and almond dacquoise. In case you somehow didn't know, dacquoise is French for "delicious cake-type thingy".
They've partnered with Portland's Stumptown Coffee to stock the cafe out back that'll also hit you with freshly baked pastries to enjoy in the sun from 7a-12p daily, and their 55-seat outdoor patio ensures there'll be enough chill space for everyone, even your butler, if he's behaving.