5 Hamptons restaurants for partying all night
For those native New Yorkers who never learned to drive a car, or those who have lived here for so long their licensees have expired, getting around in the Hamptons can be tricky. If you don't want to find yourself at the mercy of Uber surge pricing, picking a one-stop spot in the Hamptons where you can post up for the night to eat, drink, and dance will save you money and headaches and more money, because you didn't have to buy Advil for said headaches.
Here are five restaurant-club hybrids you shouldn't miss.
Ruschmeyer's (address and info)
Montauk
Ruschmeyer's, a boutique hotel, restaurant, and bar evokes nights at Summer camp with cabin, teepee, and campfire settings. But don't expect camp food from the culinary team behind The Smile in New York City. Think more along the lines of crave-worthy white clam pizza. That dinner will guarantee access to the bar ahead of the lengthy line that begins around 11pm. Mingle outdoors or head to the nautical-inspired dance floor to catch '80s and '90s Summer classics. Pro tip: if you're really planning to get after it, booking a room isn't a bad move.
The Surf Lodge (address and info)
Montauk
Montauk's surf-chic hangout combines the Bohemian, relaxed comfort of a beach house with a certain level of sophistication that exceeds the one YOU'RE renting. Another hotel-restaurant-bar trifecta, the restaurant brings together acclaimed Australian Executive Chef Chris Rendell and New York hot-spot, Acme's Michael Hamilton. Local-leaning seafood specialties include diver scallops with cashew chili relish and coconut crab laksa with green tea noodles. Surf Lodge's multiple bars and dance floors fill up quickly, so staking out a table early is a good way guarantee your entry into this wonderland of bonfires, DJs, and flowing rosé.
Georgica Restaurant & Lounge (address and info)
East Hampton
Georgica offers exquisite American cuisine and a sophisticated, high-energy nightclub. Dinner at Georgica is on par with New York's best restaurants with specialties like fried oyster "fish n' chips" and Peekytoe Crab Fritters. Oh, and plenty of steaks and chops. Important: don't miss out on the fingerling potato puree -- fancy mashed potatoes are the best mashed potatoes. New this Summer, Georgica has revamped their sushi selection as the pair behind up-and-coming sushi restaurant and food truck MYUMI, entrepreneur Jake Smith and chef Kazuo Yoshida, behind Brooklyn's 1 or 8, have taken control of the fresh fish offerings. After you're fully stuffed -- you'll be ready to party and won't need to deal with calling a cab because the party is already flowing over to the two bars, a VIP room, and two dance floors.
The Blue Parrot (address and info)
East Hampton
Hidden in a corner of East Hampton, The Blue Parrot has remained eccentric and exotic since its reopening in 2009, after it was originally founded in 1981 as a spot for bankers and surfers alike to gather. Backed by the likes of Bon Jovi (!) AND Jewel (!!), The Blue Parrot offers a casual, hassle-free alternative to your typical Hamptons nightlife spot. A mix between a damn-fine Tex-Mex joint and the casual-cool feel of a dive bar makes The Blue Parrot a great spot to grab a bite (lobster tacos anyone?) and stay for a night of drinking, dancing, and rooftop patio-ing.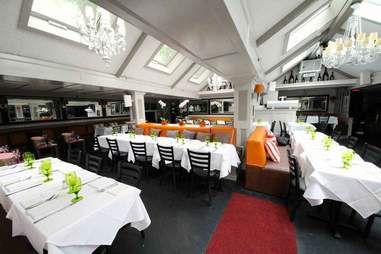 Sienna Restaurant and Ultralounge (address and info)
Southampton
Searching for lights and music without sacrificing the tastiness of your meal? Look no further -- Sienna Restaurant and Ultralounge brings the total package with an Italian menu from Executive Chef Donatella Arpaia (don't miss the veal meatballs). After you gorge, tables are cleared away to create a high-end nightclub with a state-of-the-art sound & light-equipped dance floor. They're also offering bottle service including fresh-squeezed juices and Champagne accompanied by chocolate-covered strawberries (if that doesn't attract some promising guests to your table... did you remember to shower?).