If you want to drink communal mezcal (and you should), this is the place to do it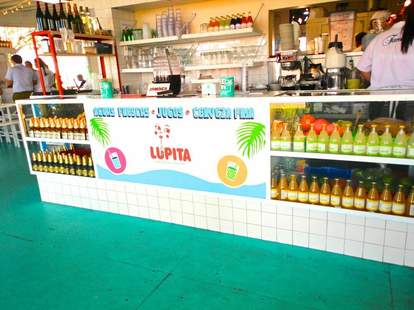 If you love Tacombi at Fonda Nolita -- and you likely do unless you were in the Dharma Initiative and therefore hate VW buses -- then La Brisa will be your out-East outpost for delicious Mexican grub. The Tacombi owners have opened the joint in an effort to bring their brand "back to the beach" in "the Yucatan of the Northeast", also known as... Montauk.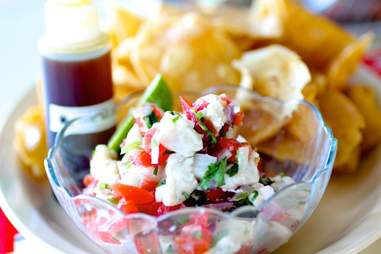 Because it's cool now, they're committed to using the freshest ingredients available, and being steps from the beach definitely makes that easier when it comes to the seafood. This ceviche is locally caught tilefish that has been marinated in lime juice, and's served with fresh tortilla chips, and a side of their "oro negro" (black gold) sauce composed of blackened habanero.
In Mexico, mezcal is typically produced by the hands of an entire village, and then the fruits of their labor are shared as a community. When you and twenty of your friends are all living in a two-bedroom Montauk share house, it's kinda like being your own tiny village, except nobody does any work!! So come bond with your villagers over some La Brisa mezcal, which is served up in a bottle with a couple glasses, orange slices, and chili salt, so that it can be sipped and savored as a group just like it's traditionally done in Mexico.
Nothing is mass-produced, and that doesn't just apply to the food. Whether it's working with local welders to construct the tables, or recruiting a renowned NYC sign painter to do all the artwork on the walls, everything in the joint is one of a kind.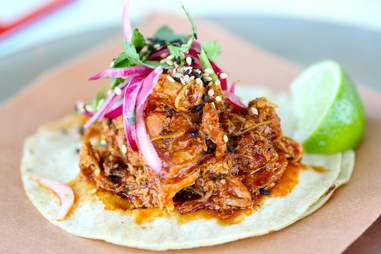 They're one of the only places in the Hamptons or NYC to have an in-house tortilla machine churning out daily-fresh corn tortillas. A fine resting place, indeed, for shredded chicken in a traditional mole salsa.
Just like the REAL beach, you can enjoy La Brisa's outdoor dining. Unlike the real beach, no seagulls are there to judge you with their, "Wow, you ate all of that, huh?" eyes.
It's soft-shell crab season, and they're capitalizing on it by offering up tacos with just that.
Despite what you might think, "esquites" is not a Spanish way to sing the chorus from Lil Jon's strip club anthem "Get Low". On the contrary, it is a delicious side dish at La Brisa made up of toasted corn, chipotle mayo, and Cotija. To unearth the toasted corn, you'll need to dig your spoon in and get low.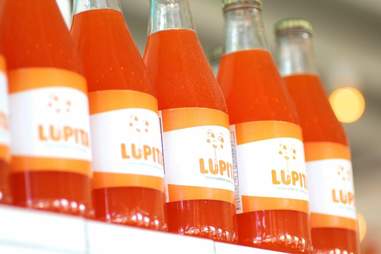 Lupita is their brand of sodas, aguas frescas, and fresh juices, which are made daily in-house. You can sip 'em with your meal or buy a case to take home with you. They taste just like you're in Mexico, without the threat of debilitating diarrhea!
Their Crispy Fish Taco is a taco with, you guessed it, crispy fish in it! Lightly fried, locally caught fluke to be exact. Now, back to that mezcal...