The late-night fried chicken and waffles the Hamptons desperately needed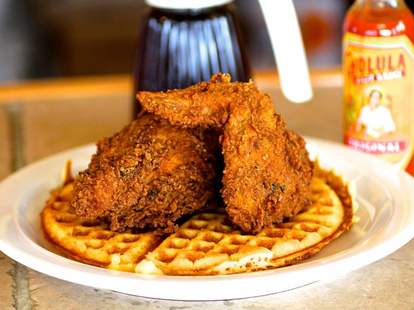 Dining in the Hamptons doesn't have to be all lobster-stuffed truffles sprinkled with caviar and gold shavings. Sometimes, a man just wants FOIE GRAS-stuffed truffles sprinkled with caviar and gold shavings the most delicious and greasy of basics. Enter Austin import Lucky J's Chicken & Waffles, which is serving just that in a perfectly no-frills Montauk shack, 24HRS A DAY.
It's actually illegal in nine states to eat chicken and waffles without collard greens and mac 'n cheese.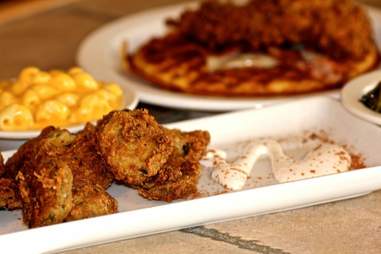 Have you ever seen fried pickles look this classy? With some ranch-based sauce dusted with spices, this might be the dish that lures Snooki away from the Jersey Shore. Sooo, let's all agree to not tell her about this, cool?
After working as an exec chef for a number of Austin restaurants, Jason noticed a curious absence of artisanal fried chicken in the area. So he got to work concocting the spice mixture that would eventually become the proprietary blend of 17 herbs and spices for his buttermilk fried bird that kicks out just the right amount of heat.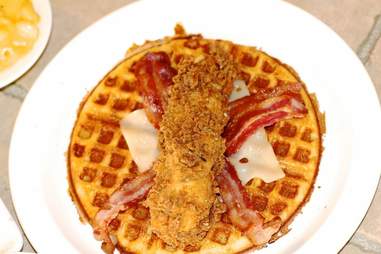 Get ready for this: the Lucky J's chicken and waffle taco, a boneless chicken strip atop two thick pieces of bacon and a slice of Swiss, wrapped in a waffle. The dish that made them famous was originally created when they realized how popular their truck was for the grab-and-go (-and-inebriatedly-drop at some point) late-night crowd. Oh, and they've also got breakfast and dessert waffle tacos.
These claims have not been evaluated by the Food and Drug Administration.