The BK lobster kings want to feed you rolls all Summer long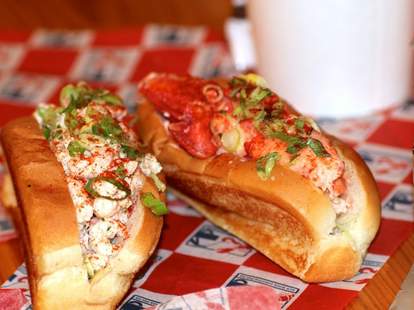 Affordable lobster roll god Red Hook Lobster Pound has done quite well for itself since it opened its flagship in 2009. So well, in fact, that they've decided to start Summering out East. Actually, year-rounding out East. Welcome to Red Hook Lobster Pound: Montauk, where the outfit that was built on sustainability, hospitality, and affordability will seek to maintain its "aw, shucks" brand just miles from Georgica, in the share house they're splitting with raw-agave-sweetened Montauk lemonade start-up Sweet'tauk.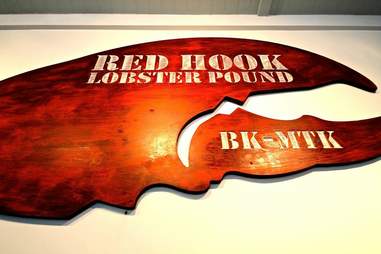 Here's how you came to be eating lobster every day all Summer: the Sweet'tauk owner leased a space to use as a production facility, and was going to rotate a variety of food, clothing, and jewelry pop-ups throughout the Summer, but, after sitting down with the RHLP crew, decided that lobster rolls are way cooler than bangles.
Behold: the roll. A heaping portion of fresh-picked Maine lobster meat served with celery, scallions, spices, and just a touch of homemade mayo, all housed in a new, easier-to-transport container that's intended to allow for more manageable beach eating. They'll be doing their similarly beloved shrimp rolls, too.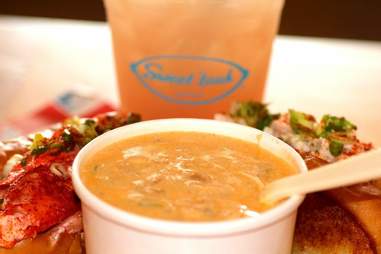 Even once the temperatures start to skyrocket, it'll be worth a little sweat to indulge in the Pound's Downeast Bisque -- a spicy tomato cream soup with fresh lobster, clams, mussels, and haddock.
RHLP co-owner Ralph Gorham is also a custom furniture designer and outfitted the place with these rustic wooden counters, even though counters aren't really furniture. Local artist/cartoonist Peter Spacek handled the cartoons on the wall, illustrating the people and scenes that make up Montauk life. Suspiciously absent from the mural is a cartoon of a twenty-something outside of Ruschmeyer's negotiating with a cab driver about how much extra money is owed for an abruptly soiled backseat.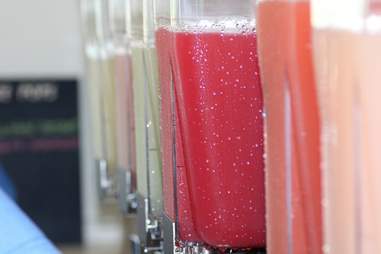 Watermelon cucumber, raspberry rhubarb, strawberry mint, rhubarb vanilla -- these are just some of the lemonade flavors available at Sweet'tauk this Summer. You lose, kids thinking about opening adorable streetside lemonade stands this Summer.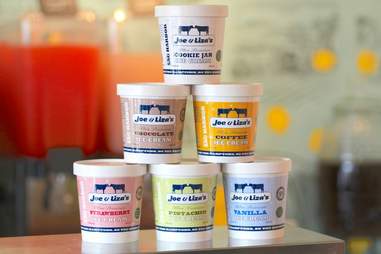 I, and you, and we all: get ready to scream, since they're also peddling Joe and Liza's small batch ice cream made right down NY-27 in Sag Harbor. It uses milk and cream from the Hudson Valley Fresh Cooperative, which means no antibiotics, no hormones, and that all the cattle have been pasture-raised, ensuring that even the cattle in the Hamptons have an annoying sense of entitlement!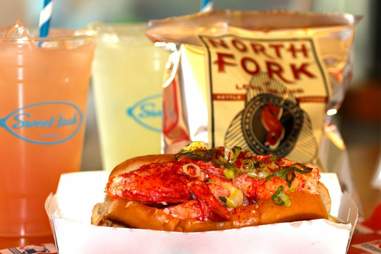 Perhaps the most Instagrammable Summer meal ever.