Your new Hamptons go-to for dumplings
When you think of the Hamptons, you think of lobster rolls, day drinking, and... elevated Chinese cuisine? Well, maybe not so much the third thing, but that's all about to change thanks to recently opened Red Stixs in Watermill, where Executive Chef Skinny Mei is waiting to end YOUR skinniness with an array of duck, dumplings, and more. Here's your guide to doing it right there: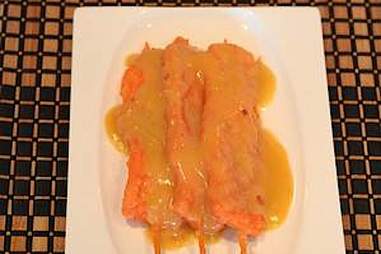 Facebook/Red Stixs
When it comes to the appetizers at Red Stixs, start with some satay. Red Stixs offers an assortment of delectable satay sticks including an orange chicken served in a rich peanut sauce, or Maine lobster if you've developed a crippling lobster addiction this Summer.
Red Stixs
In the dim sum department, Red Stixs keeps it hot with traditional soup dumplings, wok-fried dumplings, and their special Jade dumplings. The lettuce wraps and crispy seaweed maintain the appearance of healthiness while you prepare to continue feasting.
A staple of both traditional and more contemporary Beijing cuisine, Red Stixs offers duck prepared two ways. Adventurous guests can order the 7lb Peking duck prepared whole and cooked to perfection, or the crispy duck served mu-shu-style with house-made pancakes. As the Peking duck takes longer to cook, make sure you put your order in well in advance of the rest of your meal. Fancy a different bird? Red Stixs also offers Beijing Chicken with walnuts in a sweet brown sauce. If you're in more of a mammalian mood, don't miss the Crispy Beef.

The authentic Chinese seafood dishes don't translate well to your hole-in-the-wall Chinese take out restaurant, but closer to the coast, Red Stixs gets them right. The prawns are a standout, specifically, the Green Prawns with cashew nuts, water chestnuts, peppers, and black mushrooms in a zesty green sauce, making for a Chinese equivalent of a salsa verde. Nine Seasons Spicy Prawns are there for those seeking even more heat.
While any type of fried carb tends to taste delicious, the difference between good fried rice and great fried rice is subtle. Served in a wok, the pork/shrimp-fried rice has just the right combination of flavor and texture to put it into the "great" category.
Beyond the food, Red Stixs also knows how to party, with a bar scene that reliably extends into the wee hours. Whether you're seated inside in the red, black, and white dining room or on the spectacular outdoor patio, load up on some Asian brews or their house-made sangria and settle in for the night.