This seafood just came off the boat, like, an hour ago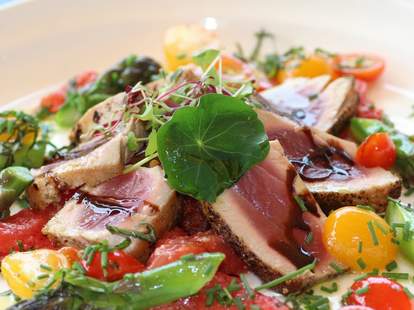 When you liken Long Island's Peconic Bay to your own "personal Mediterranean", you either don't get to travel much, or you're patio-equipped, Sag Harbor newcomer Madison & Main's passionate head chef Eric Miller, an LI native who promises that, "If it doesn't swim within 100mi of here, we won't be serving it," so breathe easy, Australian Lungfish… for now!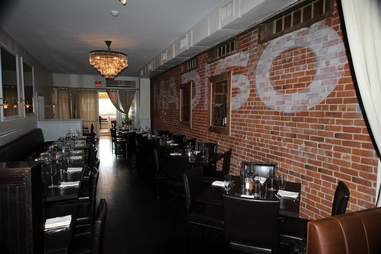 A Madison & Main mural by designer Adam Miller of Waverly & Irving adorns the exposed brick wall in the dining room, and serves as a reminder as to where you're dining, in case you get too familiar with their cocktail list.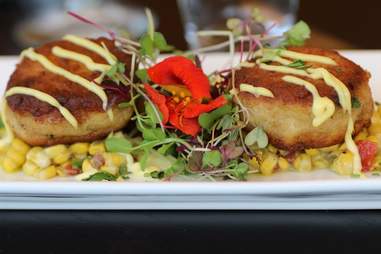 Their fresh jumbo lump crab cakes with roasted corn, avocado, and tomato are definitely more crab than cake, with heaping portions of fresh crustacean in each.
The Montauk tuna tartare is perched on a bed of seaweed salad to fool the tuna into thinking it's still in the ocean.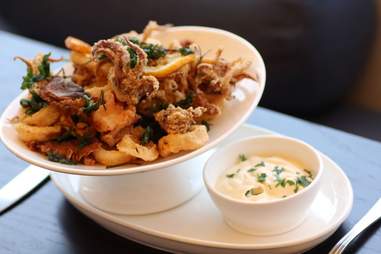 Standard fried calamari? Hell no, take a closer look. It's Madison & Main's Fritto Misto: a medley of calamari, scallops, shrimp, zucchini, shiitake mushrooms, and herbs, served with a side of lemon aioli for dipping. It's basically the Noah's Ark of seafood appetizers.
It's Summer. You need to be out here on the 35-seat outdoor patio.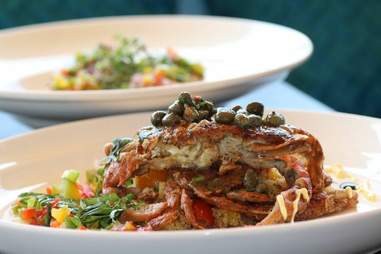 Not crabbed out after your crab cake appetizer? If you come during soft-shell season (which we're IN THE MIDDLE OF RIGHT NOW... if you're reading this sometime in May through September...), then keep an eye out for this daily special of pan-seared soft-shell crab over a ragout of heirloom tomatoes, North Fork peppers, and capers.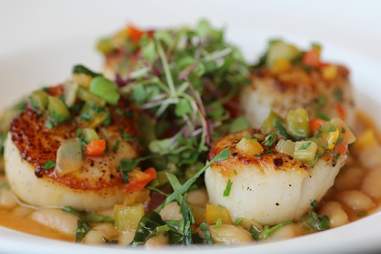 These seared Eastern sea scallops are served with white beans and corn, and topped with a Summer vegetable vinaigrette. The Eastern sea scallop differentiates itself from the Western sea scallop by being way pushier, and always proclaiming "you call this pizza?!", every time you take it to a pizzeria outside of the Northeast.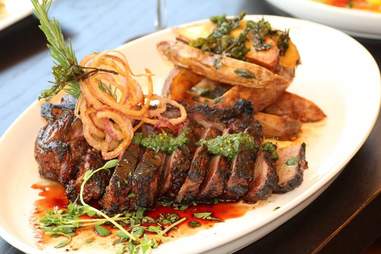 Landfood! This bone-in NY strip steak is served with fried potatoes, shoestring onions, and an herb salsa verde. Their black Angus meat is dry-aged for 28 days, but even after that, will turn you into a zombie that really wants to eat Cillian Murphy.
Drown your zombie fears in six draft beers, 11 bottles, a full list of specialty seasonal cocktails, and an extensive wine list.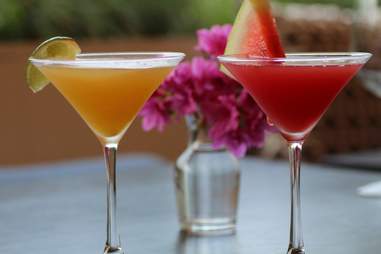 Here's two of those tails -- a margarita and a watermelon martini. You'll never guess which is which.