A nautical cabin you won't mind anchoring down in for dinner
A cuddy is a small cabin within a boat where inhabitants can feel safe and secure, unlike the inhabitants of Sag Harbor Marina's mega-yachts, who feel safe, but painfully insecure. So it's fitting that Jesse Matsuoka, co-owner of the restaurant named The Cuddy, sees his place as a Hamptons haven where people can unwind with an array of handcrafted comfort food, cocktails, and stories about the boxing dude from The Wire who sleeps with all the kids' moms, even though he spells his name differently.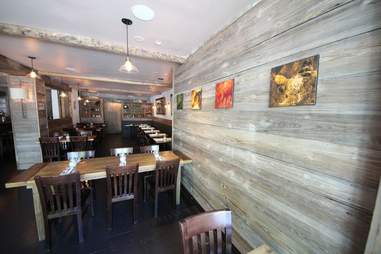 Sometimes you want a delicious home-cooked meal in a relaxed environment, but most homes are terrible at cooking. Luckily, the actual people here will handle that part.
Bacon-wrapped quail with black-eyed peas, kale, and a honey shallot vinaigrette. Get some.
With five drafts and seven bottles, the suds emphasis is on microbrews, and they have two pre-smoked bourbon barrels they're using to age a Negroni mix, plus cachaça for Caipirinhas. And best of all, Jesse implores guests to "ask for a free taste of our aged cachaça". You'll definitely never regret that, Jesse!
You can grab a lobster roll, soft shell crab, lobster miso Benedict, and other, more staple-y breakfast items at the Thursday-Sunday brunch, something they'll be extending throughout the week very soon, so all those people who live on yachts have something to eat.