We get it -- navigating the vegetarian food landscape can be intimidating (and often disappointing). But for the days when you feel like swapping beef and pork for plants and meat-free proteins, we've got you covered. We rounded up our favorite vegetarian spots on Oahu, all of which serve animal-free treats that'll make even the most diehard carnivore happy... so you can bring your whole crew.
Waimanalo
You'd never guess that a converted gas station is home to some of the best vegetarian food on the island, but well... it sure is. The Windward-side restaurant focuses on organic, healthy, and sustainable farm-to-table meals, and they pull off items like brightly colored Medi Bowl, filled with kale falafel, smokey baba ganoush, and beet hummus, with aplomb. The eatery opens into a sunlit patio dubbed "Garden of Eat-In," where you can sip on your farm-fresh smoothies or consume your Hawaiian plate or Mediterranean-inspired bowls in their outdoor, green garden oasis.
Kailua
Designed with reclaimed wood furniture and accented with a beachy hand-painted mural, this bright and airy café will have you feeling happy and content before you order your meal. The menu offers both omnivorous options and vegetarian dishes, but their plant-based offerings are especially fantastic. In addition to fresh tropical juices and vegetable-fruit smoothies, the cozy café offers açaí bowls, a veggie wrap, sandwiches, and salads for vegetarians to choose from. If you're an açaí bowl fan, the Nalu Bowl is a must, made with the purest grade Brazilian açaí, and topped with banana, strawberry, blueberry, bee pollen, granola, and locally sourced honey. The texture is smooth, creamy, and cold, and totally worth the purple mouth you'll get after consuming the entire thing.
Downtown
Vegetarians not used to facing a plethora of meal selections: gear up. This Buddhist-run, cafeteria-style restaurant offers two- or four-choice plates served with a starch. Entrée choices rotate daily, with at least seven dishes to choose among. Find dim sum options like turnip cake and pot stickers, as well as heartier Chinese dishes like braised tofu with tomato and lo han jai (Buddhist stew). The best part? Even with a line, you'll get your food quickly -- this place is seriously efficient.
Moiliili
With hearty sandwiches and filling entrees, this all-vegan restaurant dispels the common assumption that an organic, plant-based diet is like eating rabbit food. With soy-based options like their popular Popeye sandwich, filled with miso-and-tahini-marinated tofu and spinach on a thick ciabatta bun, or their Heart and Soul, a mixed vegetable plate topped with TVP or fresh, soft tofu, you can meet your daily vegetable intake without skimping on the protein. To expand your options, order a sandwich's fillings over brown rice instead of on bread. And leave room for dessert: the mochi cake and homemade dairy-free ice cream here are so good, you won't even miss the heavy cream or refined sugar.
Nuuanu
Located on the Pali Highway in a maze of residential homes, you'll find the island's Hare Krishna temple, where anyone, regardless of creed, can stuff their face with an all you can eat vegetarian buffet for $13. After removing your shoes or rubber slippers, dine indoors or in their outdoor garden under the shade of a large banyan tree. Open Mondays through Fridays, their daily entrée changes depending on the day of the week, ranging from kofta to quiche to lasagna. Supplemental dishes usually include fresh juice or tea, a salad bar, steamed vegetables, dahl, curry, and halva for dessert. With so much to choose from, it's a good thing you can go back for seconds, thirds, or fourths.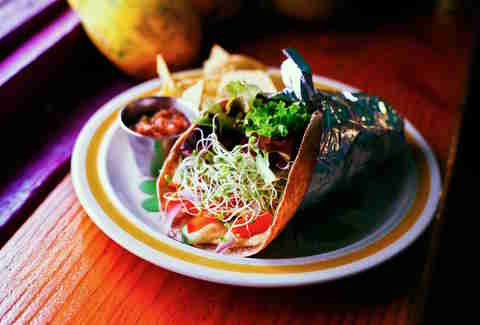 Haleiwa
Their new space is much bigger than before, with indoor and outdoor seating. Before hitting the beach, get some pre-swim energy with an acai bowl, avocado toast, or a fresh fruit smoothie, like the Alligator, made with bananas, kale, almond butter, spirulina, honey, and coconut milk. Or stop by for a mid- or post-beach bite and replenish with tasty options like a Portobello sandwich, a homemade falafel sandwich, or a veggie burger. Now open for dinner, you can BYOB over a Moroccan tagine, avocado tempura tacos, or eggplant rollatini… and leave the garlic shrimp and chorizo tacos for your next North Shore outing.
Kakaako
Not that it's a contest, but this all-vegan eatery is probably the healthiest restaurant on our list. All their offerings are unprocessed, gluten-free, and GMO-free, made with majority locally-grown organic fruits and vegetables and cooked at a temperature of no more than 118 degrees. Try their crowd-pleasing Living Lasagna, made with seasoned zucchini, pesto, sundried tomato marinara, mac nut "ricotta," spinach, and tomatoes. One bite, and you can tell your friends you like it raw. Plus, you can drink to your health: Greens & Vines has a fine wine list of biodynamic, organic, sustainable and vegan bottles and pours… so you can both eat and drink clean.
University
Indian food is a great place for vegetarians to dine without sacrificing flavor, and this popular restaurant offers vegetarian dishes that are just as good (or better) than their meaty options. Their vegetable samosa is lightly fried on the outside and plump with vegetables on the inside, and draws rave reviews from even the most carnivorous of diners. Try the Assorted Vegetarian Appetizer Platter, where you can share a mix of onion and eggplant pakora, papadum, and samosas. With 25 vegetarian plates to choose from, ranging from masala dishes to eggplant curries to simmering paneer and flavored rice dishes, you'll have to come multiple times in order to try all the vegetarian food you want.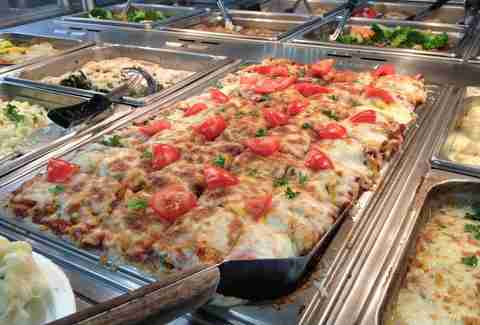 Moiliili
Open since 1977, this local market chain first opened in Maui before expanding to Oahu. The all-vegetarian grocery store offers a wide selection of prepared foods in addition to local, fresh, and organic products. With a hot table and salad bar, as well as made-to-order smoothies, shakes, sandwiches, and burgers, plus a bakery filled with grab-and-go dishes, there's always tons to choose from. Like a Whole Foods sans the meaty options, here, you can support local while eating flavorful dishes like curry fried rice, spanakopita, or eggplant Parmesan, before stocking up on dietary supplements, essential oils, and bulk nuts and seeds.
Diamond Head
Although this art gallery/coffee shop/gelateria isn't entirely vegetarian and has a small, simple menu, its toast offerings are exquisite on their own. The avocado toast is served on a thick slice of bread, layered with slices of avocado, beets, basil, pesto, and goat cheese, and can be topped with a perfectly poached egg for an additional dollar, while the mushroom toast blends savory and sweet with mixed mushrooms, honey, gorgonzola cheese, and balsamic. The result is a light, yet satisfying meal that you'll be more than happy to supplement with baked goods, like a matcha cookie or cinnamon roll.
Kaimuki, Makiki
With a rotating daily menu at this coffee shop/café/juicery, you'll find creative, clean-eating vegan, gluten-free, and meat-based options at this operation, run by a pair of local sisters. Their daily creations include locally sourced, plant-based ingredients, and you'll find that even your most diehard meat-loving friends will admit they enjoy the all-vegan dishes here. Standouts include the long rice salad with Sriracha guacamole, tofu loco moco, coconut chia tapioca, or ulu (breadfruit) spice and poi mochi. Be sure to order up a golden milk latte on the side, too.
Ala Moana
Like their name suggests, this small restaurant is decorated sparsely, but that just lets the food take center stage where it belongs. With a mixed bag of Chinese, Japanese, Korean, Vietnamese, Italian, and American cuisine, the all-vegan lineup here includes offerings like spring rolls, vegetable tempura, spicy tofu soup, mushroom linguine, and Philly "cheesesteaks." With meat substitutes like "shrim" and "chickun" you can attempt to trick your taste buds, but even their flavorful non-mock meat options may surprise you.
Kapahulu
Pho fanatics can get their cold weather/hangover fix sans meat broth at this low-key eatery. Although the Vietnamese restaurant isn't entirely vegetarian, the friendly mom-and-pop restaurant caters to plant-eaters with vegetarian curry, stir fries, spring rolls, and tofu rolls. Their savory vegetable broth pho with tofu is packed with flavor and may just rival your beef brisket or rare steak favorite.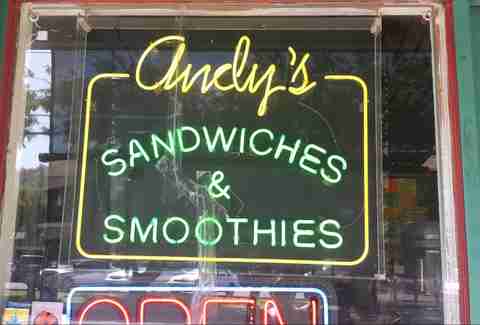 Manoa
During lunch, this made-to-order sandwich and smoothie shop packs a line so long, it's often out the door. With fresh, homemade bread baked daily, and options featuring plenty of fresh vegetables, this Manoa institution is popular with college kids and nearby businesses. With at least 15 different vegetarian options on the menu (depending on the daily special), you can choose from avocado sandwiches, birds nest salads, mushroom melts, or vegetarian burritos. Stop by on Mondays for their filling vegetable lasagna, and marvel how something so cheesy and delicious could come from a mom-and-pop sandwich shop.
Sign up here for our daily Honolulu email and be the first to get all the food/drink/fun in town.