Traditionally, breakfast in Honolulu = loco moco, but you'd have to be... well, loco to miss out on the slew of sweet new brunch spots that've opened here lately. That's why we've done you a favor and rounded up the 13 best ones in town. Feast your eyes...
Kaimuki
What you're getting: Roast beef hash; mushroom rosti
Named after the Australian slang for "food and drink," this Sydney-inspired eatery specializes in fresh, healthy ingredients like kale and quinoa salad with roasted kabocha and two poached eggs. But those with a sweet tooth will find that the Tim Tam Waffle, a light and crispy beer-battered waffle topped with vanilla ice cream, maple syrup, and chocolate malt biscuits, will do more than satisfy.
Downtown/Chinatown
What you're getting: "Milk & Cereal" Pancakes; Creole Shrimp n' Grits
No need to set your alarm, because this Southern-inspired nook serves Kim Chee Bloody Mary and Pound Cake French Toast every day until 2pm. Just don't get too attached, because Chef Brian Chan (formerly of Restaurant Epic) shakes things up by updating the menu every three months to accommodate the island's seasonal produce.
Kaimuki
What you're getting: Cornflake French Toast; Dumplings All Day Wong (dumplings of the day)
Helmed by fashion designer-turned-Top Chef finalist Chef Lee Anne Wong, the old 12th Avenue Grill has been transformed into a bright and beachy eatery, where pancakes are fluffy and moist, and eggs Benedict get an island-inspired update with poi biscuits, luau leaves, and poi hollandaise. Go with an empty stomach (or friends who like sharing), because you'll want to sample one of everything.
Hawaii Kai
What you're getting: Short Rib Loco Moco; Strawberry & Milk Pancakes
After hitting the hiking trails, stop by Moena at Koko Marina Center to take advantage of its all-day breakfast menu. Run by husband and wife team Eric and Nicole Chang, the modern eatery offers brunch classics with their personal touch. Try the pineapple sausage hash, served with potatoes, onions, and two eggs; or the Cinnamon Roll Pancakes topped with a whirl of cream cheese syrup.
Waikiki
What you're getting: Big Island Honey French Toast; Homemade green veggie juice of the day
Named for the right-footed surfing stance (not the Disney character), this beachside café's wooden ceiling fans and racked surfboards make you feel like you're dining in your best friend's beach house. The small café offers both healthy and hearty breakfast options every day until 11pm. Try its acai bowl with local fruit or the kalua pig eggs Benedict, served on a taro muffin with a raw kale salad and Okinawan sweet potatoes. Each bite will make you forget the extra minutes spent hunting for meter parking in Waikiki.
Manoa
What you're getting: Mochiko Chicken and Waffles; Hamakua Mushroom Scramble
Tucked away in the corner of Puck's Alley, this intimate eatery was the pipe dream of two childhood friends who used a crowdfunding platform to bring Malasada Breakfast Sandwiches, Haupia Oatmeal, and Pork Belly Benedict to the masses. Or at least to however many people can fit in this 700sqft café that offers a proportionately small menu, and homemade touches like house-made hot sauce, Shinsato Farm pork sausage, and more.
Manoa
What you're getting: Macaroni + Cheese Pancakes; Kim Chee Fried Rice Omelette
Built like a house with one roof and two walls, this breezy eatery is known for its Chemex-filtered Stumptown coffee and homemade baked goods. On weekends, sip on a cinnamon latte while braving the wait-list before sinking your teeth into a homemade buttermilk biscuit with Shinsato Farm pork sausage patty, over-easy Kalei eggs, and country-style pork gravy. And don't forget, a side of applewood-smoked bacon is always a good idea.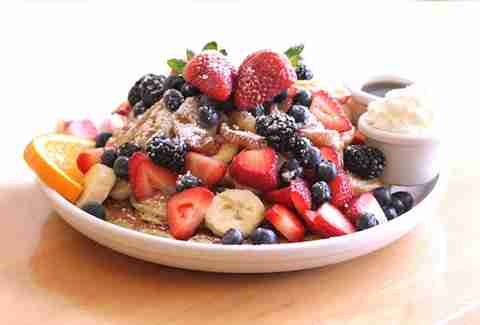 Kaimuki
What you're getting: Belgian Malted Waffle; buttermilk pancakes
Driving past Market City Shopping Center, on any given day, you're likely to see a line curling around this brunch institution. For good reason. If you're looking for dependable breakfast staples, stop by for Chrissie Kaila Castillo's consistently tasty pancakes and waffles. Or, if you're in the mood for a little variety, opt for the breakfast quesadilla or cheesy frittata, made with local vegetables.
Kaimuki
What you're getting: Soufflé omelette with creamy risotto; caramelized banana French toast
Opened by Junko Ikawa, who fell in love with the islands while on a foreign exchange program, the cozy, rustic café offers a Japanese-influenced breakfast menu every day except Tuesdays. Settle into the repurposed wood-paneled booths in front of the picture window and enjoy a kinako banana smoothie or a Spam spinach Benedict while you people-watch the day away.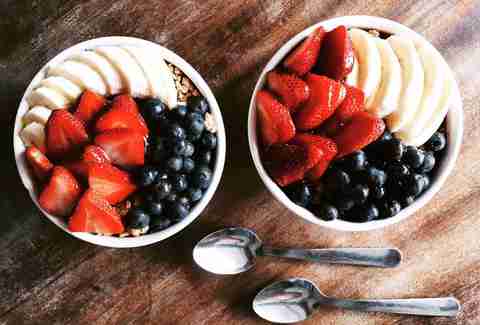 Diamond Head
What you're getting: Acai bowl; breakfast bagel (eggs, cheddar and Jack cheese, topped with tomato and spinach on your bagel flavor of choice)
After you've scaled Diamond Head or swam at Kaimana Beach, hit the ATM and then hit this popular cash-only breakfast spot with an extensive menu, including taro pancakes topped with haupia sauce, and massive acai bowls. On an island where the icy Brazilian superfruit smoothie reigns supreme, Bogart's generous ratio of acai to fruit and granola is one of the reasons the line stretches out the door.
Waikiki
What you're getting: Soufflé pancake; Burgundy Beef Stew Omelette
With its white miniature knickknacks, ace doily coasters, and wrought-iron bistro chairs, this breakfast spot gets nearly as much attention for its hobbit-like, French countryside decor as its Japanese-infused menu. Fuel up on its Maguro eggs Benedict, which boast ahi carpaccio topped with avocado, daikon sprouts, and a shiso leaf, served on a bed of rice. If you're lucky, snag a table in the outdoor garden patio, and watch kayakers sweep through the Ala Wai Canal.
Kaimuki
What you're getting: Stuffed cream cheese blueberry French toast; corned beef eggs Benedict
Hidden in Kilohana Square, this small brunch spot tends to pack a crowd on weekends. Luckily, it's open every day to fulfill your eggs Benedict and waffle needs. Try the Extreme Mess, which is exactly like what it sound like: all your favorite breakfast items -- hash browns, sausage, ham, bacon, onions, and peppers -- scrambled with eggs to create one giant breakfast explosion.
Liliha
What you're getting: Hotcakes; butter rolls with neon jelly
Established nine years before Hawaii joined the Union, the original Liliha Bakery has been a mainstay for the past 65 years. Sit at retro bar stools and watch longtime waitresses sizzle Portuguese sausage, scrambled eggs, and butter rolls on the flat-top grill 24 hours a day, every day except Mondays. On your way out, don't forget to grab one or 12 of its famous Cocoa Puffs. You know, for later (and totally not for the car ride home).
Sign up here for our daily Honolulu email and be the first to get all the food/drink/fun in town.