Maybe you've been there: After busily shoveling your face with lunch or dinner, the server approaches, armed with a dessert menu filled with sweet treats. "I couldn't possibly," you say, patting your newly formed food baby and mourning all of the uneaten desserts left in your wake. Next time, save the tissues for another day and arm yourself with this list of our favorite dessert restaurants in Honolulu, and strategically save some real estate for a little something from the top of the food pyramid. Or better yet -- eat dessert first.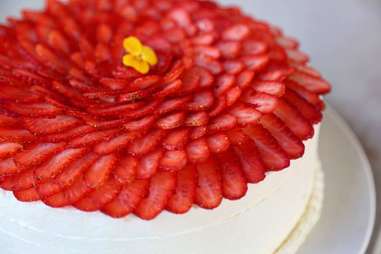 Ala Moana
The dessert menu at this husband and wife-run restaurant may induce much hemming and hawing, because the impressive list is not only typically 10-plus options deep, but Pastry Chef Michelle Karr-Ueoka has been a James Beard Award semifinalist for Outstanding Pastry Chef multiple times. Like their savory menu, desserts are inspired by local comfort food, with a twist. Find artistic takes of local favorites like shave ice made with haupia tapioca, strawberry kanten, mochi ice cream strawberry-yuzu sorbet, and shaved hibiscus strawberry in addition to grown-up versions of childhood classics like Karr-Ueoka's signature house-made doughnuts, candy bars, and seasonal pop tarts.You can't really go wrong with anything on the dessert menu, so come with a group of friends and convince everyone to cap off their meals, family-style.
Kaimuki
Stop by this cozy eatery when you're in need of birthday-cake-quality goodness, without turning a year older. Although coffee, sandwiches, soups, salads, and savory specials fill the menu, the casual cafe is known for their cases of freshly made desserts, where you'll find rows and rows of tempting treats gleaming in lighted glass cases. For lighter fare, opt for fruit tarts, muffins, or flaky fruit-filled pastries. Here for chocolate? Try their sacher torte, a plentiful chocolatey slice of moist cake stuffed with layers of apricot filling or go for the chocolate decadence cake, which is bite after bite of flourless chocolate richness.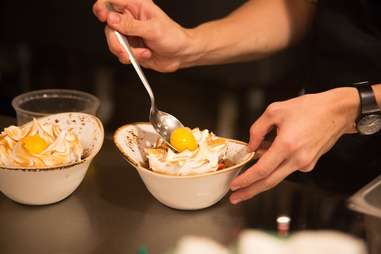 Chinatown
Think soft-serve is best eaten with a Happy Meal? This Vietnamese-fusion restaurant will have you rethinking the golden arches and swapping the drive-thru for scant Chinatown parking for a taste of their homemade soft serve and frozen custard. Served only at lunch, their weekly revolving flavors can be ordered separate, or swirled together in a dish or in a house-made waffle bowl. Find flavors like toasted marshmallow custard and chocolate sorbet, churro custard, and coconut pineapple sorbet or gingerbread custard and apple cider sorbet, made with Fuji and Granny Smith apples. Looking for dessert after dinner, but still want a cool treat? Try their homemade gelato or milkshake of the day, served with a warm Valrhona chocolate crinkle cookie.
Makiki
The homemade floats and puddings at this ramen joint are light, cool, and not too sweet -- the perfect way to end a meal after slurping up a warm bowl of noodles and slow-simmered pork broth. Tucked in the Medical Arts Building, the wife of this family-run noodle shop whips up a limited batch of original desserts of the day. Find options like almond jelly, strawberry mousse, and if you're in luck, their popular Okinawan brown sugar pudding, a silky, mousse-like dessert, topped with whipped cream and a sprinkle of Okinawan brown sugar. Pro tip: Order dessert with your meal. Since desserts are limited, snag yours in case they sell out before you're done eating your meal.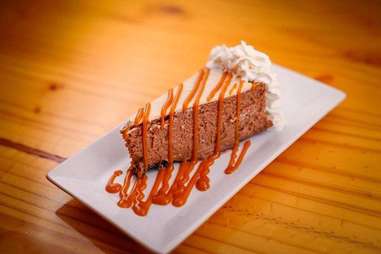 Downtown
While a craft beer bar may not be the first place that comes to mind when thinking desserts, this Downtown gastropub will challenge your expectations. Grab a tall glass of craft beer on tap and pair it with their cheesecake of the day or maple bacon donut bread pudding. Firm and cake donut-like, their bread pudding is sweet and savory, topped with whipped cream and a maple syrup drizzle and bits of crispy bacon. If that doesn't induce a Pavlov's dog response, we don't know what will.
Moiliili
When people in Hawaii say "the best things in life are free," they're probably talking about the weather. Or Sweet Home Cafe's complimentary Taiwanese dessert. That's right, free. After fueling up on customized hot pot, a server will unveil a refreshing bowl of shave ice loaded with custard, almond tofu, coffee jelly, fruit, mochi, and tapioca. If you've come for dinner just so you can sink your teeth into their shave ice dessert... well, you're not alone.
Downtown/Chinatown
There are three dessert items to choose from at this modern American restaurant, but they don't disappoint. Although our seasons stay sunny and bright year round, their menu rotates each summer, winter, autumn, and spring. Luckily, if you're a fan of their triple chocolate mousse (a light and creamy chocolate-lover's dream) or the rich and decadent salted caramel cheesecake, it's a dessert mainstay regardless of the season. For those seeking more variety, the third dessert option rotates with the seasonal menus.
Liliha, Nimtz
Around since the pre-statehood days, this old-school neighborhood diner makes the list for not just their uber-popular chantilly cream puffs, but their trays upon trays of sweets, available at nearly every hour. The original location is open 24 hours, Tuesday to Sunday, and you can find everything from poi donuts to chocolate eclairs to green tea rolls to lemon meringue pies to chocolate cakes. If you're looking for nostalgic foods with home-cooked flavors, find a variety of sweet options waiting.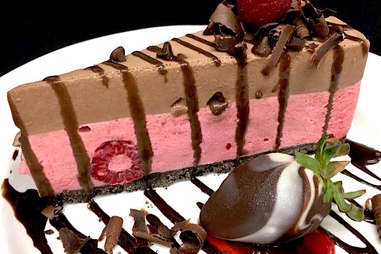 Waikiki
After slicing into some high-quality USDA prime meat, heat things up with a little flambe, because nothing says showstopper like your dessert lit on fire, table side. Choose from chocolate lovers, bananas Foster, cherries jubilee, or Sinatra's strawberry flame, and watch as servers prepare your ice cream dessert on a bed of fresh fruit and set it ablaze until the sugar caramelizes on top. If dessert pyrotechnics aren't your thing, Hy's offers non-flaming desserts such as flourless chocolate cake, molten lava cake, coconut crème brûlée and homemade cheesecake.
Palolo/Kaimuki
This small, mom-and-pop shop may blend into the residential neighborhood, but it's filled with a small menu featuring delicious options. Come for their melt-in-your mouth pork bowl and stay for the homemade shave ice selection. Their shave ice menu is smaller than strictly shave ice-only establishments, but here, you'll find fresh, house-made syrups, made with 100% real fruit and without any artificial flavors. Try a small or large bowl with flavors like green tea, haupia, passion fruit, or lychee and opt for toppings like azuki beans, condensed milk or homemade haupia or green tea ice cream. If your sweet tooth is demanding an extra-large portion, go for one of their eight specialty shave ice, like the tropical bowl, a giant mountain of shave ice flavored with half haupia, half mango syrup, and a scoop of haupia ice cream.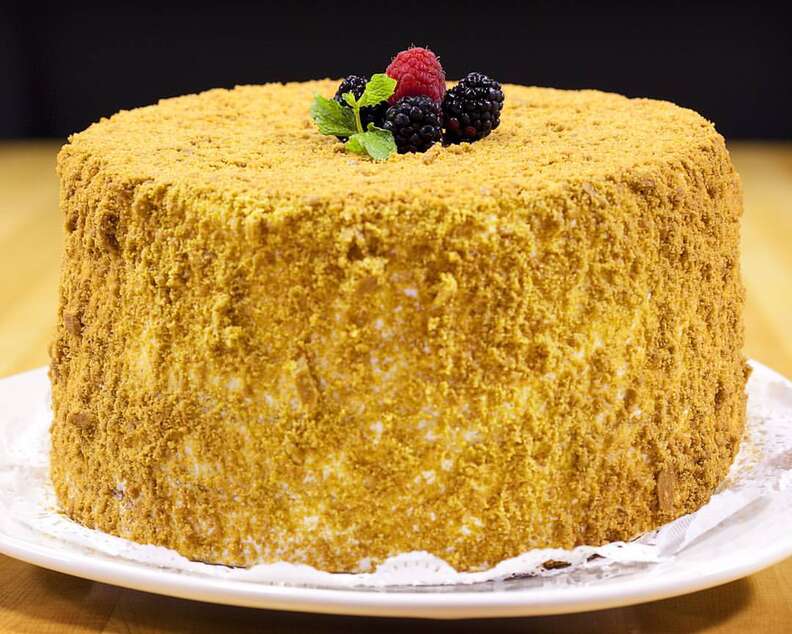 Aiea
OK, so this bowling alley diner isn't in Honolulu, but it's worth clocking miles on your odometer just for a taste of their infamous lemon crunch cake. Multiple layers of moist cake are held together with rich lemon curd, topped with whipped cream, and bits of toffee. Looking for a holiday treat anytime of year? Try the pumpkin crunch cake, a thick square of pumpkin topped with an equally generous square of whipped topping on a crispy crust.
Ala Moana
It's be impossible to put together a list of best desserts in Honolulu without the restaurant that gave us honey toast. Japanese white toast is cut and cubed and tossed back inside two tiers of its thick crusts, drizzled with honey, capped with vanilla ice cream, and accented with your choice of chocolate, caramel, cinnamon, strawberry puree, azuki bean, or Oreo cookies and cream. It might seem impossible that bread could be such a rewarding treat, but after one bite, it'd be difficult to imagine a dessert world without it.
Sign up here for our daily Honolulu email and be the first to get all the food/drink/fun in town.
Summer Nakaishi is a freelance writer for Thrillist, who can frequently be found shoving her piehole with haupia cream pie.