8. Waikiki
Essential restaurants:Mahina and Sun's, Musubi Cafe Iyasume, Azure Restaurant
Locals tend to not be huge fans of Waikiki. Parking is expensive and/or hard to find, and most restaurants are overpriced and not particularly interesting. However, there are a few hidden gems that are worth the trek, including Ed Kenney's newest restaurant, Mahina and Sun's, in the Surfjack Hotel. Looking for something to take to eat on the beach? Musubi Cafe Iyasume has over 30 types of musubis, assorted bentos, and even oden, all of which is reasonably priced and delicious. A place for special occasions, Azure Restaurant in the Royal Hawaiian Hotel features freshly caught, local seafood in a beautifully designed, very romantic space with views of the famous Waikiki beach and Diamond Head.
7. Moiliili
Essential restaurants:The Nook Neighborhood Bistro, Agu Ramen, Cafe Maharani
Moiliili, situated near the University of Hawaii, is home to a number of great dining establishments... although not all of them are for those on a college budget. Probably the most notable restaurant is Alan Wong's, which is located in a nondescript office building, and is known for being one of the forerunners of Pacific/Asian fusion cooking. Everyone should definitely check out The Nook Neighborhood Bistro for brunch; it offers fresh takes on normal brunch options, such as mochiko chicken and mochi waffles, and papaya ginger pancakes. If you're more in the noodle soup mood, Agu Ramen is one of the hottest contenders in the highly competitive ramen restaurant battle. The most well-known and interesting dish on the menu is the savory Parmesan ramen. Seriously, the rich pork broth with black garlic oil is complemented superbly by the salty cheese. Indian food is hard to find in Honolulu, but luckily, if you're in Moiliili, look no further: Cafe Maharani is one of Honolulu's bests, as attested by the line of people outside waiting to get a table. Plus, it's BYOB!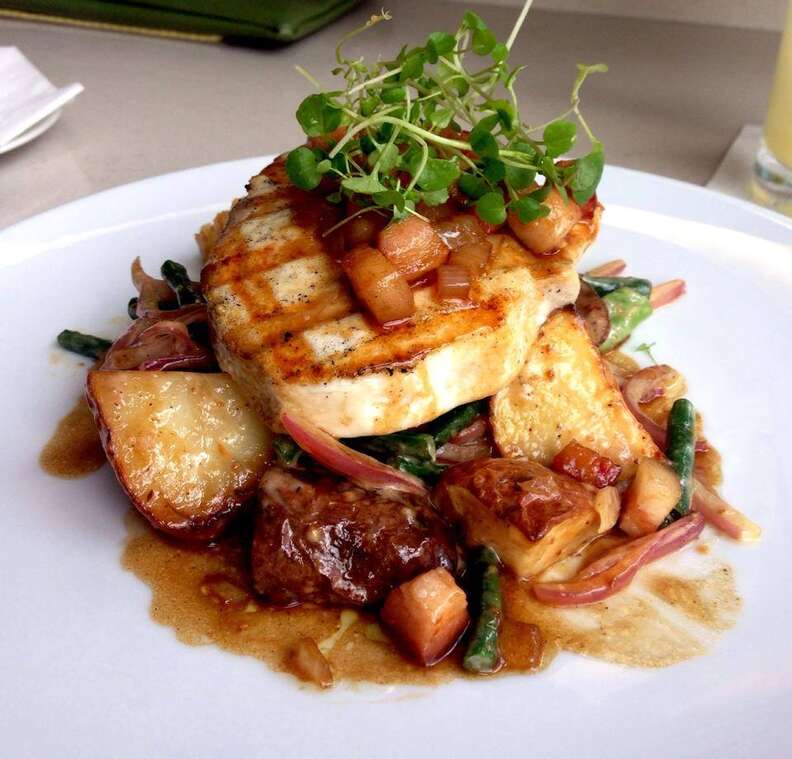 6. Ala Moana
Essential restaurants:MW Restaurant, Home Bar & Grill, Yakiniku Don Day
Don't get us wrong, Ala Moana Shopping Center has tons of great places to eat, but some of the best spots in this neighborhood are located outside of the mall. For example, Wade Ueoka and Michelle Karr-Ueoka, the husband and wife team at MW Restaurant, offer unique Asian fusion dishes and some of the most amazingly innovative and delicious desserts we've ever eaten (think "tropical fruit Creamsicle brulee"). They also host fun pop-up events, such as Baker's Faire, Chef's Table, and not-your-grandmother's afternoon tea on the third Sunday of every month. On the other end of the spectrum, Home Bar & Grill is one of the best bars in town -- and serves some of the most delicious bar food in town (yeah, we're thinking about those those tater tot nachos). And don't forget about all the awesome Korean joints on Keeaumoku. Our go-to is Yakiniku Don Day, where you can sit outside under the umbrellas and big tree strung with twinkle lights, grill up some meat, and wash it all down with soju.
5. Kakaako
Essential restaurants:Honolulu Beerworks, La Cucina Ristorante Italiano, The Rice Place
Kakaako is continually growing and finding its essence, but it's basically a hipster's dream right now. Spray painted artwork adorns many walls in this 'hood, creating a perfect backdrop for Instagramming the taro boba from Mr. Tea, or the unicorn latte and avo toast from Arvo Cafe. And Kakaako isn't lacking in the restaurant department, either: Honolulu Beerworks has craft beers on tap and a simple menu of delicious sandwiches and pupus, like the smoked ahi dip, all of which are excellent accompaniment to their great beers. The ambiance is also really chill, with picnic benches and an outside patio area that's fun and festive. The Imperial Plaza Building has two really good restaurants: first, La Cucina Ristorante Italiano, a really popular Italian restaurant with limited seating -- so make reservations or be prepared to wait. Its freshly made pasta is always cooked perfectly al dente, and served with rich, amazing sauces. The Rice Place is located in the same building, and offers a modern take on Vietnamese food with the focus on rice, rice noodles, and rice paper. Try the noodles and rolls -- innovative and delicious.
4. South King St
Essential restaurants:Morio's Sushi Bistro, Kyung's Seafood, Mediterraneo Italian Restaurant
South King St is a thoroughfare through Honolulu, filled with businesses and restaurants that could easily be forgotten. However, there are definitely a handful of great eateries that should absolutely make your have-to-try list. The most important, arguably, is Morio's Sushi Bistro, a legendary omakase sushi joint; it's a three to six month wait for reservations kind of place. And a BYOB, and share your booze with the sushi chef kind of place. Amazing food, fun atmosphere, and high-quality sushi at a moderate price... basically, you should call in your reservations right now. Speaking of raw fish, Kyung's Seafood is a small, unassuming corner restaurant, a blink-and-you'll-miss-it type of place... but don't, because you must come here if you are a sashimi lover, offering plentiful and generous cuts of fresh fish. They also serve typical Korean dishes here, which are equally delicious. One of the best Italian restaurants in Honolulu can be found in what looks like a small house: Mediterraneo Italian Restaurant feels downright homey, with bookshelves and a window into the kitchen. Chef and owner Fabrizio is friendly, and creates legit Italian food that will keep you coming back for more. Other excellent restaurants along King St include Sushi Izakaya Gaku, Da Spot, and Chez Kenzo Bar & Grill.
3. Kalihi
Essential restaurants:Alicia's Market, Ethel's Grill, Hawaiian Pie Company
Kalihi may not been known for the fanciest food establishments, but there are definitely several restaurants of note tucked between all of the industrial buildings. Alicia's Market is home to delicious plate lunches and poke. Try the masago wasabi poke -- known for their subtle hints of spice and big, fresh chunks of ahi, this place is simply the best. Ethel's Grill offers plentiful portions of delicious local food at a reasonable price -- don't forget to order the ahi tataki. There are other great plate lunch eateries in Kalihi, all of which deserve a nod: Megs Drive-In, Monarch Seafoods, and Bob's Bar-B-Que being foremost among them. For the grand finale, the Hawaiian Pie Company is hands-down the best place for pie in Honolulu. Choose from mini pies and 9in pies, freshly baked or frozen to bake at home. The flakey, buttery crust balances the sweet fruit fillings, which is sometimes covered with the coconut Hawaiian topping that everyone in Honolulu loves.
2. Downtown Honolulu
Essential restaurants:Livestock Tavern, Pig & The Lady, Scratch Kitchen & Bake Shop
The hustle and bustle of Downtown Honolulu has cultivated a collection of restaurants that are well worth your time. If you feel like brunch, Scratch Kitchen & Bake Shop will be your jam. If you're looking for a place that feels like it could be found in the Pacific Northwest, what with the brick walls and seasonal menus, Livestock Tavern is breath of fresh air in the local food scene. Andrew Le's highly regarded Pig & The Lady is well-deserving of the praise it's been receiving, offering new takes on traditional Vietnamese dishes; it's so much more than pho and banh mi. Additionally, you'll want to check out Water Drop Vegetarian House whether or not you're vegetarian, Artizen for beautiful breakfasts, OEC Cafe for fully house-made specialty sandwiches and great smoothies, Ahi & Vegetable for healthy, clean eating that tastes great, Dumb Coq for French-infused American fare, and Fete Hawaii for high-end, internationally influenced New American cuisine.
1. Kaimuki
Essential restaurants:Koko Head Cafe, Mud Hen Water, Via Gelato
Kaimuki's cred as a dining destination has been on the rise for the past couple of years, and now it's undeniably become Honolulu's top eating neighborhood. For breakfast, check out Lee Ann Wong's Koko Head Cafe, which pairs Asian flavors with breakfast items and local ingredients. If sandwiches are your thing, Earl Sandwich, Sprouts, and Kaimuki Superette have you covered. The top choice for dinner include Mud Hen Water, which fuses Hawaiian flavors with new, innovative twists in an indoor/outdoor seating area that matches the laid-back vibe of Kaimuki. Other top-notch dinner options include Maguro-ya, Himalayan Kitchen, To Thai For, and Hale Vietnam. On top of all that, Kaimuki is home to Via Gelato, where you can find delectable gelato flavors and sorbets made from local fruits, as well as Otto Cake, which will satisfy all of your creamy cheesecake needs.
Sign up here for our daily Honolulu email and be the first to get all the food/drink/fun in town.
Amanda Zen is a freelance writer for Thrillist who just got very hungry after writing this article.