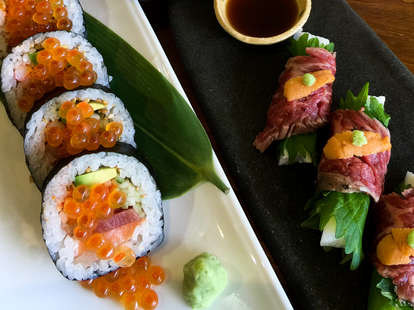 Courtesy of Bouzu Japanese Resutrant
Izakayas are basically Japanese gastropubs or taverns that serve up delicious food -- meant to be shared family-style -- along with plenty of beer and sake. At the more authentic restaurants, chances are high that you'll be welcomed by the greeting Irasshaimase! and the walls will be papered-over in handwritten specials, offering izakaya classics like gyoza and onigiri. If you head to the more contemporary spots, look for creative plays that mix in other cultures' cuisines. There are scores of izakaya restaurants in Honolulu, but we rounded up the best of the bunch, so get a group together (izakayas are more fun with a crew) and check out any of these spots. You'll walk away full, happy… and probably pretty buzzed.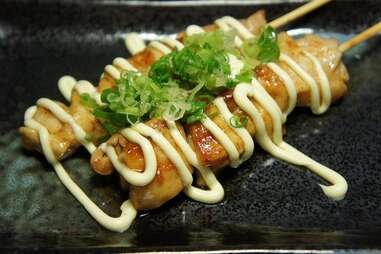 University
Eat and drink to your heart's content without dipping too far into your wallet: all food and drink at Yakitori Glad is $3.90. Yeah, literally every single item on the menu. This place offers up simple, delicious izakaya food, including lots of grilled meats on sticks -- lightly coated with teriyaki sauce, natch. There are also a couple of fried options that wash down well with the beer, and salads for whoever goes to an izakaya for raw vegetables. In the warm carbs category, the grilled rice balls -- yaki onigiri -- make a great accompaniment. Open six days a week (it's closed on Mondays), this spot also takes reservations, a good idea on the weekends to ensure that you'll be able to get your yakitori action on.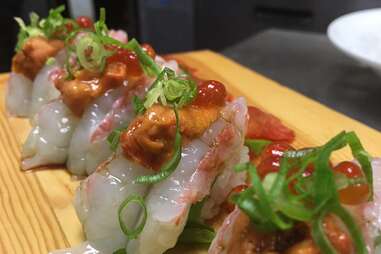 McCully
Known for its "kitchen sink" menu, Izakaya Torae Torae mixes the traditional with the contemporary, a style that's reflected both in the food and the artwork displayed on the restaurant's walls (much of which is made by local artists). From 10pm until close, check out the 15-item late-night menu, with options priced from $3-9. We especially recommend the pork belly kukuni, in which super-tender pork belly has been braised in a shoyu-based sauce, then paired with a soft-boiled egg and a slice of daikon.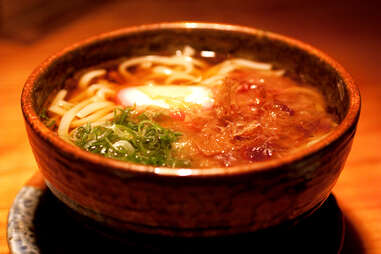 University
Imanas Tei is a traditional izakaya serving up all the usual fried and grilled items -- as well as great sushi and sashimi. However, if you are looking for a bigger meal, check out the chanko nabe, a dish that is traditionally eaten by sumo wrestlers. While the portions aren't sumo-sized, they're definitely plentiful. The warm, flavorful broth cooks seafood, meat, and vegetables, all added at just the right times by your waiter. But the best part is the end of this dish: you choose between udon noodles and zosui (a rice porridge with egg and shredded nori), cooked with the remaining broth. So. Good.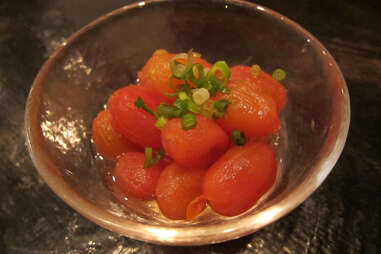 University
This place is teeny-tiny: make reservations in advance if you can, and we wouldn't recommend it for a party larger than eight. Izakaya Naru focuses on super-interesting, delicious Okinawan fusion dishes, such as the taco rice in stone pot. This mash-up of flavors combines white rice with Mexican ingredients, like taco-spiced meat, lettuce, salsa, and cheese, with a raw egg, all mixed up together and toasted. The result is surprisingly delicious. Another unique offering, if you dare, is a dessert which mixes ice cream with natto: it's a little bit sweet… and a little bit stinky.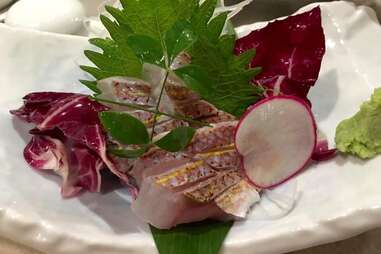 McCully
New to the izakaya scene, Bozu Japanese Restaurant has been receiving rave reviews by locals, and no wonder: the sushi is fresh, the service is great, and there's a lot of attention to detail in the beautiful presentation of the food. The menu boasts a wide variety of typical izakaya dishes, in addition to many options that aren't really found anywhere else. For the adventurous, try the yam and uni beef roll -- cold mountain yam is wrapped with a shiso leaf, the strong flavor of which is balanced by a slice of raw beef and topped with briny sea urchin and a bit of spicy wasabi.
Ala Moana
Shokudo has more of a restaurant vibe, and feels really modern; however, this place is still an izakaya at heart, and it's especially affordable during both the early (4-6pm daily) and late-night (Sun-Thurs 10pm-midnight) happy hour, when food specials range between $3-5, and drink options go for $4-5, including shots like the "Yuzu Ball-N-Chain," and "In the Doghouse." Although Shokudo's menu is large and diverse, it is most well-known for its honey toast: square Japanese white bread is cut and drizzled in honey, then topped with vanilla ice cream.
Kaimuki
Gazen is a nice place for a date -- dark and intimate, yet clean and inviting -- but also very accommodating for larger parties, with a couple of tatami rooms that have space under the table for your legs, making them a lot more comfortable than just sitting on the ground. Stop by for the early and late-night happy-hour specials (daily from 5-6:30pm; Sun-Thurs 9pm-close), which feature wine, sake, cocktails, and Kirin draft for only $3 each… or just order Kirin by the pitcher for only $9. The menu features typical Japanese izakaya dishes: fried food items that pair perfectly with your ice-cold beverage, sashimi, grilled meats, and more. But the main event is the freshly made tofu sampler, featuring three silky scoops of tofu, all with distinctly different flavors: black sesame tofu with wasabi, tofu in a milky soy broth, or plain tofu sprinkled with salt and pepper. Non-tofu lovers will be converted... and tofu lovers will be in heaven.
Sign up here for our daily Honolulu email and be the first to get all the food/drink/fun in town.
Amanda Zen is a freelance writer for Thrillist who would like to plan a progressive dinner to visit all of the izakayas on this list all in one evening -- who's in?!