While shave ices -- especially sweet, creamy snow caps -- are traditional here in Honolulu (and rightfully so... they're delicious), the next time you're in the mood to for a cold treat, try checking out one of our city's excellent, underrated ice cream shops instead. All of these spots focus on making high-quality, original products, and many choose to incorporate locally-sourced ingredients like coconut, coffee, pineapple, and mango. The ice cream scene here gets pretty inventive, to boot -- so you can opt for clean, one-note flavors (vanilla's a classic for a reason), or try out concepts like a scoop of honey-chrysanthemum or a cone topped with chili flake with black sesame brittle. 
Recommended Video
Enjoy Baklava for Breakfast
Downtown/Chinatown
With flavors like avocado, garlic, carrot, lemongrass, and pretzel, Wing Ice Cream Parlor is easily one of the most innovative and inventive ice cream shops in the state. Owner Miller Royer (whose middle name is Wing) regularly experiments with dozens of new ice cream flavor combinations, the best of which then debut as an addition to a big chalkboard list of flavors at the back of his eclectic shop. His ingredients derive from fresh fruits, herbs, and vegetables, much of which he purchases from local markets in the area, and nearly all of them are surprising. Even if a pizza-flavored ice cream isn't exactly up your alley, how can you pass up the opportunity to try it?
Downtown/Chinatown
If you're possessed of a sweet tooth, Volcano Shakes has you covered: these guys make a foot-tall, homemade ice cream shake overflowing with doughnuts, caramel, cookies, candy, breakfast cereal, and more. This small shop in Honolulu's Chinatown began as a drink counter,
but when owners Peter Chamberlin and Meghann Walker needed a way to move products -- such as ice cream sandwiches and assorted candy -- their necessity bred some delicious invention. "We just threw everything on top of one of our shakes," Walker says. Epic photos of their creations made it to Instagram, and the rest is history. Come for the pictures, stay for the ice cream: due to Volcano Shakes' popularity, it's a smart idea to order your shakes online ahead of time... to avoid what could be a two-hour wait.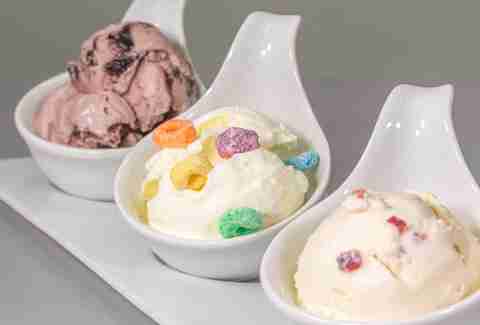 Ward
The flavors change every month at Lucy's Lab Creamery, a small ice cream parlor that boasts a mix of family-friendly and adult flavors -- the latter including Fruit Loops vodka and bacon whiskey. You're probably going to want to try them all -- after all, it only costs $1/oz for any ice cream flavor. Named after owner Lee Wang's late mother, who died of breast cancer in 2012, the shop donates a portion of its monthly proceeds to breast cancer research. It's pretty much the perfect treat after a movie at the nearby Ward 16 theatres.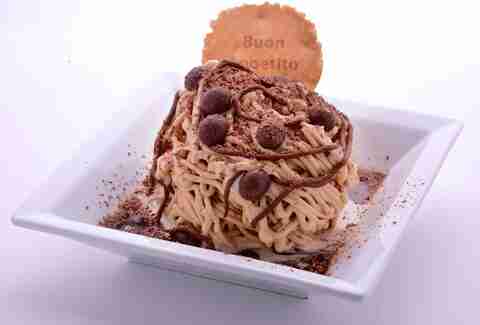 Kahala (& Kalihi-Palama)
Having perfected the art of gelato making at the Carpigiani Gelato University in Bologna, Italy -- and having earned a PhD in physical chemistry from the University of Honolulu, since why not -- Dirk Koeppenkastrop is essentially a totally law-abiding Honolulu version of Breaking Bad's Walter White, the master cook with a highly sought-after product -- at least when it comes to ice cream. He opened IL Gelato in 2010 as a way to merge his passions for gelato, science, and Honolulu, using only natural ingredients in his gelato, which are all made from scratch. To enjoy his gelato (or sorbetto) is to take a trip around the world, with flavors featuring pineapples from farms in Kunia on Oahu, coffee from the Big Island, pistachios from Sicily, and dark chocolate from Belgium.
Hawai'i Kai
In 1985, New York native Keith Robbins opened an ice cream shop on Coyne St, just down the hill from the University of Honolulu. In the rear of the store, he manufactured his ice cream one flavor at a time, and within weeks, demand for the product grew beyond his doors to include nearby restaurants, hotels, and supermarkets. Today, Bubbies (named after Robbins' grandmother, who first introduced him to ice cream) can be found in markets around the world, but there's no beating the locally produced stuff here, freshly made right on Oahu. Try the signature mochi ice cream, lauded in Food & Wine as among the nation's best -- a petite scoop of ice cream wrapped in a sweet, sticky rice cake, available in more than 20 different flavors.
Pearl City (& other locations)
Having perfected local Honolulu flavors like lychee, poha berry, and mango in ice cream form, Dave's Ice Cream is one of the best-known local brands around. Its owner, Dave Leong, was originally one of only three vendors who were licensed to make ice cream on the island back in 1982 when he began. The ice creams are made today just as they were back then, from scratch, although now they're up to 50 different flavors, 40 of which are available at their five locations across Oahu.
Waikiki
This Waikiki hole-in-the-wall is known for big bowls filled to the brim with pineapple, papaya, and apple banana, plus homemade sorbet and ice cream. Using a small machine behind a counter, Henry Takahashi churns out close to 100 servings a day of flavors including guava, mango, Kona coffee, and coconut. His secret ingredient is… fewer ingredients. Made without preservatives or anything artificial, Henry utilizes just six flavors: milk, eggs, sugar, cream, coloring, and fruit. And in a neighborhood dominated by multi-million dollar shopping centers and glitzy high-rise hotels, small, simple, and sweet goes a long way.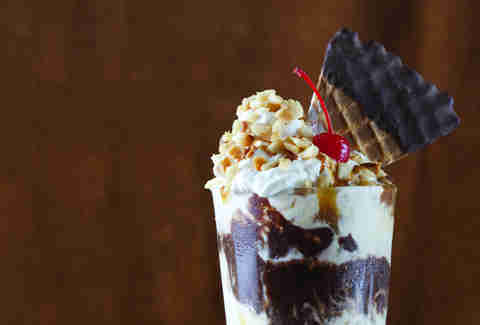 Waikiki
Famous entrepreneur and ice cream enthusiast Walter Lappert opened his first ice cream factory in the quiet town of Hanapepe on Kauai, and his first batch of ice cream made 4,500 gallons, selling out in just two weeks in early 1984. At the company's peak, that number grew to 18,000 gallons of ice cream a month, with a menu of 125 different flavors. Today, Lappert is survived by his wife, Mary Pratt, who leads the super-premium ice cream shop Lappert's Honolulu. She still features ice cream made in small batches on Kauai. At the location in the Hilton Honoluluan Village in Waikiki, you can enjoy a variety of flavors, including Heavenly Hana, a chocolate ice cream featuring white chocolate pieces, macadamia nuts, almonds, and marshmallow.
Kalihi
Samurai's colorful sherbet ice cream has become an iconic Honolulu treat ever since owner Glenn Yamamoto introduced it to his customers in the mid-'90s. Inspired by "Maui-style" sherbet, Yamamoto's own recipe calls for light ice cream mixed with heavy syrup. You can always find a crowd outside "Da Samurai House" in Kalihi, lining up to enjoy a mix of flavors, including blue vanilla, honeydew, lychee, coconut, banana, and assorted others.
Sign up here for our daily Houston email and be the first to get all the food/drink/fun in town.