Courtesy of Piggy Smalls
Courtesy of Piggy Smalls
2016 was a really good year for the Honolulu restaurant scene with lots of brand-spanking-new spots making names for themselves. From hard-to-find Mexican and Vietnamese fusion to top-notch breakfast and "trust the chef" sushi, we've rounded up the year's best new restaurants so you know where it's at!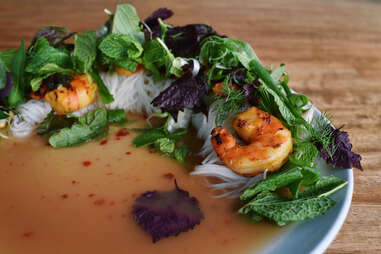 Ward
Not only is the name catchy, but the food is equally addicting as well. The Loaded Baked Potato Beignets, Hurricane Style Creamed Corn, and The Beet Box are all examples of Andrew Le's expertise of fusing together traditional Vietnamese flavors with other cultures and truly succeeding in creating unique and delicious dishes that keep you wanting to come back for more. And for those of you looking for a fun adult beverage -- slushie flavors change weekly and are topped with your choice of tequila, vodka, gin, or rum -- bottom's up!
Waikiki
As one of the pioneers of Hawaiian fusion cuisine, Roy Yamaguchi has become a master of blending local ingredients with various cultures and flavors. His newest restaurant offers the simplicity and comfort of dishes from Hawaii's plantation era. The Plantation Paella contains local favorites, tako (octopus) and Portuguese sausage, which brings a different but definitely great take on the traditional rice dish -- yum!
Moiliili
Koa Cafe is the newest spinoff from the popular local breakfast chain, Koa Pancake House. It offers innovative twists on traditional breakfast items, such as the Guava Lava mochi waffles (think chewy, sweet...oh-so-delicious), and the Angry Benedict (pieces of tender kalbi, tangy kim chee, and spicy sriracha drizzled on top) leave you wondering why these aren't staple offerings at all restaurants. Get an order of the freshly squeezed (seriously, it's squeezed to order) orange juice, a satisfyingly sweet accompaniment to your meal.
Chinatown
Good Mexican food is hard to find in Honolulu, but rest assured there's a new restaurant that is filling the void with legit Mexican food with bold, bright spices and flavors that pack a punch. Freshly fried, thick tortilla chips, stack up well with the housemade salsa roja. And the Baja Fish tacos are amazing -- crunchy, but not oily, lightly dressed slaw, and pickled red onions -- so good, you won't want to share!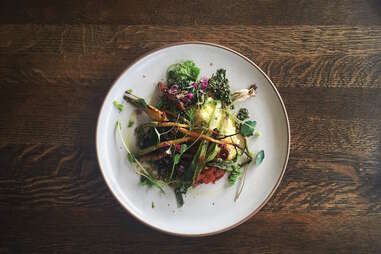 Waikiki
Mahina and Sun's features locally sourced ingredients with a laid-back, relaxing ambiance that caters to residents and tourists alike. The standout dish is the Ahi Palaha -- perfectly seared ahi (mostly raw, to savor the freshness of the fish), atop a bed of 12-grain rice salad and various veggies, and covered in an awesome limu salsa verde. If you have room for dessert, the chocolate mochi with black sesame ice cream is divine and for sure worth the calories!
Kapiolani
As the name suggests, The Rice Place has dishes that of course feature rice! But not just rice (as in grains), but also in noodle form, and rice flour crepes. The most interesting dish is the Noodles and Rolls -- the rice noodles are soft and flat (almost like a blanket) that can be wrapped around the crispy Imperial Roll and then placed into the lettuce leaf. Another tasty option is the Winner Winner Chicken Dinner, the poached chicken pairs well with the pickled daikon and carrots and the curry rice.
Kakaako
Moku Kitchen in SALT at Kakaako is the perfect place to hang out after a long day at work -- delicious food, tons of booze options, and great live music helps melts the stress away. Gotta get an order of the garlic truffle oil fries, the amazingly tender rotisserie roasted prime rib, tasty kalua pork with mac nut pesto, and sweet strawberry pie to finish your meal off right!
Keeamoku
Sushi restaurants sometimes offer an omakase meal aka "trust the chef" which is a good way to try things that you didn't even know existed, or force you to try something you think you wouldn't like but actually it tastes pretty damn good. At Sushi Murayama, the omakase is legend..wait for it...dary -- due to the chef's attention to detail in the beautiful presentations of food, as well as, his delicate balancing of flavors that highlight (but not mask) the fresh fish. If you opt to order off the menu, the Wagyu Musubi (not on the menu) is decadent, melts in your mouth, and is worth the hefty price tag of $30. For the adventurous eaters, order the natto sundae for dessert -- somehow the strange combination of the natto, shiso, vanilla ice cream, corn flakes, and Jack Daniels sauce unexpectedly works well together, don't knock it until you try it!
Downtown
Situated in downtown, it's a great place to gather after work, or right before a show at the Hawaii Theater. Tasty small plates of elevated bar food to nosh on with tons of craft beers on tap makes this a gastropub lovers dream. You can't go wrong by ordering the Ancho Chili Candied Bacon for that balanced salty-sweet bite, or the Pipikaula Poke for a beef jerky-esque dish with a hint of spice and jalapeno and pickled onions -- both pair perfectly with your cold beverage of choice!
Sign up here for our daily Honolulu email and be the first to get all the food/drink/fun in town.
Amanda Zen is a freelance writer for Thrillist who can't believe it's already December -- Happy Holidays!!