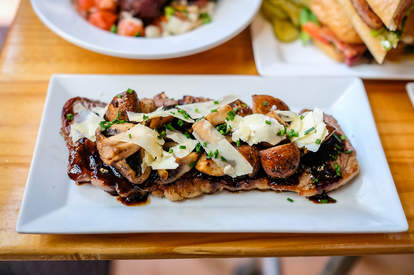 Honolulu's Best New Restaurants of 2019
With Texan transplants bringing succulently smoked Central Texas BBQ ribs to downtown Honolulu's food trucks serving California street-style tacos, Honolulu's dining scene just seems to be getting better. There's kid-friendly newcomer Keiki, comfort Japanese classics at Rinka, one of Waikiki's most exclusive fine dining establishments Mugen, and unfussy Hawaiian plate lunches at Oahu Grill -- all to satisfy everyone's budget and cravings. Here are 13 of the latest additions to Honolulu's thriving culinary scene.
MORE: Check out the 12 new restaurants we named best in the nation this year.
Kaka'ako
Comforting teishoku set lunches in this minimalist Japanese hotspot
With spacious new digs in Ward Village, it's now easier to get a table at this minimalist Japanese eatery that's long been popular with Japanese expats and tourists looking to get an authentic slice of home on Oahu. While Restaurant Rinka turns into a full-fledged izakaya at night, serving up sushi and sashimi galore, a more budget-friendly option lies in their lunch menu. A selection of teishoku set lunches — a classic meal commonly served in Japanese households — offers a main entree, rice, pickles, miso soup, and chawanmushi, a savory egg custard. Two small sides are also included, with options ranging from natto with tofu, goma-ae (creamed spinach in a sesame dressing), kinpira renkon (lotus root), and tamago (Japanese-style omelet).
Halekulani Bakery & Restaurant

| Halekulani Hotel
Waikiki
Freshly baked pastries in the heart of Waikiki
Located in Halekūlani's sister property, Halepuna Waikīkī by Halekūlani, the casual all-day bakery and restaurant offer not just delicious baked goodies. An early buffet breakfast begins daily at 6:30am and comes with an omelet bar, while a relaxed meal can be had until dinner ends at 8:30pm. The use of local ingredients plays an essential role in Halekulani Bakery & Restaurant's menu; there's even a sidebar on the lunch and dinner menus that indicate which local farms and dairies they source ingredients from. The clear winner, however, are the pastries — think lilikoi brioche, brownie bread, and Kona coffee kouign amann — by Executive Pastry Chef, Mark Freischmidt, which sold out during a series of pop-ups leading up to the opening.
Mugen

| Courtesy of Aqua-Aston Hospitality
Waikiki
Honolulu's latest Japanese-French fine dining establishment is perfect for date night
Helmed by Executive Chef Jason Yamaguchi (yes, he is renowned chef Roy Yamaguchi's nephew), Mugen is Honolulu's newest Japanese-French fine dining restaurant located at the über-chic, über-expensive Espacio hotel in Waikiki. A prix-fixe menu changes with the season and often includes indulgent offerings like Sasanian osetra caviar, Makanalani lamb, and Kona lobster pasta, all enhanced with Japanese flavors such as yuzu, xo plums, nori dust, and ume. And, paired with an extensive wine list — there are over 500-bottles of wine to choose from — a luxuriously intimate date night is almost guaranteed.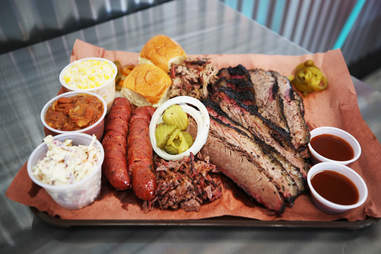 Sunset Smokehouse

| Courtesy of Mijung Lee
Wahiawa
From food truck to brick-and-mortar Central Texas-style BBQ
The popularity of Sunset Smokehouse began as a food truck by Sunset Beach on the North Shore. Fast forward to earlier this year when Texas-native, James Kim, opened up the eatery's first brick-and-mortar location in Wahiawa. Focused on succulent meats that have been smoked for over 12 long hours, the bright, casual spot offers five types of meat of choice — beef brisket, beef ribs, pork spare ribs, pulled pork, and beef sausage. Pair it with any (or all!) of the freshly made sides ranging from a creamy or tangy coleslaw, potato salad, creamed corn, and hot pinto beans. For a relatively lighter meal, opt for the City Limits sandwich, made from a mix of chopped lean and fatty brisket, and an order of Texas sweet tea.
Kaka'ako
A kid-friendly Kaka'ako café for the urban mom
This casual café is perhaps one of Honolulu's kid-friendliest spots where parents can come enjoy their cups of coffee or warm chai lattes while their keiki get their play on. The space also offers weekly kid-friendly activities ranging from arts and crafts workshops and singing to storytime and live music. For a snack break, take your pick from the avocado toast, colorful acai bowls, fresh fruit smoothies or dessert toast made with Hawaiian sweet bread — the Unicorn Toast made with Shokupan bread, cream cheese, strawberries, pineapples, and drizzled with honey and rainbow sprinkles, is especially popular and Insta-worthy.
Kaimuki
'Ono family recipes at Kaimuki's latest authentic Hawaiian food spot
For those looking for a sumptuous plate lunch, look no further than Kaimuki's latest opening for Hawaiian food. Family recipes passed down from one generation to the next reign supreme on Oahu Grill's menu of staples like freshly pounded poi, lomi salmon, garlic shrimp, kalua pig, and squid lu`au. You can be sure that meats are smoked with aromatic wood chips and
not
liquid smoke. A crowd favorite is the Tuesday special of chicken hekka, a savory long-rice noodle dish made with shredded chicken simmered in a shoyu sauce along with green beans and carrots.
Ala Moana
Korean food and karaoke in a casual sports bar
At the relatively underrated Billion Pocha 1201, there's nothing better than ordering a serving of spicy chicken & cheese to go with your nighttime karaoke session. With an October soft opening, the neighborhood's newest sports bar serves up steaming spicy Korean noodle stews, finger-licking, spicy chicken wings, and more. Coupled with a happy hour that offers $3 beers and $10 food specials from 2-8pm, your weeknight plans have just become
soju-much
better.
Waikiki
Where sizzling steak meets the casual beach vibes of Waikiki
One of the newest additions to Honolulu's vibrant dining scene, Aloha Steak House is a much needed, wallet-friendly meat palace in Waikiki. With a distinctly warm interior and industrial-style motif, this carnivore's dream immediately transports diners to a casual beach house. The only difference is this one is serving up ounces of sizzling, flavorful cuts of beef. The menu's pièce de résistance is the tomahawk steak, a more than 2-pound, "super-vigorous" grill of bone-in ribeye. If it's sold out, which is usually the case if you're there after 8pm, the ribeye with garlic shrimp is the next best thing. According to ASH, there are two ways to eat your meat: on-the-rice -- where you put your piece of steak on a bed of white rice -- or on-the-salad, where your steak goes atop a fresh greens. Whichever you choose, don't forget to try the Maui sweet onion sauce. It's addicting.
Waikiki
New York's beloved Lady M cakes make their island debut
Dessert lovers of Oahu will rejoice at the island's latest cafe opening, Waikiki Tea House, because it brings a cherished and world-famous New York dessert to our shores: Lady M cakes. The cakes are loved for their light, creamy, and flavorful textures -- each mille cake consists of 20 layers of crepes, with a layer of cream dividing each. Flavors include a signature cream (a favorite), green tea, and lilikoi. To wash down your cake, Waikiki Tea House also offers several hot and cold tea brews, including a few Instagram-worthy options like the rose tea latte.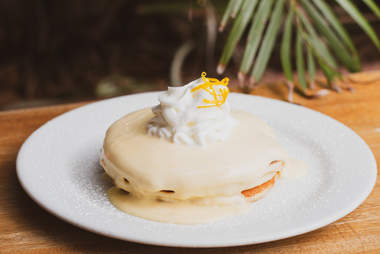 Moke's Bread & Breakfast

| Courtesy of Ellemsee Media
Kaimuki
Kailua's favorite breakfast fare comes to Kaimuki
The Kailua breakfast hotspot Moke's Bread & Breakfast has finally come to our side of town, with its second location taking over the old Kan Zaman space in Kaimuki. The cafe's claim to fame, and a must whether this is your first visit or your 100th, is an order of the lilikoi pancakes made from light and fluffy batter and smothered on top with a creamy lilikoi sauce. For a savory start to your day, the loco moké is a good option -- it's a twist on an island classic, the loco moco (served over white rice with two eggs over-easy and drenched in homemade brown gravy), and uses a house-cut ribeye instead of a traditional hamburger patty.
Moiliili
A creative, plant-based spin on your usual sushi and izakaya favorites
Plant-based and vegan are usually not what you'd use to describe a sushi dinner, but your vocabulary is sure to change after a meal at Tase Vegan Izakaya. The latest izakaya to pop up on Oahu is unexpected, but it's undoubtedly welcome in a landscape of meat, seafood, and, well, more meat. The menu at Tane is almost identical to its sister spot, Shizen in San Francisco -- which is featured in the SF Michelin guide -- and both were started by co-owner and chef Kin Lui. Start with the yuba salad with spicy miso dressing and tempura-battered shiitake mushrooms with faux-crab. Then continue to the spicy tofuna rolls, with minced tofu and cucumber topped with creamy avocado and chili "tobiko."
Courtesy of EARL Kaka'ako
Kaka'ako
EARL's newest inventive sandwich offering
The second EARL's (which stands for Eat a Real Lunch) location by Baltimore-born owner, Justin Parvizimotlagh, opened this March on Keawe Street in Kaka'ako and boasts an entirely new menu. In addition to a number of unique sandwiches and appetizers -- standouts include the chorizo nachos, brisket gyro, and the short rib torta -- the Kaka'ako location also offers Sunday brunch service, with a drool-worthy, made-for-Instagram menu. Look out for the meat-loaded Prime Jun, aka "the greatest breakfast sandwich of all time," and a glazed donut packed inside with buttery fried chicken, bacon, hash brown crispies, and kale slaw. If you're counting calories, this is not the place for you.
Courtesy of REAL Gastropub
Kaka'ako
Craft beer makes a comeback at this highly anticipated gastropub reopening
More than a year later, REAL Gastropub has finally opened up its doors in its new Kaka'ako location. What's exciting about this reopening is not just the myriad beer options on tap (33 to be precise), but also production of on-site beers with the upcoming opening of Bent Tail Brewing. From the lechon-style pig wings and chorizo grilled cheese to the loaded Bent Tail burger and French onion hummus with cheesy naan, the expanded menu has options that perfectly complement the beer offerings.
Sign up here for our daily Honolulu email and be the first to get all the food/drink/fun in town.
Wendy Awai-Dakroub is a Hawaii-based writer, restaurateur, franchise business consultant and founder of kid-friendly food and travel blog. Besides her love for travel and photography, she's also "momager" to her kid-foodies Leah and Jaffer. Follow her on Twitter.