We know, we know. People don't come to Hawaii looking for good pizza (good poke, spam musubi, and loco moco, though, is a different story). But what visitors may not know is that the island of Oahu is home to some pretty amazing pies -- and our pizza scene is getting better every year. From massive, New York-style slices to thick Sicilian squares to pizzas topped with local specialties like Kalua pork and Big Island goat cheese, there's a crusty creation for every mood. Here, 15 pizza joints to eat your way around the island.
Est. 1994 | Ala Moana
Classic and French bread pies along with pastas and calzones
Honolulu's only Halal Italian restaurant (Halal refers to food considered permissible according to Islamic law and includes certain cuts of meat and forgoing pork), Amina serves up classic pies along with French bread pizzas with toppings like mushrooms, Italian meatballs, fresh spinach, and pepperoni. Owner/chef Amina Chau also doles out bubbly baked pastas, Italian subs, and a solid array of calzones. Though it originally opened in Kailua, the restaurant moved to its current small space on Kalakaua more than a decade ago.
Est. 2005 | Chinatown
Snack-like pizzas that leave room for a beer or three
Chinatown haunt Bar 35 may be best known for its extensive beer selection (over 200 choices!), but its oblong, thin-crust, almost cracker-like pies are a close second. Presented on rectangular wood paddles, the pizza offerings from master chef Francesco Valentini are both a nod to crispy, Roman-style crusts and a fusion interpretation, with toppings like tzatziki, smoked salmon, and kalua pork. Try the Sweet Bangkok -- done with Chinese sausage, sweet chili sauce, cilantro, and mozzarella -- that's big enough to share, but you might not want to. For drink specials and discounted pizzas and pupus, come during happy hour, 4-9pm Tuesday through Friday and all night on Mondays.
Est. 1993 | Kalihi
Made-to-order personal pan pizzas
Now located in a strip mall near the airport, this no-frills establishment has been serving local-style deep(ish)-dish pan pizzas since the grunge era. The dough is made fresh daily, and baked to a well-done golden crisp, before getting topped with meaty options like kalua pork, BBQ chicken, and beef brisket along with a smattering for veggie toppings. Each pie -- available in 7-inch and 12-inch pans -- is custom baked, so if you're in a rush, it's best to call ahead. And one last thing: garlic cheese balls baked in butter. Just do it.

Est. 2007 | Kailua
Gargantuan slices with classic toppings in a shopping center
Big is the name of the game at this East Coast-style pizza joint within the Kailua Beach Center where each slice is a full quarter of a 19-inch pie -- and easily splittable depending on how hungry you are. Bob's keeps things simple on the topping side with traditional options like mushrooms, peppers, anchovies, sausage, and pepperoni. Bonus: You can enjoy your pie at a table out on the patio, complete with old-school, red-checkered-tablecloths.
2016 | Chinatown
Authentic Neapolitan pizza with housemade mozzarella in a brick-walled space
Owner Matthew Resich studied pizza-making with master pizzaiolo Enzo Coccia in Naples, Italy, prior to opening Hawaii's only Vera Pizza Napoletana-certified pizzeria inside this historic brick-walled space in Chinatown. The kitchen crew has not only perfected that authentically charred-and-crispy-meets-chewy crust, but also makes its own mozzarella and San Marzano tomato sauce daily. The classic margherita is killer, but if it's toppings you're after, the meaty Mama Mia is piled with Italian sausage, sopressata, prosciutto, and hot peppers while the rich Carbonara is layered with a béchamel, smoked pancetta, and local egg yolk.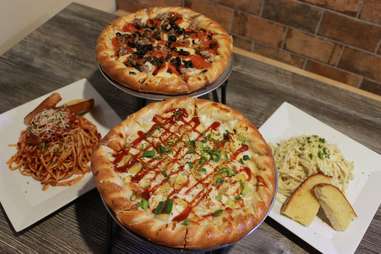 Est. 1977 | Various locations
Local chain with tons and tons of menu options
This local brand has been a Garden Isle favorite for decades, but made its way to Oahu in recent years. Pizza sizes range from small (eight slices), medium (10 slices), to large (12 slices) and are available in white, wheat, or gluten-free dough. Tough time deciding? Go for its classic hearth-baked UltiMeat, which may just be a meat lover's fantasy thanks to a carnivorous blend of Portuguese sausage, smoked ham, Italian sausage, pepperoni, bacon, and beef. Most locations do a daily afternoon happy hour from 2pm to 6pm.
Est. 2016 | Waikiki
Modern brick-fire pizza in an al-fresco setting
Traditional and modern Italian-American pizzas live at this open-air beer and pizza restaurant at International Marketplace, which operates a sister outpost in Vegas. The menu is divided into rossa (San Marzano tomato sauce) and blanca (garlic cream sauce) pies. Opt for traditional go-tos like margherita or pepperoni-and-cheese or local specialties including the red-sauced Aloha Pie with Spam, smoked bacon, and slices of Maui Golds. The white mushroom pie gets a little luxe with truffle cheese and truffle oil. Bonus: Double happy hour runs from 2pm to 6pm and 10pm to close daily.
Est. 2019 | Kaka'ako
Thick, Sicilian-style pizza sold by the square
Named for the great aunt and uncle of owner Jared Brown (a New York City native who also owns adjacent rice bowl/sandwich stall Fat Cheeks), this brand-new pizzeria at Ohana Hale Marketplace focuses exclusively on Sicilian-style pies -- those thick, rectangular pizzas baked on sheet pans and sold whole or by the square. Garibaldi's hearty pizzas come out with a perfectly charred crust and a variety of toppings, including the shop's signature white pie done with garlicky spinach and mushrooms.
Est. 2014 | North Shore
Take-out food truck with oversized pies by the beach
Named for a shore break in Bali, this one-man mobile pizza truck doesn't, as its name suggests, make tracking down a slice impossible, but it is pretty tough. You'll find IP parked between Sunset Beach and Waimea, but it's open just three days a week or less, has no social media presence, and closes up after it's sold out (oh, and it's cash only). So it's best to call and make sure it's up and running that day and still has pies for sale or better yet, order ahead to avoid the rush. Pizzas by the slice are limited, and be prepared to invest in a gargantuan pie so big, the crust runneth over the box. Add a side of homemade ranch dipping sauce in which to dunk your naked leftover crusts for optimal enjoyment.
Est. 2008 | Downtown
Lively Irish pub with reliably delicious New York-style pies
It's a fact: This Downtown Irish pub and pizzeria has one of the best New York-style pies on the island. The secret may be its hand-tossed dough folded with a touch of Guinness, or it might be the toppings made from fresh produce, or perhaps it's the simple pairing of ice-cold beer and hot slices. Regardless, this local institution has become a favorite for pizza lovers for a reason.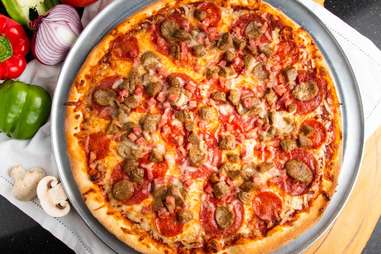 Est. 2019 | Manoa
Rebranded pizzeria with farmers' market ingredients and meatball pies
After taking over the space that previously housed Serrino's Pizza at Manoa Marketplace, the new J&B (owned by two guys named Jason and Brian) have continued to bake up perfect pies with fresh-made dough, including a gluten-free version. They source fresh produce from Manoa's fabled farmers market and proudly boast that they're home to Oahu's only meatball-and-ranch-dressing pizza ... just in case you were looking.
Est. 1996 | Kaimuki
Oversized pies in a Boston sports-themed space
The longstanding slice spot is still using the same recipes for its daily-made dough and sauce derived from whole crushed tomatoes as it was back when it opened more than two decades ago. The results are 19-inch, Boston-style pies that yield big foldable slices. The shop's "premium select" pizzas are made for meat lovers with offerings like The Hogfather (topped with roasted pork, BBQ sauce, tomato, onion, jalapeño, and sweet peppers) and the BLT (gorgonzola, applewood bacon, spinach, tomato and garlic). If you're not a Boston fan, avert your eyes: The place is heavy on New England team jerseys and memorabilia.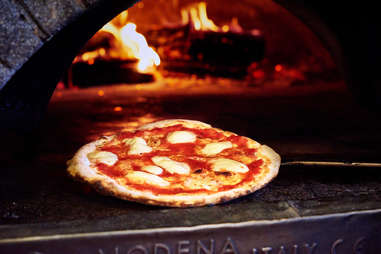 Est. 2016 | Kaka'ako
Live music and gourmet pizzas made with local ingredients
Like all of Peter Merriman's restaurants, most everything on the menu is made from scratch with ingredients that are locally sourced -- down to the ketchup. Pizzas aren't the sole star at his sprawling, industrial-influenced Kaka'ako eatery (hello, Hawaii beef burgers and 29-degree craft beers on tap), but the small-but-mighty roster of pies often steals the show. The pizza dough is aged for three days, hand tossed, and baked at 700 degrees. Creations include a rotisserie roasted veggie pie with Big Island Chèvre, basil, and mac-nut pesto. You can try one for $9 during happy hour, which runs daily from 3-5:30pm with a side of live music starting at 4pm.
Est. 2015 | Downtown
Dive bar with creative specialty pies
Maybe you've stumbled into this alley bar after discovering J. Dolan's kitchen was closed, but stayed because there's actually room to sit down and somebody's got to satiate your late-night pizza needs. The eatery offers slices and 13-inch, build-your-own pies, but if you're looking for something you're not going to find at another island pizzeria, go for one of its wild specialty pies. There's one with smoked duck and a sage cream sauce and the locally inspired Kauai Chicken is smothered in macadamia cream sauce, roast chicken, papaya, and pineapple. Vegans will find 17 veggie-friendly toppings in addition almond-based cheese.
Est. 2016 | Hawaii Kai
Design-your-own pies and guava-infused crust
If you're the micro-manager type -- or just like your pizza exactly like you like it -- this DIY palace is your spot. You'll get to customize everything here, from the dough (choose from Sophie's original, gluten-free, or guava-infused), to the sauce (cilantro-tomato pesto and zesty Sriracha red are among the options), then pile on the toppings ranging from Kalamata olives to Korean BBQ beef in addition to traditional faves like Italian sausage, bell peppers, and basil. After that, it's off to the handcrafted, rotating stone-floor brick oven, which blisters the crust to an expert crisp. If you're finding the endless options too overwhelming, try any of Sophie's picks, including the signature style created with Parmesan, mozzarella, tomatoes, spiced salami, and fresh arugula, garnished with goat cheese shavings and truffle oil.
Sign up here for our daily Honolulu email and be the first to get all the food/drink/fun in town.
Lizbeth Scordo is a food, travel, and lifestyle writer -- and is positive she could win a pizza-eating contest. Follow her pondering competitive eating on Instagram @modlizbeth and Twitter @LALizbeth.