Meet Thrillist Honolulu's Best Chefs of 2016
Editor's Note: This article is part two of Thrillist Honolulu's year-end look at the best of our city's local food and drink scene in 2016. In addition to our annual Best New Restaurants award, this year, we're spotlighting the men and women behind the dishes we love to tell you to eat. Whether they bucked the national trends, revived classic local flavors, or otherwise drove the city's culinary scene, these are the chefs that stood out this year. You can also check out our picks for the rest of America's 2016 Best Chefs, and then catch up on our Best New Restaurants.
Hawaii is becoming a food destination, filled with everything from eclectic offerings like Parmesan ramen and local comfort food like poke bowls and loco moco. That certainly couldn't happen without the very talented people behind the aprons who are sculpting Oahu's food landscape, one local MA'O Farms tomato or Big Island beef burger at a time. Whether it's promoting the island's history and local economies or winning awards and finding success through a department store, these chefs have all made significant contributions to not only the city's culinary scene but to the city itself. So that's why we're proud to name them Thrillist Honolulu's Chefs of the Year for 2016.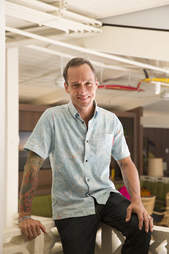 Olivier Koning
Ed Kenney
Once a commercial real estate agent, Ed Kenney found his path to the kitchen while spending a year backpacking across the globe and came home to study at the Culinary Institute of the Pacific. After honing his skills in restaurants across the island, Kenney opened Town, his first Kaimuki restaurant in 2005, and today Kenney is James Beard Award semifinalist for Best Chef (for three years in a row), hosts the PBS series Family Ingredients and has cooked for First Lady Michelle Obama.

It's no surprise that the Honolulu-born chef who helped pioneer Hawaii's farm-to-table movement in the early 2000s continues to create eye-popping and mouth-watering plates at his fourth restaurant in the artistic Surfjack Hotel & Swim Club in Waikiki this year. His menus at Town, Kaimuki Superette and Mud Hen Water follow his mantra "local first, organic whenever possible, with aloha always," featuring dishes from the land, garden and sea, and his newest iteration continues to honor his approach with dishes featuring Hawaiian wild boar and aku (skipjack tuna) tartare. Exclusive to Mahina and Sun's is his family-style Mahina's Family Feast, featuring mochiko-fried, whole deep sea snapper, Kualoa oysters, roasted roots from MA'O farms, pohole salad, buttered 'ulu with chile pepper water aioli, house pickles, hapa rice and salted mac nut pavlova—featuring some of the best of the Kenney's interpretation of fresh, local fare.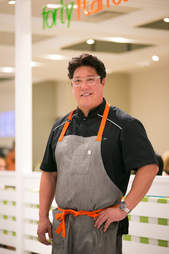 Courtesy of Bloomingdale's
Jon Matsubara
Every Bloomingdale's Forty Carrots restaurant across the globe is known for their standard, casual fare—soups, salads, sandwiches. But its Honolulu iteration, Jon Matsubara shakes things up with not just local ingredients, but a menu inspired by the islands. At the Honolulu store, you'll find hibachi-grilled Kauai shrimp, ahi and pork bowls, Hawaiian-style sandwiches made with Kahalu roasted pork—menu items you won't find at any other Forty Carrots in the world.

Before taking the helm at the department store restaurant chain and giving it an island-style makeover, the local chef had made his mark on the island food scene long ago, garnering local and national recognition for his work at Azure and Japengo. The Punahou graduate earned his degree in Native American history before continuing on to law school. It was during that time when he realized his passion wasn't in studying torts, but rather, cooking food. After serving as a busboy at Alan Wong's and Roy's Restaurants, Mastubara went on to cook in famous New York kitchens and graduated from the French Culinary Institute in New York with distinction before returning home.
© AGUPlus
Hisashi Uehara
Debating on who has the best ramen on the island is, and will always be, a matter of contention, but there's no denying that the chewy noodles and savory broth at this local noodle shop has, at some point, reawakened your ramen cravings with his jidori chicken broth, black garlic oil tonkotsu broth and house made char siu pork. This year, the man behind the popular ramen shop has expanded his warm offerings across the island, with chains popping up in Kapolei, Pearlridge and Waikiki and even a trio of ramen shops in Texas.

Born in Okinawa, Uehara moved to Hawaii at the age of 14 before relocating to California for college. There, he studied under a Japanese chef and before long, opened an izakaya and yakitori restaurant in LA. After returning to the islands, Uehara worked for the popular restaurant chain Gyotaku and after a few years, opened his first AGU in 2013.
Roy Yamaguchi
When talking food history in the islands, it's hard to imagine what our present would look like without Roy Yamaguchi. In the early 90s, the Tokyo-born chef was one of twelve chefs behind Hawaii Regional Cuisine, which helped bring the focus from imported ingredients and continental recipes to locally sourced products and recipes, to make restaurant fare more of a reflection of the community. Yamaguchi garnered multiple local and national awards, opened more than 20 Roy's Restaurants worldwide, competed in Top Chef Masters, and was awarded the James Beard "Best Pacific Northwest Chef" Award.

A busy year for the celebrity chef, Yamaguchi opened his second and third Eating House 1849 restaurants in Oahu (the original location opened in Kauai in 2015) and Roy's Beach House in Turtle Bay Resort. The Eating House 1849 pays homage Peter Fernandez, who opened the first restaurant in Hawaii during the plantation days in the mid-1800s, showcasing the islands' culinary history and diversity with a modern flair. Meanwhile, his new North Shore restaurant is parked beachside, with signature favorites like misoyaki butterfish and dark chocolate souffle on the menu in addition to new menu items, still sourced from local farmers and fishermen, of course.
Dale Sandlin
Peter Merriman
Another founding member of Hawaii Regional Cuisine, Peter Merriman added his first Honolulu restaurant to his growing collection of restaurants in the islands. Like Monkeypod Kitchen in Ko Olina, the casual restaurant includes craft beers on tap, and a kiawe wood-burning pizza oven, and like its sister restaurant, everything on the menu is made from scratch and locally sourced with fresh ingredients. Exclusive to this location is rotisserie grill and biodynamic wine, served on tap.

Born in Pittsburgh, Merriman got an early introduction to cooking from his mother, who was a food writer for the Pittsburgh Post-Gazette. After graduating from college with a degree in political science, he studied with Rockefeller's Rock Resorts and cooked in resorts across America and Europe. The opening of the Mauna Lani Bay Hotel on Hawaii island brought him to the islands in the early '80s, where he started as a pastry chef and worked his way up to Executive Chef. It was then, where Merriman began pioneering to feature regional cuisine in restaurants, made with regional ingredients, and eating in Hawaii has been all the better for it.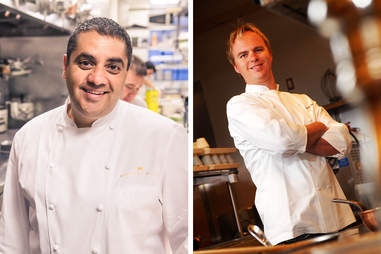 MINA Group
Michael Mina and Benjamin Jenkins
When James Beard Award-winning chef opened his 29th restaurant, and his first in Hawaii, it had been a long time coming. He'd visited the islands for years and had wanted to open a restaurant, but plans had always fallen through. This year, Mina debuted his third Stripsteak restaurant in the newly renovated International Marketplace in Waikiki, with local adaptations. The eatery features his signature hand-sliced cuts of high-quality Japanese, Australian and American beef, slow poached in butter then seared on the grill, but also deviates from his original concept, with smaller, lighter plates and a menu inspired by island ingredients, with a Japanese influence. Longtime Mina Group chef Benjamin Jenkins collaborated with building the seasonal menu and helms the restaurant as Executive Chef. In addition, the restaurant also features an Ohana Family-Style menu, with family and luau-sized seafood towers, a tasting menu and shared dishes big enough to share with family, friends and friends who have become family.
Sign up here for our daily Honolulu email and be the first to get all the food/drink/fun in town.
Summer Nakaishi is a freelance writer for Thrillist who would gladly sport a food baby for the remainder of the year.