Hawaiian Legacy Archive/Perspectives/Getty Images
Hawaiian Legacy Archive/Perspectives/Getty Images
If momma knows best, then grandma knows even better -- which is why we asked local grandmas for their favorite dining options on the island. While grandma's home cooking may reign supreme, every now and then she likes to take a break and enjoy a meal prepared by someone else. Most grandmas said they don't eat out often, but when they do, there are a few delicious, nostalgic, and traditional favorites they like to frequent.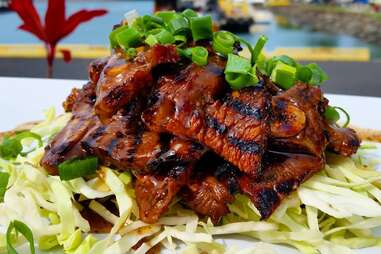 Kalihi
Fresh fish is hand-picked daily by an expert team, and that's the way some grandmas like it. In addition to showcasing fish caught by local fleet, the oceanside eatery features a menu of ingredients grown locally on the island, which overlooks docked fishing boats bobbing in the ocean. During breakfast and lunch, diners can walk up to the counter, order, and find an open seat, while at dinner, Nico's offers an expanded menu and table service. "I like the miso chicken," says Sandy Asato, who frequents the restaurant once every three to four months. "It's casual; it's a plate-lunch place."
Kaimuki
A meal at this old-time restaurant is often a trip down memory lane for many grandmas. "I really like Sekiya's because I used to go to Kaimuki High School, and we used to go there for saimin, so it's like my olden days," says Lynette Kotake, who still likes to order noodles and a hamburger. In 1935, this old-school restaurant first opened its doors in Kalihi, selling plate lunches for 10 cents during World War II. The restaurant moved to Kapahulu before settling at its current location in Kaimuki in the mid 1950s, where it still serves up classic, American, local, and Japanese comfort food, like sandwiches and malts, saimin, and oxtail soup. As an added bonus, until 3pm, you can stock up on their okazu bar, and build your own plate of goodies like inari (cone sushi), corn beef hash tempura, or musubi.
Kaimuki
This mom-and-pop joint consistently wins local awards for best Hawaiian food on the island, so it may not be much of a surprise that it's also a winner amongst our grandmas. Lynette Kotake has been frequenting the casual, hole-in-the-wall eatery for nearly forty years, and still loves the lau lau, kalua pork, poi, lomi salmon, long rice, and beef stew. The restaurant is small, and quickly packs with customers, but the massive portion sizes and authentic flavors are worth the wait.
Multiple locations
The grandmothers we spoke with noted that they enjoy the menu variety and specials at Gyotaku. New diners may want to scope out the menu beforehand to narrow down selection time, because the menu is packed with a wide variety of delicious-looking options, like soba and udon, tempura, salads, steaks, sushi, and combination plates, which may make for a long and difficult selection. "Tom Jones got his training in Japan to make sushi," says Nancy Uramoto of her favorite restaurant's co-owner. "He's very good."
Kalihi
A favorite amongst many grandmas we talked to, this Japanese and Okinawan restaurant is a crowd-pleaser for its traditional favorites. "I live far, far away," says Nancy Taira, "and I go all the way to Dillingham because it's Okinawan food." The nasubi chanpuru (eggplant with pork) keeps her coming back, although she typically finds herself at the restaurant mainly for special occasions. The Kalihi eatery has been around for nearly 14 years, and it's where you too can satisfy your taste for grandma-quality, home-cooked Okinawan comfort food like pig's feet soup and goya chanpuru (bitter melon with tofu & eggs) alongside local favorites like ahi katsu and ahi poke. All meals come with a soup or salad, beverage, and dessert, which make for easy ordering.
Kaimuki
It's the dim sum that keeps some grandmas as regulars. "It reminds me of the dim sum in Chinatown when we were growing up," says one grandma, who spent many childhood meals eating the bite-sized dumplings. Open for dim sum and dinner daily, carts wheel around baskets of hot dim sum and dumplings until 3pm. You can get your fill of pork hash, shrimp look fun, and sweet custard tarts, and supplement your savory goodies with off-the-menu items like Peking duck, chow mein, and walnut shrimp… all without fighting for parking in Chinatown.
Multiple locations
It should come as no surprise that this local chain gets the grandma seal of approval. The restaurant has been around for 50 years, and many grandmas have been hitting up one or more of its 20-plus locations across the island for decades to get their fill of Portuguese bean soup, beef stew, or its famous chili, beans sometimes not included.
Waipahu
Waipahu resident Lilia Legaspi doesn't eat out often, but Restaurant Kunio is always her destination of choice, specifically for the sushi. The restaurant sources its fish daily and cuts it into eye-catching menu items like salmon sushi, spicy tuna rolls, and miso butterfish. In addition to a la carte menu items, hot & cold noodles, nabe, and donburi, you can also get teishoku (meal sets), with salad, an appetizer, rice, miso soup, and tsukemono (pickled vegetables).
Sign up here for our daily Honolulu email and be the first to get all the food/drink/fun in town.
Summer Nakaishi is a freelance writer for Thrillist who has fond memories of many a grandma-selected dinner at long-shuttered restaurants like Wisteria and KC Drive Inn.