The North Shore may have some internationally acclaimed spots, and Kailua might be home to President Obama's favorite, but Honolulu has some of the best places to score what you need most when it's hot and humid in Hawaii (aka, almost always) -- shave ice. From the traditional rainbow cone to homemade fresh-fruit syrups to icy Taiwanese and Korean iterations, here are the city's best shave ice spots...
Multiple locations
What you're getting: Rainbow with ice cream
When the ubiquitous local snack made its way to Hawaii from Japan during the sugarcane and plantation era, workers would take a machete to large blocks of ice, and then add fruit juice to the freshly shaven pieces. Later they were sold only on Sundays (workers' day off) in family grocery stores as the plantation industry dwindled, until people wised up and started slinging 'em every day. Open in 1940 -- then known as Koide Store -- the Moiliili location of WSI is the longest-running shave ice stores on the island. Order a cone or cup with the classic strawberry, banana, and vanilla rainbow, with a scoop of vanilla ice cream tucked underneath your fluffy mound for a cool taste of local history.

Kalihi/Kaimuki
What you're getting: Strawberry or red velvet creme with a snow cap
This School St hole in the wall may be small, but it offers over 50 water- and cream-based syrups like crème brulee and chocolate cream pie as well as the traditional tropical flavors like lilikoi and lychee. Cap off your concoction with haupia cream or condensed milk for added sweetness. But with shave ice as big as your head, you'll have to eat this sucker fast before the sun melts your treat into soup, which makes brain freeze almost inevitable, but totally worth it.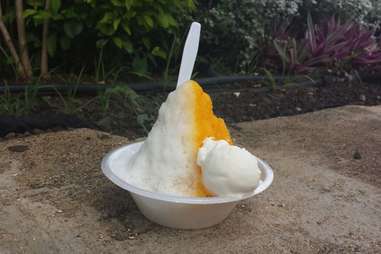 Kaimuki/Palolo
What you're getting: The Tropical Bowl (haupia/mango with haupia ice cream)
This mom-and-pop shop may be known for its pork belly bowl with deep-fried boiled egg, but its shave ice ranks up there with the big-name spots. Pair its pulpy, 100% fresh-fruit syrups with its homemade haupia or green tea ice cream and see if its icy offerings edge their way to the top of your list.
Ala Moana
What you're getting: Strawberry milk with homemade azuki beans
If your party can't agree on whether to go for traditional concentrated syrups or homemade concoctions, try this cozy spot for its towering, mountain-shaped options that will please both palates. Here, ice is made from filtered water and ground to a powdery smoothness and soaked with the flavors of your choice. With thick, house-made syrups like the Tropical Trio (mango, papaya, and coconut) or Uji Kintoki (green tea syrup topped with homemade mochi and azuki, ice cream, and condensed milk), it would be tough to opt for anything but its special creations.
Diamond Head
What you're getting: MK Special (black sugar syrup, azuki beans, vanilla ice cream, mochi balls, and soybean powder)
A relative newcomer to the shave ice game, this flower-lined, back-ally spot is gaining popularity for its organic, fresh-fruit syrups. Fine ice crystals are layered with thick, house-made syrups and garnished with real fruit, making the dish almost like biting into colder, sweeter versions of the fruits themselves. Flavors tend to sell out quickly, so come early or be forced to discover a new favorite syrup combination.

Ala Moana
What you're getting: Taiwanese shave ice with mochi, custard, and coffee jelly
Get your Taiwanese shave ice fix without driving to Aiea at this sandwich and bubble tea shop. Load up your brown sugar shave ice with your choice of toppings: tapioca pearls, taro, coffee jelly, coconut jelly, coconut tapioca. azuki beans, etc. Unlike traditional shave ice, the Taiwanese iteration is less about the syrup and more about the toppings, and in this case, more is always better.
Keeaumoku
What you're getting: Patbingsu or coffee shave ice
Although this healthy Korean restaurant has only two shave ice options on its menu, if you're a fan of simple, icy treats, you can't go wrong with either. Their patbingsu, or red bean option, is pillowy-soft ice layered with kinako powder, topped with mochi, sliced kiwi and strawberries, and sweetened with condensed milk. For a more caffeinated option, try the coffee shave ice, with ice shavings soaked with coffee syrup and cream and capped with azuki beans. After a spicy meal on a warm day, cooling down with a cold dessert is a refreshing reward.
Downtown
What you're getting: Anything with custard
Nestled in the back of a convenience store, this Taiwanese-style shave ice spot combines classic Hawaiian flavors with its freshly made taro, azuki, mochi, and custard. Committed to ensuring your bowl is to your liking, if you have too much ice, they'll add more syrup, and conversely, if you have too much syrup, they'll add more ice. Bonus, even though it's located in the heart of Downtown, this mom-and-pop shop is open on weekends for all your gourmet shave ice-consuming needs.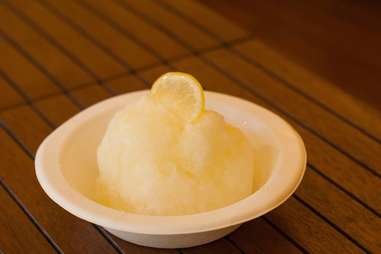 Waikiki
What you're getting: Seasonal special or matcha green tea
Next time you're in Waikiki, cool down at this Lewers St locale with a bowl of filtered-water shave ice crafted with handmade syrups, all mixed with a touch of local Meyer lemons. Its menu offers less than a dozen options, but that doesn't mean it makes deciding on a flavor any easier. Try the premium matcha with Hokkaido azuki beans, or whatever the seasonal special may be (past offerings included pomegranate and Bartlett pear). Whatever you choose, don't forget to top your pick with its homemade, organic condensed milk for added sweetness and optimal enjoyment.

McCully
What you're getting: Lilikoi or lychee
A true hole in the wall, this storefront is covered with handmade signs and is almost so innocuous, you might miss it. But don't let appearances deceive you. This mom-and-pop convenience store packs fluffy, finely shaven ice into Styrofoam cups, topped with classic homemade syrups. The best part? No long lines, and its extra-large size is just $3.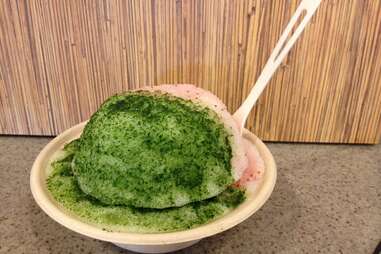 Hawaii Kai
What you're getting: Kalespin with homemade mochi balls
If you're looking for a healthy shave ice option, make the drive to Aina Haina Shopping Center and hit up Uncle Clay's for its kale and spinach syrup, naturally sweetened with apple juice, cane sugar, and lemon. The flavors are all-natural and made fresh in-house without artificial colorings and preservatives. If you're in luck and the restaurant's namesake is working behind the counter, you'll quickly discover that your shave ice is truly made with the spirit of aloha.
Sign up here for our daily Honolulu email and be the first to get all the food/drink/fun in town.