Finding a great BYOB restaurant always feel like a little victory since you're practically discovering an all-night happy hour: there's nothing like throwing back your favorite adult beverages at a restaurant without the markups and dumb importing fees. Leave the math problems to your tax guy, and instead, hit up the grocery store before brown-bagging it to these killer restaurants. 
Downtown
Add some barley and hops to your lunch, or wind down your day with a bottle of your favorite wine, paired with authentic Moroccan and Lebanese food in the heart of downtown. We'd recommend the lamb kebab, chicken shawarma. or Mediterranean mussels -- and opt to be seated on their palm-dotted outdoor patio. Pro tip: stop by on Wednesdays, when your meal and drink comes with a side of belly dancing.
Downtown
Ethiopian food is a great fit for both vegetarians and carnivores, so gather up a wide array of your friends (and their favorite beers) and get ready to sit around the table for a fun, utensil-free meal. Scoop up these well-spiced, flavorful, savory dishes with spongy injera in either the indoor dining area or beautiful outdoor garden.
Mapunapuna
You'd be forgiven for thinking that a tiny sushi restaurant near the airport might not be the best place for expertly sliced raw fish, but that's because you haven't been to Mitch's. Because of its prime real estate, it gets imported fish from the plane to your plate quicker than anyone else. Bring your own saké or Japanese beer from home, and stuff your gullet with sashimi so buttery-soft, it'll make you weep. BYO tissues, too.
Ala Moana
24 hours of all-you-can-eat meat. That's really all you need to know, but we'll go on, because it's fun: layer your belly with all the Korean barbecue this meat joint has to offer, including rib eye, beef tongue, spicy pork, brisket, pork belly, chicken, and kalbi. It's kind of like an activity kit: you get a cook-it-yourself grill and a 90-minute time limit to stuff yourself, while supplementing the meaty offerings with whatever your 21+ ID lets you buy from Walmart across the street.
Kahala
Get one of your friends to snag a table while you hit up the Greek deli next door for some cuisine-appropriate wine. After you start in on a platter of hummus, baba ghanoush, and crispy falafel, and crack open a fruity Savvatiano, it's easy to pretend that you're vacationing in Athens.
Waikiki
When the night calls for more shellfish than you can shuck, this hot spot for Louisiana crawfish is going to call your name. Grab a six-pack of something refreshing to cool your palate. This isn't a place to put on airs: tie on a plastic bib and dig your hands into bucket upon bucket of crab, clams, lobster, and crawfish -- and don't be afraid to get your face (and your beer bottle) a little messy. It tastes better that way.
Makiki
Hidden along the busy streets of Beretania and Pensacola, this thimble-sized Chinese/Taiwanese restaurant is worth finding. Hit up the Safeway nearby to stock up on beer, then drop by this family-run eatery for its handmade pork buns, noodle soups, and mushroom chicken with garlic sauce. Um, but don't forget the house fried rice, and spicy eggplant, and hot & sour soup... OK, just try everything.
Kaka'ako
Like the Soup Nazi who withheld his delicious offerings from Seinfeld and gang, ah-lang is known as the Angry Korean Lady -- a title she's proud of. While she is a little angry, this one-woman show seriously delivers, with tasty kimchi pancakes, bulgogi, and tofu soup. If she's known for her ire, it might be because, well, she's the cook, server, busboy, and brains behind the operation. Fortunately, the Angry Korean Lady courteously lists a set of rules about how to not piss her off any further. One tip: share some of your BYO -- and don't bring her Yellow Tail. You've been warned.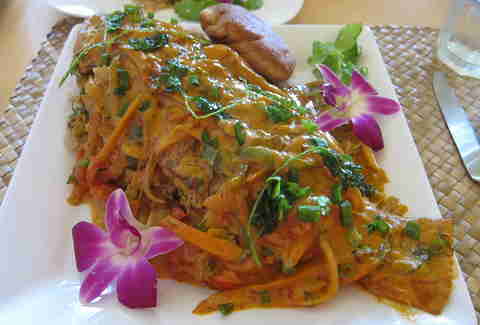 Kaimukī
Sample another island's eats -- try Jawaiian Irie's Jamaican jerk chicken, vegetarian rasta pasta, and goat curry. You can relax in this open-air restaurant under a grass hut-like awning, sampling the savory flavors of the Caribbean and your favorite cheap beers, nabbed from Tamura's Fine Wine & Liquors just a few blocks away.
Moiliili
Choosing Taiwanese hot pot for dinner is a win all on its own: choose your soup base, then toss in plates of beef, pork, seafood, vegetables, sausages, tofu, or dumplings, and gather your choice of homemade sauces and garnishes. Pair it up with a BYO bottle (if you go for super-spicy, a riesling might be a fit?), and be sure to pack up your leftovers. You'll want to leave room for the complimentary Taiwanese dessert, a huge, refreshing bowl of shave ice topped with custard, almond tofu, and coffee jelly.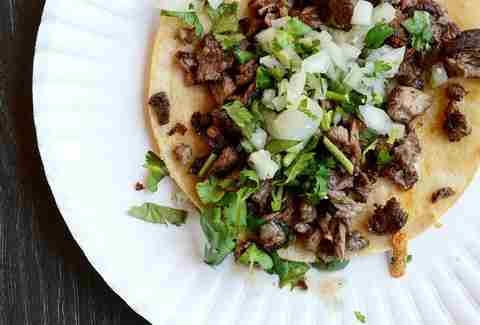 Mānoa
If you've ever driven past this open-air walk-up eatery on a Taco Tuesday, you probably already know this Mexican joint is BYOB, judging by the overall rowdiness of the crowd. But don't let that deter you: Mexico City-style tacos, fish burritos, and pork carnitas are waiting just inside.
Sign up here for our daily Honolulu email and be the first to get all the food/drink/fun in town.
Summer Nakaishi is a freelance writer for Thrillist and usually brings whatever is on sale. Follow her on Twitter: @summercolada.