Leigh Anne Meeks/Shutterstock
 Leigh Anne Meeks/Shutterstock
Musubi is pretty much the perfect handheld snack: if you're unfamiliar, this treat is usually constructed of a thick block of sushi rice topped with a super-tasty protein, then belted tight with seaweed. They're ubiquitous in local culture, and you can snag them anywhere, from 7-Elevens and mom-and-pops, to swanky golf courses and high-end specialty shops. The Hawaiian classic is Spam musubi, but there are so many more kinds to discover. Basically, we love musubi, you love musubi... and if you don't love musubi, we want to convert you to loving musubi, so we've rounded up the best rice-filled portable snacks around Honolulu.

Makiki
With over 35 varieties available, musubi addicts will freak out over this self-proclaimed musubi headquarters. At Mana Bu's, you can select among white rice, brown rice, 10-grain rice, Mochi rice, or pilaf -- all of which is freshly made, high quality, and chemical-free. These come topped with flavorful fillings like veggie curry, baked salmon, ume, or spicy tuna mayo. Set your alarm early, or order 24 hours ahead if you want to beat the rush to feed those cravings: this place opens at 6:30am, and these uber-popular handmade snacks sell out fast -- which means it often closes its doors much earlier than the listed closing time of 1pm.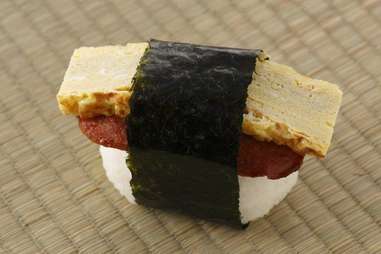 1518 Makaloa St & other locations
OK, you might not be inclined to describe musubi as "sexy," but bear with us: these mind-blowing little packets of deliciousness are made with super-premium rice imported from Japan, and the options are so, so good: combinations like bacon, egg, and avocado; shiso herb & bacon; egg, cucumber, and Spam... yum. The musubi can be made to order, or you can grab pre-made combinations if you're in a hurry.

Kaimuki
Known for its fresh sashimi and poke, this grocery store has been open since a couple decades before statehood. But besides poke bowls, Hawaiian food, Filipino food, boiled peanuts, smoked meats, and pau hana beverages, Fort Ruger lets you supplement your meal with an assortment of ready-made musubi. Tuck into a classic Spam musubi, or go for a handheld breakfast of egg-and-hot-dog musubi, or a hearty mochiko chicken. The hardest part: choosing among white rice, furikake rice, or fried rice bottom. Bite into tasty local-style musubi and relive your childhood memories... and make some new grown-up ones.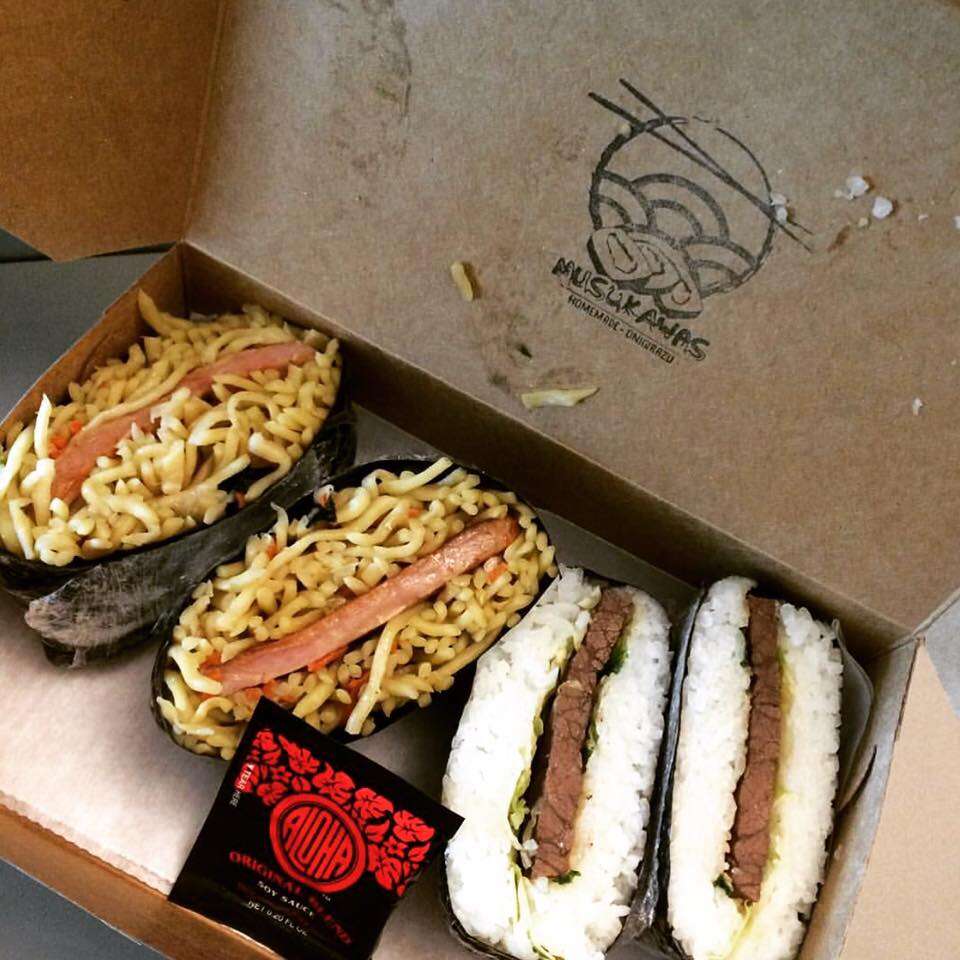 Musukawas
Kakaako
If you're looking for a meal-sized musubi, you can find supersized options at Makers & Tasters, a daily local market tucked along Kewalo Harbor. The food truck's filling options might include nori-wrapped, sandwich-sized musubi stuffed with creative iterations like chicken katsu, miso pork belly, ume shiso rice, kimchi fried rice, or Spam fried saimin. Pro tip: if you suffer from FOMO, stay glued to its Instagram feed for the daily menu, and text your order before it runs out of your first pick.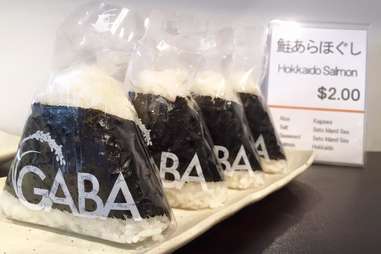 Waikiki
Run by a Satake, a Japanese rice mill manufacturer, this take-out-only shop is the first of their eateries to open outside of Japan. Naturally, the shop specializes in pumping out freshly milled white and brown GABA rice on-site -- then turning this extra-healthy rice into neatly packaged snacks. Short for "gamma amino butyric acid," GABA is a type of amino acid that aids in lowering blood pressure, improving kidney function, and reducing stress. So if you stop by for a pillowy, soft triangle of calm-inducing carbs stuffed with salmon, unagi, spicy ahi, or Spam musubi, your body and brain will thank you later.

Kukui Convenience
Downtown/Chinatown
The hand-drawn signs outside the mom-and-pop shop in Kukui Plaza say, "Best Musubi in Hawaii," which is a lot to live up to. But its soft -- not mushy -- furikake rice comes topped with Spam marinated in a secret sauce and a scrambled egg, and tucked together inside a crispy nori wrapper. This shop's claims may be true. Pop in for a warm early-morning breakfast or mid-afternoon snack -- and grab a couple of these little gems to add a little flavor for later in your day.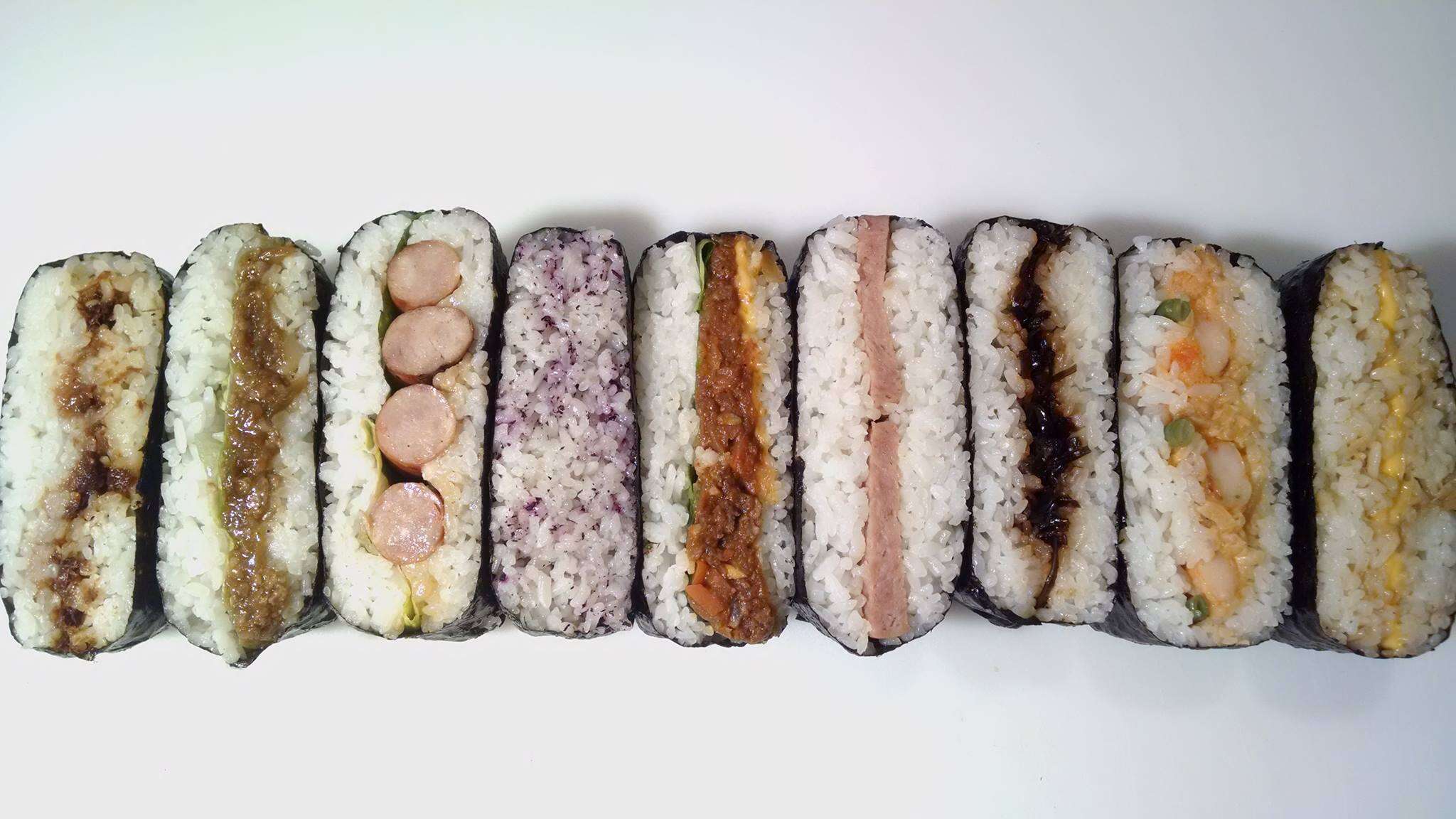 Ma'ona Musubi
Downtown/Chinatown
A former chef from Japan found a new home in Downtown Honolulu in the form of a musubi-centric restaurant, specializing in fresh, handmade rice ball snacks. The newest musubi joint in town, this place features tray upon tray of the rectangular variety, stuffed with classic goodies like shiso and spicy tuna, in addition to creative creations like beef curry, miso kale, and nametake cheese musubi. With such a wide assortment, it's worth driving to Downtown to sink your teeth into one of its delicious options.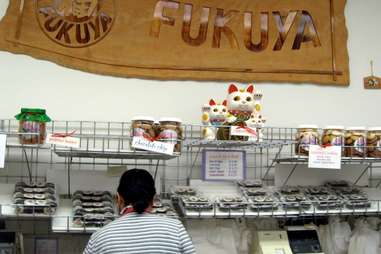 Moiliili
This traditional okazuya has been around since 1939, and has been a local favorite for generations. Japanese for "food with rice shop," on the island, okazuya are known for their selection of Asian- and local-style deli items, which you use to build your own bento box. At this family-run eatery, you can make a plate of chow fun noodles with shoyu chicken, pork hash, miso butterfish, and, of course, musubi. Although this Japanese delicatessen has just five options to choose from (plain, furikake, nori with ume, shiso, and Spam), its musubi exemplifies the qualities of simple, traditional musubi.
Sign up here for our daily Honolulu email and be the first to get all the food/drink/fun in town.
Summer Nakaishi is a freelance writer for Thrillist who is happy to discuss her favorite food emoticon, the glorious musubi.