The Best New Bars and Restaurants in Honolulu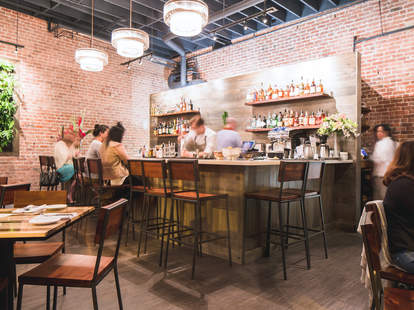 <strong>Fête Hawaii |</strong>&nbsp;Kamil Schuetz
We're only a few months into 2016, but life in Honolulu is looking good, thanks to the new local restaurants and bars popping up across the city. Whether you need to break in spring with new beer flavors, super-strong coffee, hand-shaved noodles, or delicious warm carbs, the island has something new to offer your taste buds and add some flavor to your world. Here are our favorite new restaurants and bars you should try, right now, and then let us know what you think: all of these spots are now part of our ongoing quest to find this year's best new restaurants in America, and we're combing through every opening in every Thrillist city. Get involved on Instagram -- #BestRest2016 -- to let us know your picks and your favorite dishes at each of these new spots.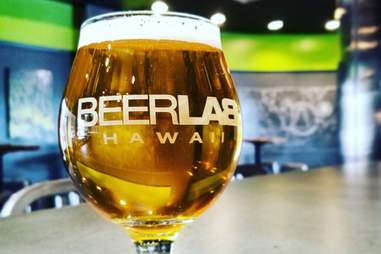 Courtesy of Beer Lab HI
Moiliili
Oahu's craft beer movement has exploded over the past few years, and this new brewery is one of the joints that's turning the island into a thriving beer town. They feature rotating taps of small batch brews, all of which come with super-helpful descriptions like, "horses frolicking in a grapefruit field," "three unicorns pondering in a mango vineyard," and "like a baby's bottom -- fresh and danky," so your brain gets swarmed with images before your tastebuds even get a chance. The brewery is Bring Your Own Food, so stop a nearby Moiliili restaurant for some take-out before treating yourself to a flight of locally made brews.
Chinatown
Mmm, handmade noodles. This new Chinatown eatery serves up their family recipe hand-shaved noodles along with Northern Chinese dishes. Open for just a few months, this family-run eatery is already known for their hearty beef noodle soup and freshly made green onion pancake appetizer. Portions are generous, so, you know... be warned/excited.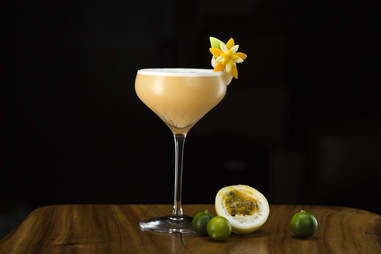 Courtesy of Bar Leather Apro
Downtown/Chinatown
The award-winning cocktail mixologist that brought us the café/bar/nightclub Manifest, Justin Park, has teamed up with co-owner Tom Park (no relation) to bring us Downtown's newest (legal) speakeasy. The warm wooden bar is stocked with rare whiskeys and offers an impressive cocktail list, where you can sip classics like Old Fashioneds and Moscow Mules, or impress your taste buds with a handcrafted Justin Park concoction, like the Matcha Old Fashioned, or a bourbon cocktail that's smoked under a glass bell. Seating at the intimate lounge fills up fast, but you can book reservations online. Request a seat at the bar to watch the whole show go down. Pro tip: go for the Mai Tai.
Ala Moana
Oahu has no shortage of sushi joints, but the island can always use one more -- especially if it's a restaurant featuring fresh fish at reasonable prices. Get your raw fish fix in with hand rolls, maki sushi, rice bowls, or a generously proportioned (and totally affordable) bento.
Kakaako
If you missed getting your caffeine fix inside Paiko's botanical boutique, this new Aussie-style café is here to fill the void. Perk up your day with a long black, a double shot espresso, or a lavender latte. For the days when coffee is not enough, try their healthy treats, like matcha chia pudding layered with fresh fruit, or popular Australian bites like vegemite avocado toast or a prosciutto and cheese croissant -- perfect for brekkie, lunch, or an afternoon pick-me-up.
Chinatown
The decade-old Vietnamese restaurant Pho My Lan has been reincarnated into a French-Vietnamese eatery, with a new name and modern touches like communal seating, string lighting, and dark wood accents. Now run by the family's daughter, you'll still find the familiar Vietnamese flavors on the menu like bun bo hue, pho, and banh mi, served alongside contemporary updates like avocado shakes and Thai tea grass jelly drinks served in mason jars. Bonus: orders are taken on an iPad and zapped through the interwebs, so the kitchen already has your order before your server walks across the room.
Makiki
If you've inched along Piikoi St during rush hour, you've probably seen this two-story building in construction for months. Part bakery, part bistro and bar, the Honolulu version of this Japanese eatery is now open for sweet and savory baked goods during the day, and a full dinner menu in their upstairs terrace. Choose from artfully arranged salads, small plates, pizzas, pastas, and entrees like yuzu risotto and beef bourguignon... then dine under stars. You'd be forgiven for thinking that an outdoor dinner along a noisy street sounds like a bad idea, but Bakery & Table has this covered: a large water feature drowns out the sounds of bypassing cars below.
Lianne Rozzelle
Downtown/Chinatown
Sandwiched between Bar 35 and Nextdoor, the owners of Lucky Belly and Livestock Tavern opened their newest iteration, in the form of a tapas-style wine bar. The name originates from the Chinese toast "qing qing," an invitation to "please, please" enjoy yourself and drink -- and with their exposed red brick bar, outdoor white patio sofas, string lights, and trellis backdrop, that's an easy task. You'll also find a growing wine list, beer, spirits, cocktails, and unusual vermouth options, along with small bites like artesian cheeses and charcuterie.
Kakaako
"Smile, be an egghead," reads the large sign on the wall of this new Taiwanese-fusion breakfast joint. And, if you love eggs, you will smile, because unsurprisingly, there are a lot of egg and egg-incorporated options on the menu. Warm your palate with a honey or an earl gray tea latte before getting down to the egg selection business. It'll be hard, but choose between vegetarian, seafood, or meaty options in the form of omelets, Benedicts, pancakes, or sandwiches. If you're craving savory and sweet, you could always start with crab Benedict, and share a s'more or tiramisu pancake for dessert. (Or don't share, because no one said you have to). For your lactose-intolerant friends: acai bowls and cereal (with soy milk) are also available.
Downtown/Chinatown
"Fête" French for "a celebration," which this renovated seasonal American restaurant is perfect for. It's decorated with exposed red brick walls, a living fern wall, and modern wooden features. Run by a husband-and-wife team who met in New York, the menu melds their big city experience with local ingredients and island flavors, showcasing a simple menu with not-so-simply-made dishes. It's only been open for a few weeks, but their grilled pulpo; charred, tender octopus meat; and fingerling potato salad is already a popular entrée item... as is their linguine carbonara, made with Portuguese sausage and slab bacon. Sip on classic cocktails like a Sidecar or Clover Club with dinner, and taste the fruits of their self-proclaimed "hapa baby." (It's delicious.)
Downtown/Chinatown
If you've got a few singles and are craving tacos, this place offers Taco Tuesday-priced tacos every day of the workweek (they're closed weekends). What started as a much-loved taco trailer has moved operations to a brick-and-mortar in Union Street Mall, taking their low prices with them. Stock up on as many $2 carne and/or pollo asada street tacos as you can handle, or nab burritos or quesadillas that come in He-Man proportions.
Sign up here for our daily Honolulu email and be the first to get all the food/drink/fun in town.
Summer Nakaishi is a freelance writer for Thrillist and is busy eating her body weight in tacos.