Although some of the island's seemingly immortal restaurants and bars shuttered their doors this summer (RIP Kenny's Restaurant, Brasserie Du Vin, Salt), the good news is there are some sweet new spots -- from communal dining destinations to deep-fried kimchi slingers -- ready to join the ranks of Oahu's best eat & drink spots. Here are 11 new Honolulu restaurants you need to try right now...
Recommended Video
Thrillist's Best (and the Rest): What You Actually Need to Know About Natural Wine
Downtown
With Pint + Jigger home to one of the best burgers on the island, it makes perfect sense that co-owners Hideo and Grace Simon would open a place dedicated to burgers and beer. Venison and local beef patties are ground in-house, grilled-to-order, and thoughtfully paired with sauces like fried caper mayo, blackberry & raspberry mustard sauce, or blood orange ketchup. Pastas and salads are also offered, but in a place that specializes in gourmet meats, it's probably best to put your money where the meat is.
 
Downtown/Chinatown
The former pop-up once shared kitchen space with a ramen shop on Kapahulu, then disappeared for a bit before finding a home dedicated solely to fulfilling the island's tibs, wot, and shira needs. Round up your family or friends and sit down for a communal meal of sautéed/stewed meats and vegetables peppered with the traditional berbere spice: a mix of ginger, red pepper, cardamom, and cumin. Or opt to practice the customary Ethiopian practice called gursha, where people take turns feeding each other with their fingers as a gesture of affection, and get to know your friends a bit better. Just don't forget your hand sanitizer.
Kaimuki
Like its sister restaurants Town and Kaimuki Superette, Ed Kenney's new tapas and cocktail bar has a casual feel, with its repurposed wood furniture and locally sourced eats. The menu features Asian/Hawaiian-inspired plates, with a changing menu to suit seasonally available produce, so be prepared to see some of your early favorites come and go. With dishes like salted walu croquette, and clams with kalua pig and cabbage, it'll be difficult not to get too attached, but akin to Kenney's previous establishments, we imagine this watering hole will keep getting better and better with time.
 
Makiki
Sure, this summer's record-high temperatures may make slurping down a bowl of steaming ramen noodles seems like a bad idea, but some say eating spicy foods actually helps you cool down faster. But you're not going to IKKA Dining International's first ramen bar for a science lesson, you're going for Chef Masahiro Endo's creamy, aromatic pork broth paired with custom-made noodles. But still, we think that whole spicy food thing is legit.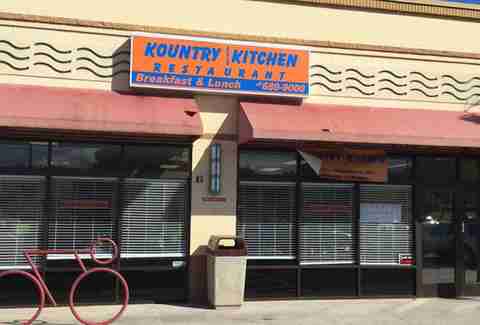 Ewa Beach
Forget your usual drive-thru breakfast because this Garden Isle brunch institution has made its way to Oahu's West Side, minus the long lines (so far). The friendly family-run restaurant serves up massive local-style brunch plates the original Kauai location is known for, including its famous homemade cornbread and pancakes the size of a tree trunk.
University/Manoa 
This new hole in the wall is also known as OMG, but don't let the texting vernacular scare you. Like the mainland chain Chipotle, this fast-food restaurant lets you build your taco, burrito, or bowl to your liking, only with better ingredients. Here, all meats are steroid-, hormone-, and antibiotic-free; vegetables are fresh; and sauces and guacamole are homemade. Added bonus: parking at University Square is free for one hour with validation, so you can make your dining experience as fast or slow as you'd like.
Downtown
Travel back in time for some 19th-century missionary island dishes at the historic Hawaiian Mission Houses Museum's new café. Those who miss, or missed out on Chef Mark Noguchi's dishes at the Heeia Kea Pier General Store can check out his latest venture, where he builds a small, rotating menu from locally sourced ingredients. Try the luau stew with pork shoulder, or akule heirloom tomato bruschetta, either indoors or relaxing al fresco under a table umbrella or milo tree.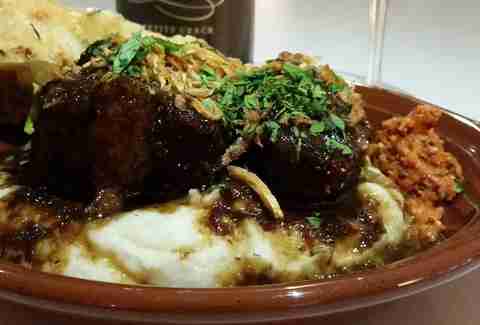 Kakaako
Part wine bar, part gourmet coffee shop, part meat and cheese deli, part artisan café, and part healthy grab-and-go spot, Hide Sakurai's new self-service restaurant is looking to be your go-to spot morning, noon, and nighttime. Come for taro pancakes and a macadamia nut cappuccino in the AM, then a French dip pizza or a fried quail egg Spam musubi for lunch, and maybe a glass of pinot and pickled vegetables after work. Oh, and whenever you go, make sure to try some of its bread; it's B+B's... well, you know.
Pearl City
Leeward Bowl's new bar and lounge opened early this year, giving Leeward Oahu craft beer and whiskey lovers a break from Uber fees, only to close a few months later. But as of July, the pub returned with an extensive collection of over 100 craft beers, rotating taps, classic cocktails, and a new chef, who's even set up a prime rib-carving station. Before you eat, slip on your rental bowling shoes and work up an appetite knocking down pins (or cleaning the gutter) next door. Recap the game with friends over an Eight50 Old Fashioned cocktail, and some truffled Parmesan tater tots, and relish in the fact that your beer-loving and whiskey-drinking townie friends can now commute to your neck of the woods.
McCully/Moiliili
Pronounced phonetically, this local bar is a Japanese play on words for "oh so yummy," and it delivers on that, with a dozen beef slider variations, and un-calorie conscious, but affordable bites like fried kimchi, Parmesan pepperoni fries, and fried cheesy Sriracha balls with a side of house-made blue cheese dipping sauce. Wash down these savory bites with the daily happy hour drink specials, or reasonably priced bottled beer, and leave with a full stomach and a happy wallet.
Ward
The owner of Maile's Thai Bistro goes Italian at this modern restaurant in Ward Centre that boasts a trellis ceiling and gray & black tiled interior, plus an outdoor patio screened with bamboo planters that let you imagine you're dining in a different city -- as long as that city is place where you can get flavored version of the spot's titular cocktail, and share apps like calamari and bruschetta. Still hungry? Heavier fare means Boot-food classics like oxtail osso bucco, and pollo alla pomodoro.
Sign up here for our daily Honolulu email and be the first to get all the food/drink/fun in town.
Summer Nakaishi is a freelance writer who got her master's degree on the... ugh, mainland, but thankfully moved back to Hawaii. Mostly for the shave-ice.