Given how often they hear about "Hawaiian pizza," people who aren't from here probably think… well, lot's of silly things about Honolulu… but also that Oahu is crawling with artisanal pie-slingers. Unfortunately, it wasn't until recently that, from late-night slice spots to food trucks, Honolulu's finally said aloha to national chains, and… um, aloha to next-level pizza slingers. Here are the 13 best examples on Oahu...
Downtown
What you're getting: Spinach and garlic pie with ricotta cheese
People say this Irish pub has "pizza worth traveling for," but don't go there just because they say so, go because we say this Downtown pizzeria has one of the best New York-style pies on the island. The secret may be its hand-tossed dough folded with a touch of Guinness, or it may be toppings made from fresh, local produce, or it may be, simply, the pairing of ice-cold beer and hot slices, but either way, this local institution has become a favorite for pizza lovers for a reason. Or several of them.

Kaimuki (Saturday KCC Farmer's Market)
What you're getting: Grilled pesto pizza
Based on a margherita pizza, this Neapolitan-style pie swaps out classic marinara sauce for macadamia nut pesto and tops it off with hand-stretched mozzarella, homegrown heirloom tomatoes, and fresh basil. Pizza slices are grilled on a hot pizza stone on a portable gas grill, giving the crust an addicting charcoal crisp that will have you braving the Saturday morning crowds for your next taste.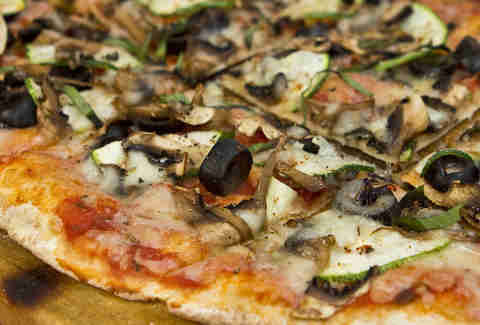 Downtown
What you're getting: Sweet Bangkok
This Downtown lounge may be best known for its extensive beer selection (over 200 choices!) but its oblong, thin-crust, almost cracker-like pies are a close second. Presented on rectangular wood paddles, pizzas from master chef Francesco Valentini are both a nod to classic, crispy, Roman-style crusts, and a fusion interpretation, with toppings like lamb, smoked salmon, and kalua pork. Try a sweet and savory pizza -- topped with lup chuong, sweet chili sauce, cilantro, and mozzarella -- that's is big enough to share, but you might not want to. Pro tip: come on Tuesday nights when you can get a full pizza and a bottle of wine for $25.
Downtown
What you're getting: Fried rice pizza or a daily special
Maybe you've stumbled to this ally-side bar after discovering J.J. Dolan's kitchen is closed, but stayed because A) there's actually room to sit down, B) somebody's got to satiate your late-night pizza needs, and C) its whimsical toppings are surprisingly delicious -- and no, that's not the beer(s) talking. Plus, where else are you going to get a pie topped with kimchi, oyster sauce, char siu, pocho sausage, bacon, sweet peas, and carrots? Bonus: vegan options are also available for your herbivore friends.
Waialua, Kalihi
What you're getting: Waialua pizza or create your own
After Jerry's second location opened a couple months ago, townies no longer have to take the scenic route to get their fix of hand-tossed deluxe pizza from this unassuming North Shore institution -- although, it was totally worth the drive. Try its freshly made Waialua pie -- named for Jerry's original location -- that is topped with generous servings of pepperoni, sausage, mushroom, olive, tomato, and garlic. You can get it at either of the BYOB locations, and you'll get hooked on the homemade, light and crispy crust.
Aiea
What you're getting: Perfect 300
By now, it's no surprise that just saying the name of this Leeward bowling alley restaurant fires the hunger synapses in your brain. After you've gotten your fill of lemon crunch cake and oxtail soup, give the no-frills, gourmet pizzas a try. Named after the highest possible bowling score, the classic pie is a combination of pepperoni, Canadian bacon, Italian sausage, onions, mushrooms, bell peppers, extra cheese, and marinara sauce. It's one of the few pizzerias on the island with a sourdough shell, and its crunchy, homemade crust may be enough to… sorry'boutthis!... bowl you over.

Various North Shore locations
What you're getting: Any special pizza
Named for a shore break in Bali, this one-man mobile pizza truck doesn't, as its name suggests, make tracking down a slice impossible, but it is pretty tough. IP's open just three days a week (you'll find it parked between Sunset Beach and Waimea) and has no social media presence, so it's best to call and find out exactly where the truck's located, or better yet, order ahead to avoid the rush. Pizzas by the slice are available only from 3-6pm, then it's time for gargantuan-sized pies till closing. Pro tip: add a side of homemade ranch dipping sauce in which to dunk your naked leftover crusts for optimal enjoyment.
Ala Moana, Aiea
What you're getting: White truffle or guava-smoked pork
This former portable pizza joint took its kiawe wood-fire oven from a Kalihi parking lot to a permanent home in the old V Lounge spot, and became the island's reigning late-night pizzeria, where you can get your Neapolitan-style thin-crust fix until 4am, in the process. Go with a white truffle pie, or the sweet pork pizza supplemented with mozzarella, Maui onions, mushrooms, and Kilauea barbecue sauce, all piled generously on its signature bubbly, crust.
Kailua
What you're getting: Margherita
When former V Lounge pizza master Alejandro Briceno closed the popular Honolulu pizzeria and took his wood-burning pizza talents to the Windward side, it left a pie-shaped hole in the hearts of many. But not to worry, this modern Italian restaurant may actually be better than its predecessor. Here, the menu is divided into two categories: Not Pizza and Pizza, the later of which boasts a crust that is not too thin, not too thick, and charred just right.

Kapolei, Kaneohe
What you're getting: Super Pizza or build your own (with garlic butter crust)
This local brand has been a Garden Isle favorite for decades, but made its way to Oahu just a few years ago. Go for its classic hearth-baked Original Super Pizza, which may just be a meat lover's fantasy with a carnivorous blend of salami, pepperoni, Italian sausage, seasoned lean beef, Portuguese sausage, and smoked ham on your choice of wheat or white crust. Oh, and to make your mom happy, it's also topped your daily serving of vegetables -- mushrooms, black olives, green onions, bell peppers, and mozzarella -- all arranged nicely on top of homemade marinara sauce.
Ala Moana
What you're getting: Sriracha pizza
Its been open less than a year, but the husband-and-wife team behind this spot aren't new to the pizza game. After constructing pies for the old Magoo's on King St, Greg Au decided to open his own shop, where he combats the island humidity by adding even more heat, via a hot and spicy specialty pie with chicken, shrimp, and bell peppers that's drizzled with Sriracha sauce. If you're lucky and live (or are staying at a hotel) within a three-mile radius, you can get hot slices delivered right to your door.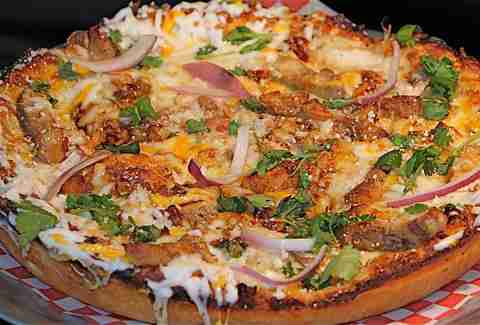 Airport area
What you're getting: BBQ chicken or shrimp scampi personal pizza
Now located in a strip mall near the airport, this cash-only establishment has been serving local-style deep-dish pan pizzas since the early '90s. The dough is made fresh daily, and baked to a well-done golden crisp, before getting topped with meaty options like applewood-smoked bacon, kalua pig, chorizo, or you can even add, *gasp*, vegetables. And one last thing: garlic cheese balls. Just do it.
Kaneohe
What you're getting: Big Papi
Throw your hands in the air and wave 'em like you just don't care that this pie comes with five different meats: pepperoni, Italian sausage, sliced ham, bacon, and Portuguese sausage. It's tossed in a 900-degree wood-fire oven for 90 seconds, so you can get your hot, lightly blistered pizza almost as fast as it'll disappear into your belly. With special flour shipped in from Naples, as well as San Marzano tomatoes, bufala mozzarella, and cured meats imported from Italy, this pie may be the closest things to authentic Italian pizza without leaving home.
Sign up here for our daily Honolulu email and be the first to get all the food/drink/fun in town.