When visiting the island, if there's anything you absolutely must do before jumping back on a plane home, it's eating fresh poke. Hawaiian for "to cut crosswise," the cubed, raw fish is, well, cut crosswise, seasoned with house sauces, tossed with fresh vegetables, and topped with crunchy garnishes. It's the most perfect snack, meal, and/or potluck dish the island has ever created. To ring in the new year, we rounded up our favorite places to find this versatile comfort food. Get your daily dose of omega-3s while showing your taste buds a good time.
Oahu (& other locations)
Like the name suggests, fish at this casual seafood deli is always fresh, but it's the sauces that complete the dishes. Try the traditional shoyu ahi poke, mixed with a thick layer of well-seasoned soy sauce, or their spicy fireball poke, tossed in a spicy and creamy mayonnaise sauce that packs some serious heat. With more than 20 poke options to choose from, the hardest part is narrowing down exactly what your stomach wants and what it's going to get.
Kalihi
Open since 1949, this family-run convenience institution is tucked in the industrial stretch of Kalihi, and has everything you need to survive: laundry detergent, over-the-counter medicine, boiled peanuts, crack seed, roast pork, li hing slushies, and an almost overwhelming amount of quality poke options. Their ocean-fresh offerings are sliced into generous bites, and can be ordered by the pound, part of a plate lunch, or as a poke bowl. A quick trip from the airport, this hole-in-the wall is the perfect stop for your first meal back to the island. You can pick up that tube of toothpaste you forgot to bring, and take out a massive snack before napping on the beach. Think we call this one a win-win.
Waipahu
Sure, Tanioka's is far from town, parking is terrible, and the line often spills out the door, but one bite of their specialty red ahi, and any ire is forgotten. This grab-and-go eatery specializes in fresh, high-quality poke tossed in just the right amount of seasoning. With tons of tako, shellfish, and non-ahi poke options in addition to bento, plate lunches, and musubi, the most difficult part of your day will be convincing your stomach to be as big as your eyes.
Kaimuki
When talking best poke on the island, there's no discussion that doesn't include this hole-in-the-wall seafood counter, which offers a simple, no-frills menu packed with classic local favorites. Poke here is made-to-order, with buttery soft ahi and tender tako, flavored with shoyu, miso, sea salt, or wasabi. Parking can be tough, so come with a friend and have them drive around the block while you pick your bowl of seafood bliss. Choose your bowl size, mix and match your favorites over a bed of rice, pick your Hawaiian Sun beverage, and phone your chauffeur, er, friend.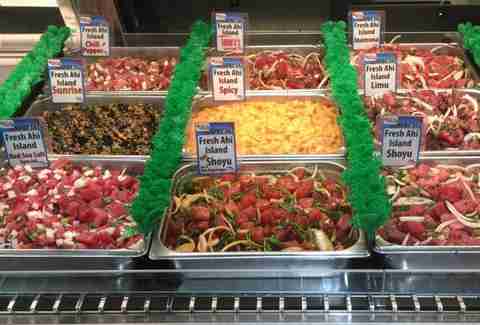 Kaimuki
First of all, a poke counter tucked in the back of a liquor store is probably the best one-stop-shop idea ever. Second, their poke is good. Really, really good. Prepared daily with fresh island catches from the Honolulu Fish Auction, their sashimi-grade ahi is cut into thick cubes, giving the tuna a smooth, clean taste. With options like jalapeño ahi, hamachi poke with ponzu sauce, scallop and kim chee tako poke, their selection is one of the best in the island -- and that's not the wine and spirits talking.
Makiki
Tucked off a crowded, traffic-jammed street, this tiny grab-and-go eatery is easy to miss when you're busy trying to beat that yellow light. But don't be deceived by their exterior -- inside, it's a seafood-lover's paradise, with an impressive variety of poke and plate lunch options. The portions are generous, and the prices are so fair it's almost hard to believe you can find fresh ahi poke in such an innocuous shop. The flavors are so good, you'll almost forget how much you hate traffic. (We said 'almost.')
Ala Moana (& other locations)
The self-proclaimed home of the original poke bowl began as a pop-up restaurant at farmer's markets in 2008 before finding brick-and-mortar homes across Honolulu. Signature poke bowls are available, but freedom-loving eaters will delight in their build-your-own bowls. Choose your size, white or brown rice, your poke, and an assortment of toppings ranging from crispy tempura flakes to fish eggs to Japanese favorites like natto and yamaimo.
Chinatown
Helmed by two Japanese brothers who are former fishmongers in Japan's famous Tsukiji Market, Maguro serves up gleaming red cuts of ahi hand-selected daily from the Honolulu Fish Auction. Of course, there are other fish options to consider at the Kekaulike Marketplace stop -- there's hamachi kama, uni, and salmon sashimi, with just the right amounts of fattiness -- but when you're eating at a shop named after a specific fish, you'll want to honor its namesake by eating it first. Because their fresh, raw maguro is melt-in-your-mouth, don't-want-to-share-with-your-best-friend good.
Kalihi
An offshoot of Nico's Pier 38 restaurant, their adjoined fish market features fish straight from the day's auction block. Like most fish markets, poke can be ordered as a bowl or by the pound. Behind the glass case, the choices are seemingly endless, but you'll have to narrow your poke bowl choices to three selections: ahi, aku, marlin, tako, mussels, clam, shrimp, a few non-fish options, and house-smoked fish, which rarely disappoints.
Sign up here for our daily Honolulu email and be the first to get all the food/drink/fun in town.