While some people are unabashedly yelling about how Millennials have officially ruined brunch, we say it's doing just fine over in Houston. Want some proof? Keep reading, friend. Each brunch we've selected is plenty boozy, but the real kicker is every one has an unquestionably good menu and atmosphere. Brunch is far from ruined.
Montrose/Galleria
On Sundays, both of chef Hugo Ortega's heavy hitters offer up bonkers-good interior Mexican (Hugo's) or coastal Mexican (Caracol) brunch buffets that are worth every single one of the 3,000+ pennies you spend. Sure, you could go Saturday and order a la carte, but then you couldn't fill and refill your plate with all the ceviches, chilaquiles, rellenos, tamales, crudos, camarones, carnitas, tres leches, churros, and Mexican hot chocolate that you possibly can before your pants spontaneously combust.

Montrose/Washington
It's hard to argue with the old adage, "Fried chicken and Champagne... why the hell not?" Thankfully, MWD offers up two locations at which you can follow this immortal advice. Even better? Each has a slightly different menu brimming with fried things and carb bombs, so you can fall into a one-location-on, one-location-off pattern without getting bored. Even better than that better? These dives are some of the few Houston establishments that host the elusive Friday brunch. And we're sure you think it stops here, but we're about to blow your damn mind: the Fairview location also hosts the unicorn that is Monday brunch, and the Washington locations host the even bigger unicorn that is brunch ALL WEEK LONG.
River Oaks
An advance reservation is an advisable (if not required) move for this happening bistro and garden. As any good brunch spot should, the offerings include morning items like killer migas and spicy pork belly & grits, plus lunchier things like sausage-stuffed quail and red corn chicken enchiladas. Go for a dish off the seasonal menu, a pan of fresh-baked buttermilk biscuits to share, and a couple of its expertly crafted cocktails to "cure" your hangover.
Midtown
Excellent locally roasted coffee & espresso + full bar + in-house bake lab = the best brunch of your life. Bring your late-morning A game to this cool-kids' spot, lest you want to be in the back of someone's Snapchat looking like Gollum while you smash things like house-smoked salmon & truffled eggs, fried chicken & cake donuts, and cracked egg pizza.
Midtown
If you don't order seafood at brunch, you're doing it wrong. If you do, you now have one more reason to wipe last night's pizza off your chin and get your life together by 2pm. East Coast and local Gulf oysters on the half shell; sorghum-glazed shrimp & pickled serrano-boursin grits; and non-seafood items like roasted pork debris eggs Benedict are all part of the mid-morning to late-afternoon fun. (So are smoked Bloody Marys, by the way.)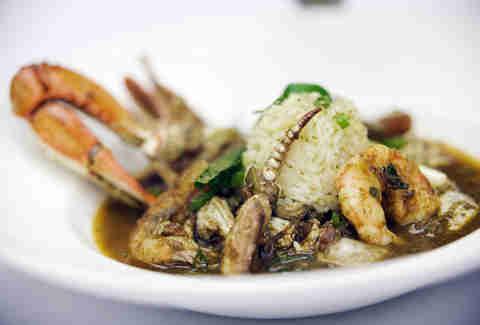 Midtown
There are times when brunch calls for cheap Champagne and literally anything that includes bacon, and then there are times when brunch calls for a ballin' three-course feast that makes you feel like you own an oil company. That's where this jazzy (no, for real, there's a jazz band) NOLA classic comes in. But you don't have to own an actual oil company to afford it. Seasonal riffs on creole dishes commingle with Southern staples like eggs Brennan, shrimp & grits, and whiskey-lacquered quail, all of which you'll want to pair with Marys, punches, and fizzes. If you have a few extra monies to get rid of, add on the crazy seafood tower; then invite us next time.
Washington
When you need something completely gluttonous to rock you out of last night's poor life choices, this super-cool icehouse is where you go. The Squealin' Mary -- made with bacon-infused vodka, a bacon sugar-salt rim, and candied bacon accoutrement -- is a damn good place to start. So do that, then get into the seriously excellent mix of brunchy and non-brunchy eats, like the house chorizo & cheddar-stuffed poppers, BBQ brisket breakfast burritos, seafood mac, duck pastrami Reubens, and a bunch of other equally enticing stuff.
Midtown
The best kind of dining experiences are ones you wouldn't expect, as is the case with this tapas-style fooding house, which goes against the grain by offering a surprisingly awesome Sunday brunch. Order a lineup of Portuguese pastries, charcuterie, and curry empanadas to share with your crew, or go lone wolf with proper entrees like soft scramble with salted cod hash, migas with house-made sausage, and a killer hangar steak sandwich.
Heights
This cozy neighborhood spot is the kind of place where you can bring your girlfriend or your grandma... that is, if your grandma likes crushing Bloody Marys with beer and burgers with duck eggs & kimchi. OK, maybe just bring your girlfriend here.
River Oaks
When you can order a brunch based entirely off starters, you can consider the place a win. Ford Fry's globally and coastally inspired modern lodge is just that. Assuming you have friends, bring some so you can split warm sticky buns, country ham deviled eggs, and grilled Gulf oysters. The main event runs the gamut, from huevos divorciados to a gorgeous Dutch baby pancake baked in the hearth. Some "rodeo" milk punch and an expertly prepared house Bloody Mary ensure you finish the meal out like the rock star you are.

EaDo
If coffee is an important part of your brunch game (and it should be), this sweet spot is your new best friend. The coffee program is curated by caffeine guru David Buehrer (of Greenway Coffee), making it easily one of the best in the city. Get flat whites and nutty cortados next to scratch-made quiche, Vietnamese steak & eggs, and an 18-layer cake MADE OUT OF CREPES.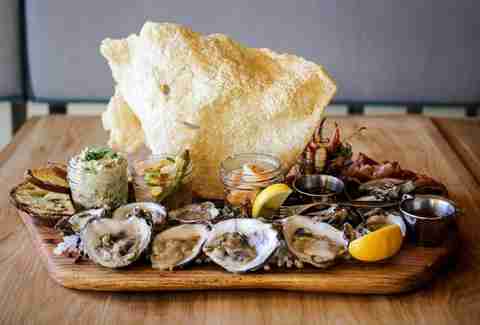 Heights
Do you know what you do when one of the hottest restaurants offers brunch? You go there. Maybe that was too easy. Either way, start with some excellent brunch cocktails, like the sweet tea cotillions or house Bloodys with pickled shrimp. Then, if you're feeling particularly baller (or are still buzzed from last night and ready to make some reckless financial decisions), go for the uber-luxurious I-10 seafood platter, a palette cleanser prior to taking down NOLA-style BBQ shrimp toast & eggs, or the daringly good head cheese Hot Brown.
River Oaks
The best part about this trendy River Oaks date spot -- besides the excellent French press coffee, badass Champagne selection, and stellar fare -- is that you can feel like you're brunching in Paris without having to deal with actual French people. The worst part is deciding between the crêpes and the filet mignon au poivre. Either is great with Champagne, so... get both?
Sign up here for our daily Houston email and be the first to get all the food/drink/fun in town.
Brooke Viggiano is a Houston writer who can never decide between brunch dishes, so she makes someone split stuff with her and they usually hate her for it. Share your #brunchproblems with her @BrookeViggiano.