The Absolute Best Brunches in Houston
It's the most important meal of the day.
No matter the weekend, no matter the weather, no matter whatever the hell is going on in the world right now, Houstonians can take solace in the fact that brunch will always be there for them. And a damn good brunch at that. Houston's finest brunch affairs include a fine dining Creole institution, classic Tejano joint with top notch tamales and hotcakes, and one spot doing an off-the-charts Sunday dim sum with flavors from around the globe—with plenty of options for dining out or ordering in.
Hometown heroes Bobby Heugel (Anvil & more) and Justin Yu (Theodore Rex & more) are two of the masterminds behind this Heights powerhouse, and since these two know what the people want, the popular dinners spot expanded its hours to serve Sunday brunch earlier this year. In the kitchen, Mark Clayton and crew scratch-made breakfast-y stuff from Dutch baby pancakes and oyster mushroom hash to lè brunch burger: a raclette-smothered stout beef patty that gets some extra lovin' from lardons, dijonaise, and a fried egg. You can now dine-in or order it all, along with Bloody Mary and Mimosa kits, for curbside pickup.
How to order: Place an online to-go order for curbside pickup or make a rezzy for dine-in
James Beard Award-winning chef Hugo Ortega journeys through the various regions of Mexico at three of his cult favorite restaurants -- Hugo's (Montrose), Caracol (Galleria), and Xochi (Downtown), each of which offers an insanely good Sunday brunch buffet that we will all hopefully be able to experience again some day. In the meantime, you can still the brunchy goodness a la carte at each. Choose from fall-apart lechon, huevos rancheros, and chorizo & egg chile relleno, plus sangria, margs, and mimosas (available in kit form for to-go orders).
How to order: Order online for pickup, use GrubHub and UberEats for delivery, or make a reservation to dine-in
Helmed by internationally trained chef Drake Leonards (whose pedigree includes NOLA hotspots like August, Domenica, and Shaya), this Cajun-Creole brasserie pairs European and Gulf Coast bites with one of the most beautiful dining spaces and patios in town. You can pay it a visit, or experience sensory overload in the form of hearth-roasted oysters, double-smoked duck poppers, blue crab omelettes, and Gulf shrimp etouffee via takeout Sunday brunch.
How to order: Click here for pickup and delivery or make dine-in reservations online
You can treat yourself to a bubbly-fueled brunch (sparkling options start at $12 and go up to $2,000) complete with morning pastries and jams, a solid eggs Benny, Champagne-marinated fried chicken and waffles, and crispy pommes frites that take a double dip in duck fat at this chic brunch favorite. It's also a people-watching favorite if you choose to dine in for Saturday and Sunday brunch.
How to order: Call 713-722-6899 for pickup, get delivery via GrubHub, or make reservations for dine-in service
Superica breakfast

| Courtesy of Superica
Make your way through the playbook of Tejano classics at this Heights-area joint -- said playbook hosts staples such as chilaquiles, migas, Delta style tamales and eggs, and egg sandwiches on Texas Toast, by the way. Those with a sweet tooth want to go straight for Superica's signature hotcakes, double or triple-stacked and finished with a hefty dollop of whipped butter, sugar dust, and buttermilk syrup. Brunch runs Saturday and Sundays from 11am-3pm.
How to order: Order online for curbside pickup, get it delivered to your doorstep via DoorDash, or join the waitlist ahead of dining in
You can feel pretty fantastic about smashing fat buttermilk biscuits and fried chicken smothered in gravy when you dine at this local mini-chain. That's because those biscuits are made fresh, that chicken is cage-free, and the gravy, well, it's damn tasty. The farm-to-table spot puts an emphasis on the farm, with a focus on locally raised meats and agriculture produced in or around Houston. Weekend brunch is available for curbside pickup, delivery, and reduced contact dine-in service, and there's a virtual farmers market so you can stock your pantry, while you're at it.
How to order: Dine in or click here for pickup and delivery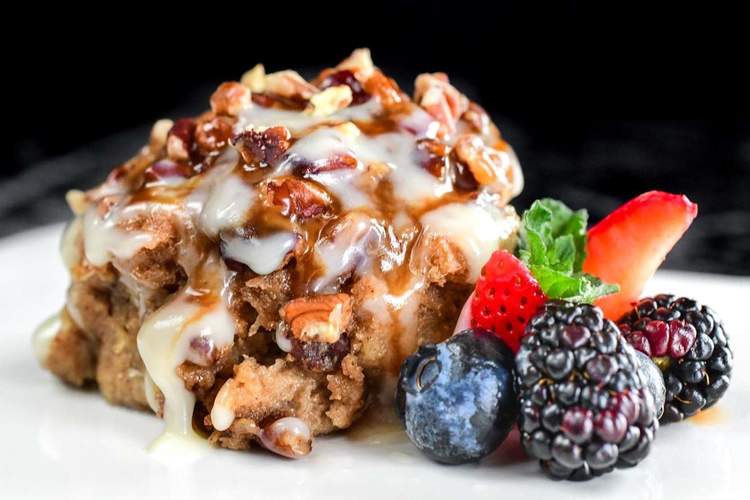 Brennan's brunch

| Courtesy of Brennan's
There are times when brunch calls for cheap Champagne and literally anything that includes bacon. And then there are times when brunch calls for an epic three-course feast that makes you feel like you own an oil company. That's where this jazzy New Orleans-kissed classic comes in. It's currently open for dine-in service and offering a "To-Geaux" menu. Get snapping turtle soup, Gulf shrimp & grits, super addicting Creole bread pudding, and boozy treats from Brandy Milk Punch to spicy Creole Bloody Marys.
How to order: Click here for pickup and delivery or make reservations to dine in
The bond between traditional French and fun Houston-inspired fare is real, here. Dine-in or takeout from one of Common Bond's four locations (or the hit the new drive-thru On-The-Go locale off Heights Blvd) to feel that bond for yourself. Brunchy bistro eats run the gamut from smoked salmon lox tartine and croque-madame to tamale Benedict and buttermilk biscuits with jalapeño sausage gravy. You'll want some Boston cream kugelhopfs, rainbow-colored macarons, and chocolate-laced croissants that are bigger than your damn head as well, of course.
How to order: Order online for pickup or delivery or dine in
Sometimes, you just want your weekend brunch with a side of gluttony. Those are exactly the times you should seek out this comfort food spot, which is currently open for curbside pickup, delivery, and dine-in service. The food here is lowbrow in a good way -- think brunch burgers topped with spicy brown sugar bacon, egg, American cheese, and hash browns; buttermilk biscuits smothered with house sausage and fat-laden, East Texas cream gravy; and XXL griddle cakes for two, served with good ol' maple syrup and whipped butter or topped with anything from chocolate chunks to H-town hot chicken. Those dining at home can also snag Bloody Mary kits and mimosas by the gallon.
How to order: Make reservations to dine in, call 832-831-0950 (Memorial) or 713-234-1405 (Sugar Land) for pickup and use GrubHub for delivery from Memorial and Sugar Land
If you haven't had everything cardamom-kissed and cinnamon-spiced from this Indo-fusion street eats spot, you've been brunching wrong. Remedy that by hitting up the dine-in (including a newly expanded patio), takeout, and delivery options from Pondicheri's fast-casual cafe or upstairs bake lab. Wake-me-up treats include all-day breakfast frankies, "everything but the kitchen sink" omelets, ghee burgers, carrot quinoa muffins, and a superlative chai custard pie with a cookie crust that feels brunchy enough for us.
How to order: Click here for pickup and delivery, or dine in
Fried chicken and Champagne. It's what's for brunch. At least it can be if you dine-in or take-out from this local wine dive. Snag a bottle of bubbly or rose to pair with jalapeño-buttermilk fried chicken & waffles, red velvet pancakes, and an eggs benny riff that takes crispy chicken, throws it on some honey buttered biscuits, adds poached eggs, and finishes the whole thing with a black pepper cream gravy blanket. Yes, you do deserve this.
How to order: Click here for pickup and delivery or make reservations for dine in
With locations dotting the city, this ever-expanding Denver-born chain has earned Houston's affection one smothered pancake at a time. This is the spot for loaded pancake flights and hollandaise-coated everything, and all of its goods are both wallet-friendly and available for takeout. But the best part? You can unofficially "brunch" from its loaded menu seven days a week. Order blueberry Danish pancakes, Funky Monkey French toast, habanero pork belly Bennies, and "Big Bloody" and "Lil' Screwdrivers" for dine-in or to-go.
How to order: Dine in or click here for pickup and delivery
Chef de Cuisine Nick Wong is putting out one of the most thoughtful, intriguing brunches in the city at this hot take on chef Chris Shepherd's now defunct Underbelly. Here, the team continues to tell the story of Houston food via an exciting, dim sum style Sunday meal. Nosh on rotating dishes from wok fried migas and masa crepe cakes to grillades & grits and chili and black vinegar pork dumplings. With a smaller indoors, the eatery recently expanded its patio for more outdoor dining.
How to order: Make a rezzy to dine-in or place an order online or curbside and delivery