We talk a lot about burgers here, because burgers are delicious, and we love them, and anyone who doesn't just needs to go. We've uncovered the most underrated burgers, went on a quest for the city's best classic burgers, sought out the best burgers by 'hood, and even put together a 25-deep burger bucket list. But because the burgers never stop, we're bringing you our current picks for the best burgers in the whole damn city. From diner-style griddled patties to modern monsters stacked between grilled cheese and honey buns, these are the best overall burgers you need to be focusing on right now.
The Detention
Bernie's Burger Bus
Address and Info
Bellaire (& Katy)
These burgers -- made with Black Angus beef ground daily -- are worth the late slip to work. You can't go wrong with anything in the lineup, but get the Detention if you're feeling anything like that bully who used to give you wedgies in third grade. That's two beastly patties smothered with cheddar, bourbon-glazed "tipsy" onions, and all the fixins. Oh, and all of that is stuffed between made-from-scratch buns fashioned out of bacon grilled cheeses. Obviously.
Fire burger
The Burger Joint
Address and Info
Montrose
Sometimes, all you need is perfectly griddled Angus beef, lettuce, onions, and cheese on a high-quality bun. Other times, you turn that regular cheese into pepper jack and add on serrano peppers, jalapeños, chipotle mayo, and fire sauce. This is one of those times. To combat all of that heat, you may want to also order an 8th Wonder Rocket Fuel beer float. Just sayin'.
The Hubcap Decker
Hubcap Grill
Address and Info
Heights (& Downtown & Kemah)
Burger purists can definitely get behind Hubcap's hand-formed, crisp-seared patties that sit pretty between buns made specifically to withstand the inevitable drips of grease. They are near-perfect as is, but to double the pleasure (and the fun), we suggest going with a twice-the-beef, twice-the-cheese monstrosity. The decker gets stacked in true decker style, with a slice of crisp bread, special mayo, and lettuce, tomato, onion, and pickles layered throughout.
The Cease & Desist Burger
The Hay Merchant
Address and Info
Montrose
This burger is so ridiculously good, it's almost criminal. No, but really, it's actually kinda criminal. When Underbelly started serving a "UB Double Double", the resto was served a cease & desist letter courtesy of In-N-Out. A quick name change later, this double-cheese, double-beef burger, now found full time at The Hay Merchant, is as juicy and legally delicious as ever. That's because the beef is ground fresh straight from UB's in-house butchery. With LTO and house pickles, we'd choose this guy over the one from a certain uptight chain every time.
The Rancor
Petrol Station
Address and Info
Garden Oaks/Oak Forest
Like the reptilian Star Wars beast for which it's named, this 10-napkin burger's only desire is to FEED... feed you, that is. Made with half a pound of aggressively seasoned Angus, this beef-bomb is crowned simply with cheddar, smoked bacon, and a fried egg, because in today's crazy world, that is simple. Take the Rancor down alongside one of the city's more impressive lineups of craft brew.
Original Bacon Cheeseburger
Stanton's City Bites
Address and Info
Heights
For a damn fine burger with a little side of nostalgia, hit this neighborhood champion of all things beef. The family-run grocer has obviously been doing something right, because it's been keeping Houstonians well-fed since the '60s. While you can go full throttle by loading your loosely packed, properly crusted patties with stacks of candied bacon and hash browns, you should really start by getting a taste of the burger that started it all.
HD Burger
Hunky Dory
Address and Info
Heights
Don't be fooled by this tavern burger's modest appearance, because it's actually one of the juiciest, beefiest-tasting burgers in town. The magic is in Hunky Dory's expertly seasoned blend of chuck, brisket, and don't-knock-it-till-you-try-it beef tongue. A homemade bun, good ol' American cheese, house pickles, and sliced red onion lend the double burger the appropriate finishing touch.
Cheese Burger
Tookie's Hamburgers & More
Address and Info
Seabrook
Our burger expert, the venerable Kevin Alexander, ran around Houston eating a bunch of classic cheeseburgers in order to find the best of the best. Well, he didn't actually run, because the thought of doing that and eating nine burgers makes us physically ill, but you get the point. In the end, he crowned the long-running bayside burger institution's perfectly thin, peppery crusted & smashed patties the winner. The burger is best enjoyed out on a picnic table next to bikers and old dudes in Tommy Bahama shirts.
The Grim Burger
Lankford Grocery & Market
Address and Info
Montrose
Trying to destroy your diet? Look no further than this insanely bad-for-you, but oh-so-worth-it beef bomb. We'll lay it out for you: one mouthwatering beef patty; a pile of crisp, fatty bacon; some sliced jalapeños; an oozing fried egg, and a mountain (not a Hound) of macaroni and cheese. Bring cash and make sure that roll of paper towels is full before you sit down.
Grease & Weasel
The Shack
Address and Info
Cypress
Since they're fresh-formed, expertly seasoned, and locally sourced, allllll the burgers at this meat resort have that Texas beef swag (even when smothered with mac & cheese). Get what you please, but if you want to go balls-to-the-wall, the Grease & Weasel is the way to go. Why? Because the half-pounder with seriously thick bacon and melty cheddar cheese comes sandwiched between two griddled honey buns. Since you're obviously watching your weight, you'll also want some pickle chips on the side.
SPICY!!! Burger
Kuma Burgers
Address and Info
Greenway/Upper Kirby
This NKOTB has already gained a cult following, despite its location inside a Greenway Plaza food court. The fresh-as-hell, umami-packed burgers are pure pleasure thanks to a crisp griddle and a slather of special soy and shiitake sauce. Take things to the next level by going SPICY!!!, meaning you'll be adding three kinds of jalapeño, house sambal mayo, pepper jack cheese, and soy-marinated serrano chiles,. Then throw in customizables like bacon and egg, because this is Texas, and we like gluttony.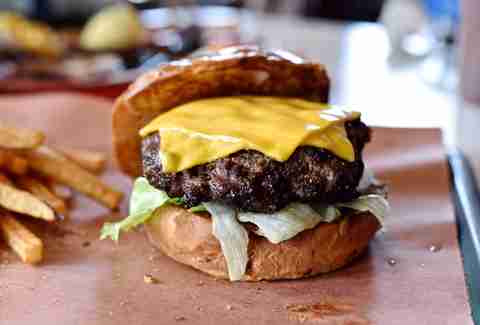 Cheeseburger
Killen's Burgers
Address and Info
Pearland
Smashed 10oz all-natural chuck and brisket patties are cooked to a just-pink center (unless you request otherwise) at this newly opened burger joint from the king of all things beef, chef Ronnie Killen. The beautifully salted, aggressively seared burgers don't need much more than American cheese, crisp lettuce, dill pickles, and off-the-vine tomatoes. What they do need, though, is a side of JJ Watt-approved fried cheese curds and impeccable house-cut fries.
Terlingua
Hopdoddy Burger Bar
Address and Info
River Oaks
Because when an all-star burger shop moves in from Austin and offers all-natural burgers topped with all the adornments of a Frito pie, you get it. Such is the case with the Terlingua -- an Angus beef bomb smothered with chile con carne, cheddar, Fritos, and "sassy sauce," which is a mind-numbingly good combo of mayo, mustard, and horseradish that sings alongside all that beef. You may need to get this one during off hours, because the burger bar is known to draw a crowd.
Sign up here for our daily Houston email and be the first to get all the food/drink/fun in town.