Houston Chefs Pick Their Favorite Cheap Eats and Splurges
Chris Shepherd of Underbelly

| Julie Soefer
Chris Shepherd of Underbelly

| Julie Soefer
We can talk about cheap eats and fancy-pants meals all day long, and we do. Often. But wouldn't it be cool to know where the chefs that create those meals prefer to dine (pretty sure they know their stuff)? So we rounded up a bunch of culinary masters and asked them to share all their deep dark secrets -- mainly where exactly they like to eat on their all too precious time away from the kitchen. Consider this your official dining guide, both when you want to dine out for a bargain and when you feel like spending some of that hard-earned cash. Oh, obviously you should pay a visit to the talented chefs who so kindly shared their thoughts, too.
Montrose
Favorite cheap eats: Cali Sandwich
"$3.50 banh mis rule the world!" at this Vietnamese sandwich purveyor. The Midtown hole-in-the-wall has become a local favorite for those looking to fill the hole-in-their-belly on a dime. A healthy smear of homemade mayo provides a silky touch to the usual banh mi suspects.
Favorite splurge: The Pass
"It's hard to argue with a dinner that starts with a Champagne cart. The food is artfully creative, playful and delicious. And the meal ends with a whiskey cart. What's not to love?" Nothing, there's nothing not to love, and the constantly re-imagined tasting menu makes it a worthwhile visit every damn time.
Galleria (& Rice Village)
Favorite cheap eats: Romano's Pizza Italian Restaurant
"Of all the fancy-smancy pizza places in town, this is the only real, New York-style, family-owned neighborhood place that reminds me of the places I grew up around in New York. Love their pizza. Love their chicken parmesan and love their meatballs. When the whole family is in there working, it's like a movie."
Favorite splurge: Brennan's of Houston, Da Marco & Etoile Cuisine et Bar
"This is the one place they'll make my favorite Cajun surf & turf. It's a 6-oz filet on a bed of grits with barbecued shrimp on the side. I'm also a big fan of Da Marco and Etoile Cuisine et Bar. I love their foie gras au torchon. The ravioli at Da Marco is just sinful." Because sometimes, you just need the classics.
Montrose (& Galleria & River Oaks)
Favorite cheap eats: Himalaya and Les Ba'get
"Love the flavors found at both restaurants." Those flavors are just as diverse as the city itself. At Himalaya, owner Kaiser Lashkari offers authentic Pakistani and Indian fare with H-town soul -- think endlessly flavorful goat biryani next to masala chicken fried steak -- that even Anthony Bourdain can get down with (as he did on a recent episode of Parts Unknown). Les Ba'get takes the traditional banh mi a step further with additions like 24-hour sous vide pork belly and oak-smoked brisket, and you want the Vietnamese Chicken & Waffles, a pandan waffle with fish sauce marinated fried chicken and green tea syrup, to cure your next hangover.
Favorite splurge: Helen Greek Food and Wine, Pax Americana, The Pass & Provisions
"Respect the chefs at these restaurants very much, always something new to discover. It's always a treat to dine at the restaurants and feel at home." No wonder each have stayed put on Eat Seeker, a list of the best places to eat in Houston right now, since its inception; they offer easily some of the greatest dining experiences in the city.
Jean-Philippe Gaston, executive chef at Izakaya
Midtown
Favorite cheap eats: Long Sing Supermarket
"Best Chinese BBQ in Houston! You can get $3.99, $5.99 and $6.99 combo plates of 1, 2 or 3 meats with rice and veggies!! It's like 2 lb of food!" Expect zero frills here, just succulent roasted duck, sticky-sweet pork and perfectly done fried rice. BRB, heading to Long Sing...
Favorite splurge: Oporto Fooding House
"Oporto Fooding House for sure! Not only is the food always on point but the tapas style and atmosphere makes you want to stick around all night and have fun!" And have fun you will, through mussels swimming in sofrito garlic butter, Moroccan-spiced lamb meatballs, and whipped salt cod gratin. The eatery recently launched a pop-up Portuguese bakery on weekends, should you want to have fun on the cheap, too.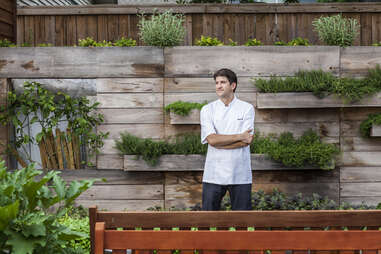 Heights
Favorite cheap eats: Nam Giao
"My favorite Vietnamese spot. Delicate nuanced flavors of Hue with dishes I haven't seen anywhere else in Houston. The clams and rice is my favorite." Hue is a city of central Vietnam, and though this teeny, family-run spot is bare bones, the rich aromas wafting from the kitchen are not. Start with bánh bèo chén, tender and firm mini rice cakes with minced shrimp, chicharron and fish sauce; then move onto those clams and rice Pera so kindly suggests.
Favorite splurge: Oxheart
"Deserved of every award received. Justin's restaurant is groundbreaking yet comfortable and approachable. A true Houston gem." Hit the tiny 31-seater and you'll become a Justin Yu believer, too. His constantly refreshed Garden Menu has changed the way we think about vegetables, one MoMA-worthy plate at a time; and omnivores will be just as pleased with the six-course tasting menu, with imaginative dishes that can turn ordinary ingredients like apples, porridge, and guinea hen into something extraordinary.
River Oaks
Favorite cheap eats: Les Givral's
"The BBQ pork vermicelli bowl is really great quality and always consistent. And it's just $5.95 Love the fast service which allows me to get in and out." Solid banh mi, aromatic pho, char-grilled meats and rice plates round out the eating-on-a-budget roster, which especially helps during late-night binges.
Favorite splurge: Escalante's
"Escalante's in Uptown Park is my favorite. The fresh ingredients and authentic flavors puts this place over the top." Solid Tex-Mex classics come in the form of sloppy chicken enchiladas, chimichurri-spiked carne asada, bacon-wrapped camarones rellenos, and QUESO. If you can manage not ordering all of that in one sitting, your bill won't even be that bad.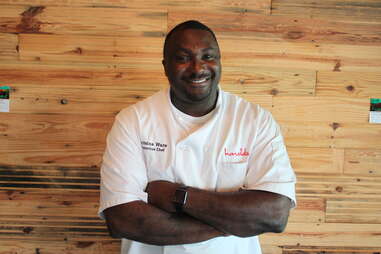 Heights
Favorite cheap eats: Mai's Restaurant
"I love digging into traditional Vietnamese food, like their crispy spring rolls, pho, or beef and broccoli fried rice. Mai's is also a great late-night spot to head to after work!" A great spot indeed, as you can tell if you've ever stepped foot in the gem after a Friday night in Midtown. Get the bánh xèo (crispy pork and shrimp crepe), canh ga chien (salt-and-pepper wings) and bo luc lac (garlic beef) to soak up the booze before hitting the hay.
Favorite splurge: Southern Goods
"I enjoy visiting Southern Goods down the street from Harold's. Chef Patrick Feges serves up killer BBQ. I can't get enough of his ribs and brisket! Southern Goods offers a lot of great dishes, including one of my favorites, shrimp and grits. They also have an excellent wine list." The cocktails are pretty on point, too (you're splurging anyway, right?).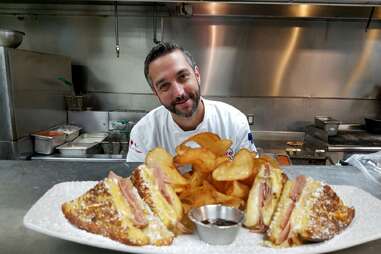 Garden Oaks/Oak Forest
Favorite cheap eats: The Burger Joint, Niko Niko's & Mambo Seafood
"When I'm not working, I frequent the Burger Joint. It has a great patio and craft beers. Shawn Bermudez is always accommodating. I also enjoy Niko Niko's with its great ambience and authentic Greek food. Dimitri Fetokakis is always smiling and welcoming. And, I can't leave out Mambo Seafood. It has fresh authentic cuisine with a high energy and atmosphere."
Favorite splurge: Federal Grill, Backstreet Cafe & The Del
"I really enjoy Federal Grill. When I go there, I'm always treated like family and they serve wonderful steaks. Matt and Jenny Brice are friendly and gracious hosts. Backstreet Cafe is also a favorite with their fabulous outdoor patio and seafood; not to mention, Chef Hugo did an amazing job with the menu. And, The Del. Keith Thompson is a hard working general manager who constantly walks the restaurant making sure his guests are being taken care of."
Memorial
Favorite cheap eats: Arpi's Phoenicia Deli
"I do some of the shopping for the Bistro at Phoenicia - Saffron for the bouillabaisse, herbes de provence, olive oils, etc - and Arpi's, which belongs to Phoenicia, is next door. It's so easy, convenient, fast to grab something for a meal or a snack. And if I'm not hungry, the smells in this place change that."
Favorite splurge: La Table
"Chef (Manuel) Pucha and I used to work together many years ago. I like his take on French cuisine, adding a dash of Texas and south of the border ingredients and flavors. And that's not to mention the service. It's worth any 4 starred Michelin guide restaurant!" See why through Parmesan-crusted rack of lamb and caramelized ribeye for two, both of which are carved table-side.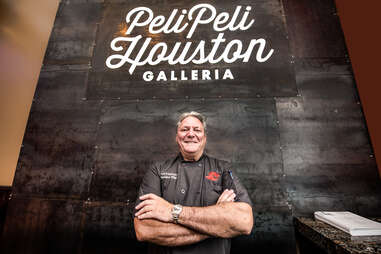 Galleria (& Vintage Park & Memorial)
Favorite cheap eats: Pho Thanh Long
"I love their eggrolls and bun thit nuong (vermicelli and charbroiled pork)." In a city where Vietnamese shops line the streets, it's good to get insight on the best of the best. It's not just about the pho, here. House specials include Singapore curry noodles with BBQ pork and Vietnamese roast duck, too.
Favorite splurge: Pappas Bros. Steakhouse
"I splurge with the 40oz porterhouse which is carved tableside. Staff is always very professional and service is great." The homegrown hero now has two locations at which you can wine and dine on finely marbled, nutty and rich 28-day dry aged prime steaks that you can slice like butter. Trust us (and Friedman) when we say you want to.
Rice Village
Favorite cheap eats: Pei Wei & Molina's
"Pei Wei because it is quick, easy and reasonably priced and my granddaughters like it. Also, Molina's, again it's one of their favorites." Pei Wei is certainly cheap, but its hometown hero Molina's that truly tugs at our hearts; it's been a Houston tradition since 1941. Do yourself a favor and start with Jose's Dip, which you can get a medium-sized vat of for a mere $5.95.
Favorite splurge: Grace's
"I like to eat in the bar area and I like the food, but most importantly, I never fail running into family. We're Italian, you know." You don't even have to be Italian to feel the love at this Mandola and Carrabba family joint, as it's all about Southern comfort, here. Reach maximum levels of comfort with Creole-stuffed chicken, smothered fried pork chop and brandy-soaked bread pudding.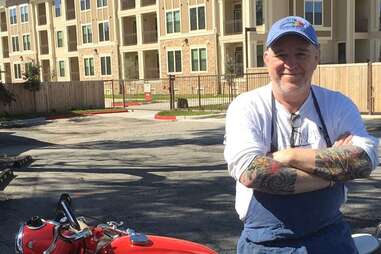 Shady Acres
Favorite cheap eats: Hughie's Tavern and Vietnamese Grille & Coltivare
"Hughie's, good food, great beer selection & specials, close to work. Coltivare, great staff, close to home, food is always spot on." Hughie's Tavern is kind of like Cheers if Cheers were a craft beer bar with Vietnamese grub and a way cooler crowd. Head there for Vietnamese wings and spring rolls next to burgers and shaking beef. While some may not think of Coltivare as a "budget spot," you can have a damn fine meal there without breaking the bank thanks to a handful of $11 to $14 pizzas and pastas.
Favorite splurge: Bernadine's
"Food and service always stellar, great oysters, good wine list, craft cocktails, what else could you need." With seasonal inspirations and Gulf Coast classics, the contemporary, Creole-smooched stunner certainly gives you everything you need. Since you're down to spend some cash, start with the I-10 platter, a seafood bonanza featuring oysters, crab, shrimp, fish dip, country ham, pickles, and a show-stopping chunk of chicharrón.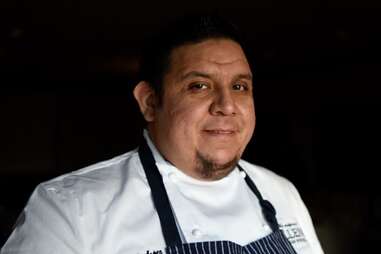 Pearland
Favorite cheap eats: Ramen at Tiger Den
"I'm a big ramen-eating freak. I must have noodles twice a week, and Tiger Den is a good bang for my buck! Not only do they have ramen, but there's also grilled robota skewers, grilled tofu, chicken skin (YUM), and shishito pepper. The ramen is the best in Houston and is close to my home."
Favorite splurge: Omakase at Kata Robata
"Having the omakase prepared by Chef Hori-San at Kata Robata is my favorite splurge-worthy dining experience. Chef Hori has some of the freshest seafood and best knife skills I've seen. Each course of the omakase is so superb and better than the next! Or maybe it's the sake that starts to kick in.. Kanpai!"
Sign up here for our daily Houston email and be the first to get all the food/drink/fun in town.