Locals know there are four seasons in Houston: summer, second summer, winter-ish, and crawfish. We'll give you one guess which season is everyone's favorite (hint, it's definitely not second summer).
Visitors would be forgiven for thinking crawfish is a Louisiana thing, but Houston's mudbug culture is not to be trifled with; we've taken the traditional cayenne-spiced crawfish boils, added some Asian-Cajun garlic butter, and made it our own. Every year, from roughly mid-January through early July, crawfish mayhem erupts throughout the city -- and this year, thanks to a relatively mild winter, the tasty crustaceans are plentiful. From hometown riffs on classic Louisiana boils to Viet-Cajun mudbugs absolutely dripping in butter, here's where to find the best in crawfish in Houston.
Various locations
Texas meets Louisiana at this local golden boy, which specializes in Cajun-style crawfish. Head to one of its 10 locations and you can get your hands and face messy with these flawlessly spiced Tex-Orleans beauts, served on a giant platter with all the proper boil add-ins (potatoes, corn, mushrooms, shrimp and crab, and big ol' hunks of sausage). Pair them with craft brews, and don't forget the dippin' butter.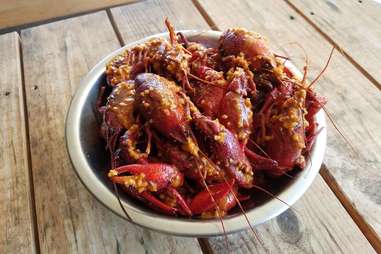 Asiatown
Sourcing its crawfolk from Louisiana, California, and Oregon, this Asiatown staple has been doing Viet-Cajun seafood boils since 2005. The process here is simple: You'll choose your spice level (mild, medium, spicy, extra spicy, suicide, or "cray cray"), then your flavor (Cajun, Garlic Blend, The Kitchen Special, or Thai Basil). Add some crab in there, and you're ready to demolish some invertebrates.
Heights
If you couldn't tell by the giant LSU flag parked loud and proud out front out front, this boil house is serious about its Louisiana pride. That's why the in-season-only crawdaddy shack does its freshwater crawfish Louisiana-style; add in smoked sausage links, and instead of sucking the head, try squeezing it over your corn and potatoes to savor the flavor.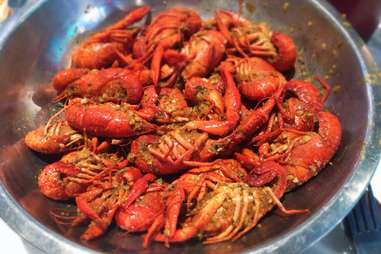 Asiatown
This spot put Vietnamese mudbugs on the map; you'll even find it featured on David Chang's Netflix series Ugly Delicious. Here, owner and two-time James Beard semifinalist Trong Nguyen turns out classic Viet-Cajun-style crawfish dripping with hot garlic butter and crawfish juice. Good thing there are paper towels on the table, though the better move is to sop it all up with hunks of French bread.
Various locations
Warning: following Lotus' Instagram account will cause constant seafood cravings thanks to sexy shots of fried lobster, smothered shrimp, and buttery crab legs. Once crawfish season rolls around, you'll want to tack on a Cajun-style boil, too; that's when you can coat every crustacean in Lotus' addicting, garlicky "crack sauce," and add in things like corn, sausage, whole shrimp, and a Cajun boiled egg. The seafood shack is becoming a mini-empire of sorts, now with four locations (the original in the North, one in Pearland, and two out West).
Various locations
Underbelly Hospitality has vowed to tell the story of Houston food, and there's no better story than crawfish. As such, it's created a season-long Crawfish Crawl at its restaurants (running now through May 31). Grab your crawfish passport and get it punched by sucking down mudbugs at One Fifth (peel-and-eat Viet-Cajun crawfish every Sunday brunch); Georgia James (Chef's Strip topped with crawfish every Wednesday); UB Preserv (peel-and-eat 'em every Thursday); and The Hay Merchant (where a crawfish dish is on the menu at all times). The more crawdads you eat, the more you win, with prizes ranging from complimentary pork dumplings (five punches) to a trophy and a Tour of Houston for two at UB Preserv, awarded to the Grand Champion (aka whoever gets the most punches throughout the season).
Crosby
This mudbug shack has a cult following for a few reasons. First, the price is right: You can get 'em hot boiled by the pound for $7.95, or even pick up a live, ready to boil sack for even less. Second, it's BYOB. Finally (and most importantly), the bold Louisiana-style Meaux Spicy boil is simply that good. Dine in or hit the drive-through, and check out the Facebook page for updates on pricing and live crawfish availability.
Greenway/Upper Kirby (& Westchase)
First opened as Ray Hay's Cajun Po-Boys in 1974, this po'boy shop was a haven for homesick Louisianans wanting to connect to their Cajun roots. Two years later, it introduced parking lot crawfish boils into the mix, and today it's a Houston institution with two locations (the original on Richmond, and one out on Westheimer). Head here for 100% Acadiana "Rice Field" pond raised crawfish hit with a Cajun-style boil using cayenne pepper, black pepper, salt, garlic powder, & chili powder; and know that sucking the heads is a must.
Briarforest
Thai and Cajun traditions unite at this boiled seafood ace, resulting in some spectacular flavors. Pick your poison and test your heat tolerance with its ladder of spice levels (mild, medium-spicy, spicy, and XXX), and get your mudbugs soaked in Cajun spices, lemon-pepper, garlic-butter, or all of the above (the house pick).
Asiatown
Crawfish egg rolls, crawfish fried rice, and classic crawfish boils are all on the menu at this Hong Kong plaza crowd-pleaser (along with turkey neck and boudin balls, by the way). Get your crawfish positively dripping with your choice of sauce: Original Cajun, Kickin' Cajun, Garlic Butter, Lemon Pepper, Thai Basil, or The Mix (a pitch perfect blend of garlic butter and lemon pepper). The crawfish tour de force is opening a location on North Shepherd in the Heights, too, which is great news for inner loopers.
Northwest
Despite its garlic-butter H-Town Bang, citrusy Saigon Heat, and chile-basil-lemongrass Thai Surprise sauces gaining a cult following, this Viet-Cajun crawfish spot closed up shop at its Midtown location last fall. While that's totally sad if you live in the loop, don't feel too bad: Owner Tony Nguyen will be opening back up on FM 1960 (and it'll be worth the drive). Follow its Facebook page for updates on opening, and get your bibs ready.
Sign up here for our daily Houston email and be the first to get all the food/drink/fun in town.