From sweet, old-fashioned dough rings to pastries with chefy-spins, Houston has no shortage of Homer's favorite snack. But not all donuts are created equal (something you may know if you've ever tried buying them from the gas station). With that in mind, we searched around town for the 10 best spots to get your fix. Warning: contents may be delicious.
Heights
Sometimes, Kickstarter campaigns don't pan out (sorry, Twerk Island, you'll never be a real movie). Other times, they bring you amazing things like this donut and kolache shop. If you see a line on the weekends, just get on it. Then prepare to fill your gut with whatever freshly baked gourmet goods are coming from the kitchen - whether it's a S'mores donut with scorched marshmallow topping and creamy chocolate pudding center; a bacon and egg or bbq brisket-filled donut sandwich; or ahhhh, screw it, ALL OF THE ABOVE.
Montrose
This Montrose stalwart serves up yeasty old-school classics with old school prices. That means it's almost a sin not to get a dozen of the good stuff in flavors like chocolate glazed, blueberry cake, and jelly. And some crackly sugary-shelled donut holes. And also some sausage kolaches. Because Houston.
Pearland
Somehow, eating crushed Oreo and Fruit Loop-dusted donuts on the open air patio makes you feel like less of a fat kid. Or maybe you just want it to feel that way. Because you're also dabbling in a mapley bacon one, a burger one, and a fruit-filled one that's Pena's version of the famed cronut. Great news: with a second location planned for this May, you have double the chance to get it all.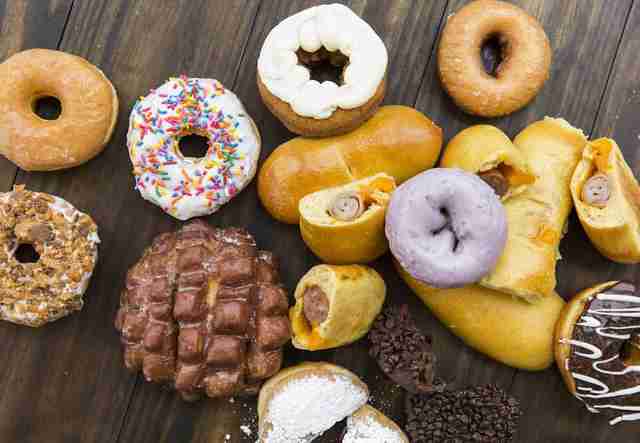 Heights
The "best new concept" of 2015 may have had to re-work its fried chicken recipe, but you know what's been super excellent from the start? The donuts. Get them in crazy good combinations like Mexican chocolate, glazed with praline Bacon and caramel icing, and apple fritter.Oh, and that new chicken? It's super freaking excellent now, too. Try it in the icing-covered behemoth that is double donut fried chicken sandwich for extra fun.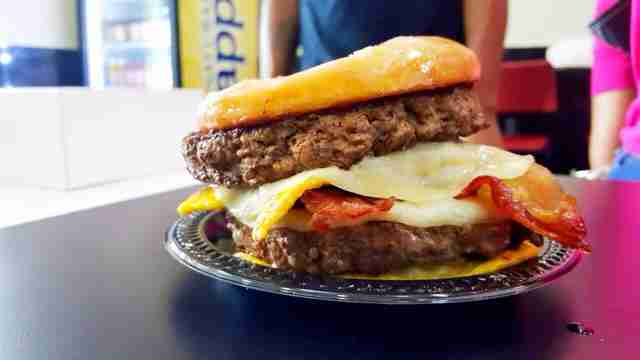 Medical Center
If you thought the putting bacon on everything trend was just a fad, you haven't had this 24-hour cafe's MACON doughnut. That's and airy, scratch-made doughnut slathered with a sugary maple glazed and topped with greasy, crushed bacon. Watch the freshly baked magic come to life through window to the kitchen, where you'll also watch the magic in experimental flavors like peach sour cream cake, crème brûlée, and sangria! Did we mention it's 24 hours? OK, we know we did, but we wanted to reiterate.
River Oaks
This teeny tiny donut shop takes teeny tiny donut holes to the next level. From chocolate cappuccino and raspberry fillings to flavors like red velvet and pumpkin spice, the lineup of miniature fried dough is downright impressive. But those looking for bigger carb bombs can take joy in everything chocolate-glazed, sugar-cinnamon-dusted, and Bavarian-cream filled, too.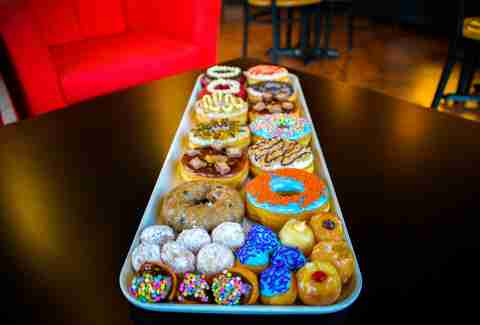 Spring
Every photogenic pasty here is a work of art. The whole roster, from varietals like pistachio and turlte cheesecake to the always reliable rainbow sprinkled and strawberry-iced, is downright awesome. But somehow the treats taste even better when customized. Because nothing says "I love you" than a bacon and maple donut that the actual words "I love you" written in icing.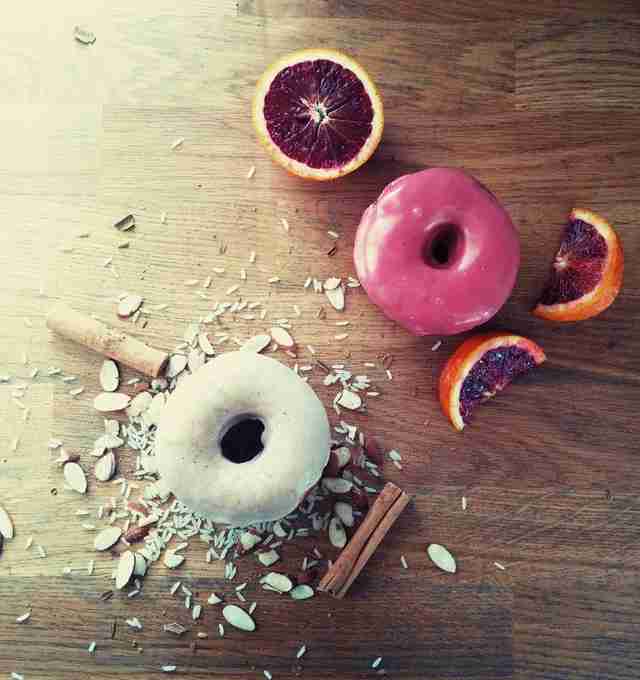 Central Southwest
It's breakfast on wheels! Vanilla cardamom, orange pistachio, and horchata are just some of the rad doughnut flavors from this cult favorite mobile eatery. Honey butter fried chicken with maple icing is another. Whatever you get, know that the mix between traditional cake doughnuts and carnival funnel cake is highly addictive.
Richmond
Can you get yeasty donuts filled and topped with things like crème brûlée, cookie butter, and salted caramel? Yes, yes you can! And savory things like jalapeño, bacon, and cheese? Yep! Are you going to make the trek to this unassuming Richmond shop shortly after reading this? Yessir! In the meantime, look out for their new food truck, coming soon.
Garden Oaks/Oak Forest
We'll be honest, with such rabid -- err, we mean passionate -- fans, we'd be scared NOT to include this donut slinging empire on the list. But that's not to say the chain, which fried their first batch right here in Houston in 1936, doesn't deserve a spot. The donuts may be fancy, but they are gloriously gluttonous. Hit the original location on Ella to get donuts that taste exactly how they're meant to.
Love free donuts? Find out where to stock up for this year's National Donut Day on Friday, June 2, 2017.
Sign up here for our daily Houston email and be the first to get all the food/drink/fun in town.
Brooke Viggiano is a Houston writer who highly agrees with Homer's donut stance. See what other foods make her go "mmm" @BrookeViggiano.