Under Texas state mandate, some restaurants have started to reopen for dine-in service as of late April, but we still recommend takeout/curbside pickup/delivery when possible for safety. We'll keep updating you as the situation progresses.
Houston bars and restaurants are currently shut down for inhouse dining services, a directive from the city as we all do our part to stay away from each other and thwart the spread of COVID-19 virus. Fortunately, "social distancing" doesn't translate into "not getting food and booze" from your favorite local vendors, and many have opted to stay open for takeout and delivery. The best thing you can do right now to support them (besides all of these other excellent options) is to order from them!
Now that crushing dumplings while pantless on your couch is considered a selfless act to help the economy, we thought we'd make things even easier on you by curating a library of the best takeout dishes that can be picked up curbside or delivered straight to your front door. There are options for all budgets, from chicken tikka tacos and ribeye banh mi to dry-aged steak, smothered crawfish for two, and even better, takeout booze.
The world may be a little crazy right now, but that's when you keep calm and carry out these local gems: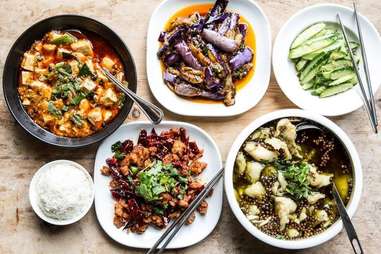 The mouth-numbing red chili oil dumplings are just one of the crowd favorites at this superlative Sichuan spot. You'll also find tender "couples lung" slices (beef shank, beef tendon, and honeycomb beef tripe simmered with Sichuan spices and served chilled in spiced meat juice), sweet and sour funky stick chicken, dry spiced peanut tofu, hot water boiled fish, and spicy mala dan dan noodles.
Cost: $7.49 (plus whatever else you add in), call your nearest location to pick-up or get delivery via DoorDash
Y'all know what butter burgers are: buttery seared burgers, topped with buttery onions, and served on buttery buns topped with pats of, you guessed it, BUTTER. Riel's butter burger sliders are usually reserved for Tuesday happy hour, but you can now get them anytime you damn well please (i.e. from 1-8pm, Monday through Saturday) from Riel's curbside pickup.
Cost: $12 (add fries for $3), call 832-831-9109 for curbside
One of the most popular sandwiches on the LF menu is its "crunchy" chicken: a rotisserie-style chicken sandwich made "crunchy" by the addition of nutseed crumble and crushed, Old Bay-seasoned, housemade potato chips. Finished with tomato, house pickles, and buttermilk ranch and served with two sides (go for the kale salad and add more of those Old Bay chips), it manages to feel both satisfying and oddly light despite the fact that it's sitting on a big ol' pretzel bun.
Cost: $13, order directly online for delivery or pick-up or via DoorDash for delivery
UB Preserv and One Fifth have consolidated efforts and menus to give you even more variety per order, but it's UB's Vietnamese short rib fajitas that have our hearts. That's slow-cooked 44 Farms short rib, charred and pink and seriously tasty with fish sauce, rice noodles, lettuce cups, and pickled accoutrement. You can also purchase anything from both wine lists at 20% off list price, as well as beverage director Westin Galleymore's "add-your-own-booze" batched cocktails.
Cost: $65, call 713-955-1024 or place your order online for curbside pickup at One Fifth
Super crisp fried chicken gets a flavor boost from a chickpea masala crust at this local Indian street food darling. Spiced desi curly fries, house pickles and chutneys, and sauteed greens help make this chicken dinner one helluva winner.
Cost: $20, call for carry out or order via Caviar for delivery
All the banh mi at this beloved local sandwich shop are standouts, but it's the jalapeno-packed chopped ribeye steak banh mi that won Roostar a "People's Choice" award. No matter which protein you choose, you can expect scratch-made ingredients like house pickled vegetables, fresh garlic aioli, and pate spread.
Cost: $9.89, order directly online or via GrubHub for delivery
Curbside food and wine is on the takeout menu at this neighborhood date spot, and Nonno's dreamy, meaty tagliatelle bolognese should be your go-to. From there, add on things like anchovies and toast, everything-spiced crispy chickpeas, and warm brownie pie in a graham cracker crust. To sweeten the deal, all wines are 20% off.
Cost: $19, call 346-319-5919 to place your order
We can't say enough good things about the buttery French cheeseburger at Bobby Heugel and Justin Yu's Heights hotspot; and apparently everyone agrees, because the duo will also be offering it to-go at their Montrose wine bar and cafe. Hit up Squable or Penny Quarter to pick up your gooey, juice-dripping, raclette- and maître d' butter-smothered beef patty on Chef Drew Gimma's perfect pain de mie bun with a side of frites. Make sure to check out the 50% discounted wine lists, too.
Cost: $14 (a discount!), order directly from the sites online
Also known as Kang Phet Ped Yang, this crispy Peking duck dish comes bright and vibrant in a red curry and coconut sauce, with tomatoes, fragrant fresh herbs, and pineapple to boot. Add your spice preference to the notes if you're ordering through an app.
Cost: $20, order via GrubHub or directly over the phone at 713-993-9096
Chef Hugo Ortega's namesake restaurant has been bringing real-deal Mexican fare to locals since 2002, and now you don't have to travel to lower Westheimer to get it. Instead, you can press a few buttons and have its oh-so tender, pulled-from-the-bone roasted goat -- served with refritos (refried beans), guac, and fiery habanero salsa -- delivered right to wherever it is you're holed up right now. Plus, there's a menu of margaritas to-go!
Cost: $24 for the cabrito dish, call the restaurant directly at 713-524-7744 for curbside and takeout or order via GrubHub for delivery
Lest we forget it's crawfish season, this Creole classic is simmering its Breaux Bridge mudbugs low and slow with the Holy Trinity in a rich, velvety shellfish stock, then pouring enough for two over toasted and fluffed Jazzman rice. Finish it off with some Creole bread pudding drizzled in whiskey sauce for dessert.
Cost: $48 (plus $8 for the bread pudding, if you're going there), call 713-522-9711 for curbside pickup or order via Uber Eats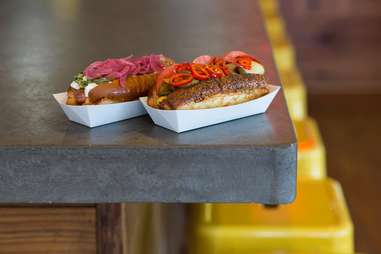 You can order your favorite dog from this powerhouse hot dog joint and be pretty happy about it, but if you're feeding a mini crowd, the family-sized packs are the way to go. You'll get a pound of big and beefy Texas franks and nine-pack of fresh, locally made Slow Dough buns, plus butter for toasting said buns, a gallon of tea (you can sub beer or wine for extra moolah), and three of its housemade condiments. The weiner shacks will also be hosting bodegas each day, with fresh produce, pantry staples, cleaning supplies, paper goods, and other necessities that you can grab when you pick up your good dogs.
Cost: $30 (feeds 4-6), call 832-800-DOGS (Heights) or 346-800-DOGS (Montrose) for pickup
Got a family to feed (or just want enough fried chicken to keep you thriving this week)? Relish offers family-style fried chicken buckets in small (feeds 2-4) and large (6-8) sizes. You'll get a bucket full of crispy, crunchy fried chicken, hot honey, scratchmade herb biscuits, and two sides of your choosing -- bacon-braised collards, parmesan cauliflower, crispy brussels sprouts -- brought straight to your car at curbside pickup.
Cost: $38 for the small, $75 for the large, call 713-599-1960 to order and when you arrive at the restaurant they'll deliver directly to your car
Unconventional tacos are the name of the game at this worldly taqueria, as evidenced by the cult favorite chicken tikka masala taco (which you can and should order on naan). Tossed in spicy tomato-curry sauce and hit with creme fraiche, it's a chef-y take on a taco that is totally craveable. Order it, and choose another taco or two -- like the bbq Berkshire pork, tempura shrimp, or seared Brussels sprout -- to make a nice meal out of it.
Cost: $5.78, call 713-422-2992 for pickup or get delivery online or via GrubHub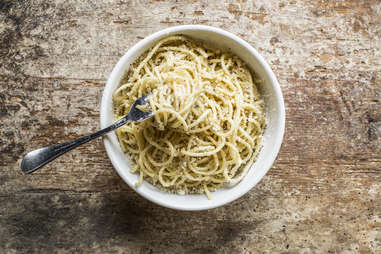 The word is already out on this perfect rendition of cacio e pepe, but just in case you had momentary amnesia, we'll remind you about it. Swirls of sturdy, toothsome spaghetti, a heavy cracking of Tellicherry peppercorn, oodles of nutty parmesan, and a glug of extra virgin olive oil to bring it all together. It's a people-pleaser, best split with a friend alongside another entree of choosing, some apps, and takeout cocktails and wine. There are date night to-go packs ($40) that take out the guesswork for you, too.
Cost: $15.50, call 713-637-4095 (check online for secondary numbers, because they stay busy) for pickup and in-hood delivery
Doris Metropolitan is easily one of the best steakhouses in the city… and in America, for that matter. The high-end Israeli operation dry ages its premium cuts in-house (why yes, there is a chandelier in the aging room) and serves 'em up seared and pink along with sides ranging from truffle frites to chickpea salad. There are ribeyes, strips, filets, and that colossal 34-ounce porterhouse.
Cost: $106, call ahead to order at 713-485-0466 for curbside pickup
Bar director Alex Negranza is no joke. What seemed like seconds after bars and restaurants were ordered to shut down, he launched his to-go booze setups at neighborhood Italian joint, Rosie Cannonball. The cocktail packs come with everything you need to make your beverage of choice, with booze add-ins from Tullamore Dew to Macallan 12 Year Double Cask. Since you'll probably need some food to go along with it, you can tack on things like Lambrusco meatballs, roasted eggplant, and speck & chili oil pizza.
Cost: $25+, place order online or call in at 832-380-2471 for curbside takeout and delivery to surrounding neighborhood
Sign up here for our daily NYC email and be the first to get all the food/drink/fun New York has to offer.